Sleepy Hollow: The Complete Third Season
R1 - America - Twentieth Century Fox Home Entertainment
Review written by and copyright: Eric Cotenas (19th March 2017).
The Film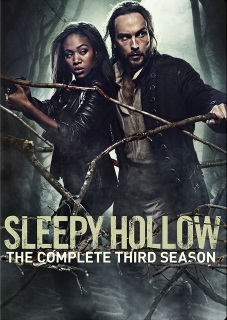 The third season of the Fox series Sleepy Hollow – which transformed Washington Irving's sketch of a short story into a supernatural conspiracy thriller in which the British played dirty by summoning up demons to combat the Americans during the revolutionary war, eighteenth-century Ichabod Crane (One Day's Tom Mison) was a British double agent who teams up with cop Abbie Mills (Shame's Nicole Beharie) as Witnesses combatting the supernatural in modern day Sleepy Hollow, traitorous Abraham Van Brunt became in death the headless horseman (who was actually one of the Four Horsemen of the Apocalypse), wife Katrina was a witch and their son the Horseman of War, and seamstress Betsy Ross (Twilight's Nikki Reed) was a busty spy with sex appeal – begins nine months after the climactic events of season two with Abbie, having completing training at Quantico in record time and already in a prominent position at her local field office, finally hearing from Crane who has been stopped at immigration trying to re-enter the country with contraband antiquities. Abbie learns that Crane went back to England in search of surviving members of his family line and found a Babylonian tablet in his empty tomb that he believes has something to do with their status as Witnesses. Abbie, however, is convinced that they have already averted the Apocalypse and is ready to move on with her own career. Little do both of them know that there is a new supernatural player in town in the form of Pandora (Wayward Pines' Shannyn Sossamon) who has trapped the soul of the Headless Horseman in her box of evils as one of the myriad of entities she will employ throughout the season to feed on the fear of victims who nourish a black rose-blooming Tree of Fear and intends to unleash The Hidden One (Tears of the Sun's Peter Mensah) on the world. Also returning are Abbie's sister Jenny (Nikita's Lyndie Greenwood) who was trained by Abbie's late mentor Sheriff August Corben to track down magical artifacts and Corben's estranged son Joseph (Kill Your Darlings' Zach Appelman) who is drawn back into the fight when he is ransomed by another artifact hunter hired to retrieve the Shard of Anubis from Jenny while Abbie acquires a new old flame in colleague Daniel Reynolds (Our Family Wedding's Lance Gross) who is also inexplicably promoted to district supervisor – replacing predecessor C. Thomas Howell (Red Dawn) who is killed by the first of Pandora's beasts – in the same inexplicably short amount of time since graduating from Quantico while Jenny's and Joseph's activities are investigated by FBI agent Sophie Foster (Dexter's Jessica Camacho). As with an increasing number of procedural shows (supernatural and otherwise), the monster/villain of the week proves to be of more interest than the season's continuing story threads with Sleepy Hollow putting another spin on the "Jack the Ripper lives on" film/television subgenre (which found antecedents on The Night Stalker, Supernatural, Friday the 13th: The Series, and the TV movie Terror at London Bridge among others), the literal (and corny) meaning of "Don't fire until you see the whites of their eyes", a New Jersey Devil-esque monster, and the return of The Kindred (a Frankenstein-ian assemblage used in season two to fight the Headless Horseman) while the season's central villains were no more interesting than season one and two's problematic Moloch. Season three's Halloween episode was half of a crossover with the forensic procedural Bones in which the humor of the two shows failed to gel into anything remotely entertaining (thanks partially to the necessity of not violating the emotionally-stunted protagonist's rational worldview to anything overtly supernatural). Contributing directors of note include actor Peter Weller (Robocop) – who also helmed a number of episodes of Hawaii Five-0 reboot from series creators Alex Kurtzman and Roberto Orci – Guillermo del Toro cinematographer Guillermo Navarro (The Devil's Backbone), and Bones regular Dwight Little (Halloween 4: The Return of Michael Myers)

Season Three Episode Breakdown:

3.01: "I, Witness" (43:56) – Abbie and Ichabod learnt that their calling as Witnesses is not over when they start investigating a series of bizarre deaths by fright.

3.02: "Whispers in the Dark" (44:00) – While battling a demon that feeds on secrets, Abbie and Icahbod are forced to confront their own secret moments of weakness.

3.03: "Blood and Fear" (43:28) – Ichabod links a new series of exsanguination murders to a similar set during his school days in the eighteenth century and the Jack the Ripper killings in Victorian London.

3.04: "The Sisters Mills" (43:52) – Pandora unleashes a terror that targets the children of Sleepy Hollow.

3.05: "Dead Men Tell No Tales" (43:50) – Abbie and Ichabod must find an ancient weapon capable of combatting the resurrected General Howe (Sons of Anarchy's Nicholas Guest) who has brought back his army to attack Sleepy Hollow on Halloween night. Emily Deschanel (Rose Red) and David Boreanaz (Angel') guest star in this Halloween cross-over continuation of the Bones season eleven episode The Resurrection in the Remains.

3.06: "This Red Lady from Caribee" (42:06) – Pandora unleashes a monster whose sting causes madness.

3.07: "The Art of War" (43:58) – When Jenny and Joseph recover the Shard of Anubis, Pandora unleashes a trio of Norse Berserkers to assist mercenary Nevins (Lady in the Water's Bill Irwin) to get it back.

3.08: "Novus Ordo Sectorum" (44:00) – Reynolds demands answers from Abbie after Jenny and Joseph interfere with one of his investigations while Ichabod seeks the Eye of Providence which was once in the possession of Paul Revere (Dustin Lewis) whose "Midnight Ride" was actually in the service of transporting a secret manuscript.

3.09: "One Life" (43:26) – With Abbie stuck in another dimension, Ichabod must team with Sophie who (along with Reynolds) suspects him of being behind her disappearance.

3.10: "Incident at Stone Manor" (43:20) – Ichabod and Sophie battle the returning Whispering Wraith (Teen Wolf's Alexander Ward) while Jenny confronts her estranged father (NYPD Blue's James McDaniel).

3.11: "Kindred Spirits" (44:00) – The Kindred (the Friday the 13th remake's Derek Mears) returns to Sleepy Hollow to wreak havoc under the command of The Hidden One.

3.12: "Sins of the Father" (44:00) – Nevins offers to help Ichabod and Abbie fight a Mesopotamian demon that he and Corben first encountered in Iraq but they are unsure whether they can trust him.

3.13: "Dark Mirror" (42:42) – Ichabod battles a Jersey Devil-like monster that may have its origins in the experiments of an alchemist (The Knick's Charles Aitken) who was a rival of Benjamin Franklin.

3.14: "Into the Wild" (42:58) – Abbie and Sophie encounter another of The Hidden One's monsters during a two-day FBI training course.

3.15: "Incommunicado" (42:28) – The team battle a banshee who sucks up sound and then uses it against its victims in the form of a deadly shriek.

3.16: "Dawn's Early Light" (43:54) – Ichabod flashes back to his dealings with Betsy Ross and "Star Spangled Banner" author Francis Scott Key (Brad Ashton) in search of a way to fight a fireball-throwing demon soldier.

3.17: "Delaware" (43:12) – As the clock ticks down to The Hidden One's ascendance to his full power, the team pair up with some unlikely allies to find a way to enter the underworld.

3.18: "Ragnarok" (43:18) – One of the Witnesses must make the ultimate sacrifice in order to close Pandora's Box and prevent The Hidden One from destroying humanity.

Video


Like Paramount, Fox has seemingly decided to abandon the Blu-ray format for most of their series (including ones with previous seasons available in the format). Sleepy Hollow's anamorphic widescreen standard definition presentations of the third season are respectable encodes, although one feels that the moody, low-key lighting of many scenes as well as some of the details in the visual effects would have been better served by an HD presentation. A small quibble, but Fox's DVD presentation thankfully leaves off the "Fox presents" card that was seemingly added to all of the network's series during the 2016 season.

Audio


The show's 5.1 sound design is offered in original English and Spanish dubbing in which the surrounds are often full of whispers and other unnatural sounds while the action sequences are pleasingly directional. English SDH, French, and Spanish subtitles are also provided.


Extras


Whereas the Blu-rays of season one and two offered multiple episode commentaries and background contextual featurettes, the season three DVD only offers a selection of deleted scenes (34:27) and a gag reel (4:27).

Overall




---
DVD Compare is a participant in the Amazon Services LLC Associates Program and the Amazon Europe S.a.r.l. Associates Programme, an affiliate advertising program designed to provide a means for sites to earn advertising fees by advertising and linking to amazon.co.uk, amazon.com, amazon.ca, amazon.fr, and amazon.de.