The Film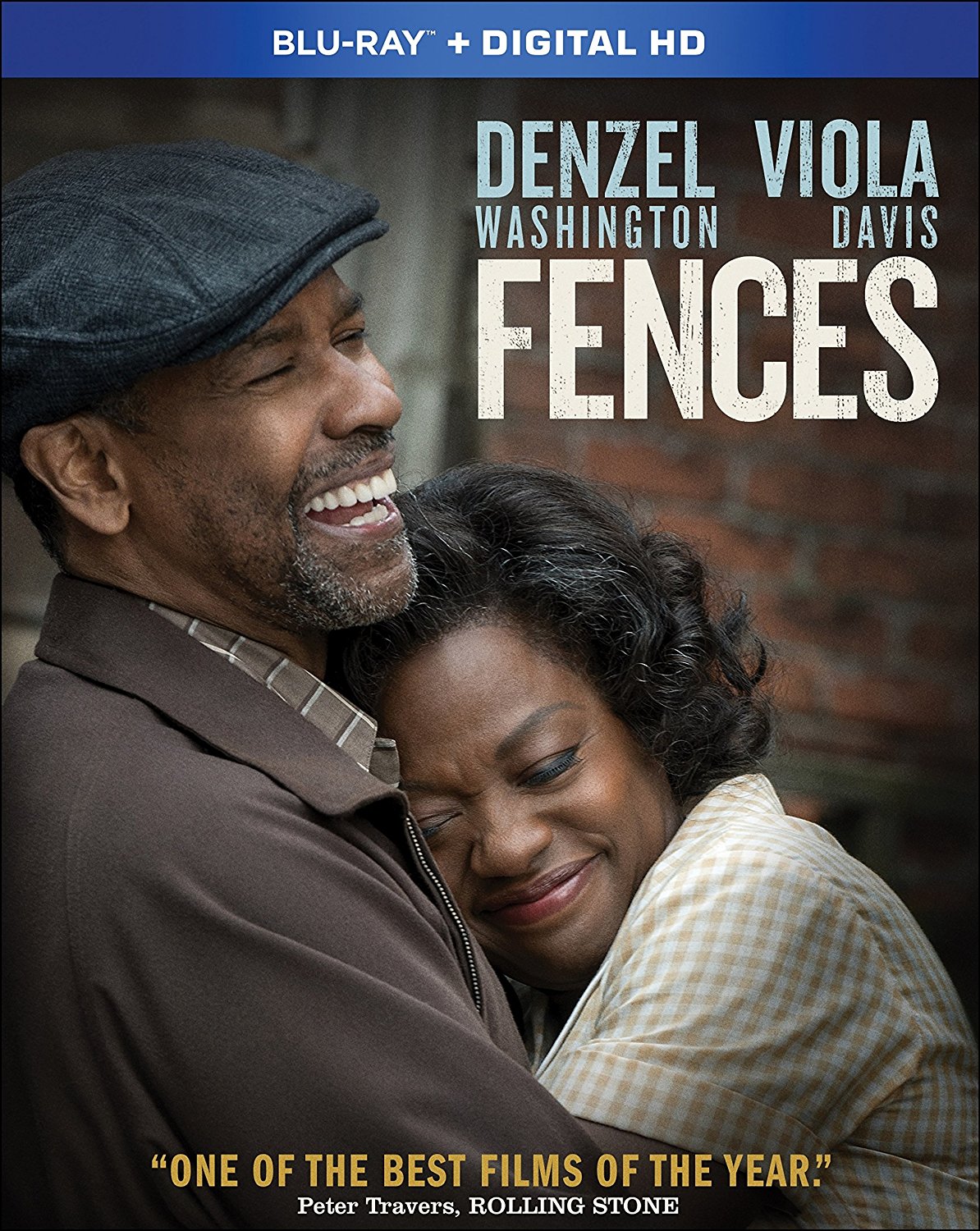 "The past is never dead. It's not even past. "- William Faulkner

Troy Maxson (Denzel Washington) is an angry, black man that now finds himself middle aged and still unsatisfied with the world, but also with his family and sole friend, Bono (Stephen McKinley Henderson), and he is constantly raging against the injustices of the world. Gypped out of a career playing pro baseball, he is an ex-con who has served his time, but the past is something that won't let him be. He carries it on his stooped shoulders, feels it in his weary bones, and tastes it on his tongue with every sentence he utters. He sees his two sons wasting their lives; his older son, Lyons (Russell Hornsby), a struggling musician that always comes around on pay day to borrow money, and his younger son, Cory (Jovan Adepo), that is being led to believe that he has a chance to go play college football and get a scholarship instead of being content with working part time at the local supermarket. Troy doesn't believe that things are changing, and he is a man that builds a fence in his yard; a fence to keep things out as well as in. And then there is his wife Rose (Viola Davis); she has been Troy's wife and partner for 18 years of marriage, and it hasn't always been easy. The man that she loves is difficult and egotistical; he loves to talk and talk and everyone around is automatically made to be his audience.

"Fences" is a difficult film to watch, the main character, Troy Maxson, is one of the walking wounded and unlike his brother Gabriel (Mykelti Williamson), a former soldier with a head injury that has made him into a pitiful character, that constantly speaks of the hellhounds and the final days of Armageddon; Troy has all of his facilities, but it doesn't matter; he too is hounded by the things that he can't stop thinking or talking about. The past is practically a fence around Troy's heart, keeping him at arm's length from those that care about him. His wall of patter and the speeches that everyone that knows him has suffered to hear them repeated endlessly. Time may have moved on and the world may be changing, slowly but surely, but for Troy Maxson, time might as well have just stopped entirely.

There is a scene where Troy mightily tells his ever patient wife Rose (Davis in an Oscar winning performance), that he fought with death when he was just ten years old sick with pneumonia, but that he triumphed and told that specter that he would just have to wait to come collect him some other time, that I flashed upon a similar scene that may have appeared on "The Twilight Zone" (1959-1964), A woman lives in an isolated room by herself because she fears that death is outside the door waiting for her. Even though Washington's film is set in Pittsburgh in the 1950's and strives to be realistic, there is a feeling lurking outside the frame of something mythical and greater than Maxson's story. This is a story that is etched in pain, but it is also a story that has been lived by many minorities throughout history; Troy's failure as a ball player, Rose's struggle to understand her husband's infidelity, Cory's constantly butting heads with his stubborn father, Lyons difficulty in trying to just get along with his berating dad, even Bono is snubbed by Troy in the end. For a viewer, this is a tough dish to savor and enjoy, and that is because of August Wilson's screenplay doesn't give us an easy outs, no simple answers, no contrite homilies. For every question that arises there are numerous answers but nothing is simple in this universe and the truth is both refreshing and damning as we, the home viewer, feel unconditional guilt for watching these characters scrape and wrestle with their own issues and adversity.

"Good Fences Make Good Neighbors." – Robert Frost

As a metaphor," Fences" is full of rich and complex symbols; at first we are shown Troy and his teenage son working on the weekends to put up the fence, but by the conclusion of the play, we are led to understand that the meaning of the title is rich with a variety of meanings, some obvious and some that are hidden. Troy Maxson is a complicated character; at times he is likeable and friendly: we see him being a loving husband and a stern father, he likes to talk with his best friend Bono after work and you get the feeling that this conversation has been playing itself out for a long time. Troy likes to drink some and it loosens his tongue as he is given to a self-centered monologue regarding his attitude and ideas about life in general, death in particular, and of course this speech is all about Troy. How he feels about work, how he sweats and breaks his back hauling away other people's trash, he talks about his hard earned pay and how he nobly hands it over to his long suffering wife, Rose, only to have his ne'er–do–well son, the struggling musician, appear to borrow money. He tries to explain to his son Cory that instead of buying a television, that he needs to think about paying for a new roof on their house. It seems that no one can appreciate him for what he does, how he sacrifices and struggles to put food on the table, clothes on their backs, a roof over their head (even though the money came from a government pay out to his war wounded brother, Gabriel). What does a man have to do to claim some respect around here anyway?

Respect is very important to Troy and he demands it from both his sons, he demands it from his superiors at work until he is given a promotion and becomes the first African American driver on the route, and he most certainly demands it from his mostly silent wife, Rose. But is that demanded courtesy really that important in the long run? What happens when you keep everyone at arm's length, what happens when you erect a fence around your heart, around your emotions, until you are left as an old bitter man, alone except for your dreams? Troy recollects when he literally fought with death as a bed ridden youngster, telling the grim reaper that he would have to wait to come collect him; that he would have to wait until another day to collect this grim determined man. Troy knows only how to fight and survive; his insights are self-preservation and self-centered.

Rose represents the goodness and warmth of motherhood; she tries to counterbalance Troy's harshness and selfish impulses by giving affection and encouragement to the others. Even though it appears that this is Troy's show, Rose steals the show with her portrayal of a woman spurned by her husband. Troy tries to talk his way out of his dilemma, explaining it through his usual mix of baseball metaphors and his talking about death, but Rose shuts him down with a moving speech about being there with him the entire marriage, about how her hopes and dreams took a backseat to Troy and her family, how she too wanted to feel something other than the famillairness of her allotted role as a mother and a wife. Troy's act of betrayal is almost the breaking point for Rose but inevitably she decides to do the right thing and accept the child that Troy brings home as her own. The sins of the father are not visited upon the child, and Rose will raise the child as if she were her mother. The performance that Davis gives as Rose is certainly impressive and moving; we, the audience, are made to feel like we are eavesdropping on an actual troubled family and not some actors going through the motions. The entire cast is superb and to be commended for their performances, with Washington doing double duty as both performer and director.

There is much to recommend here for cerebral film lovers; the film feels somewhat stagey at times, but that recedes as the viewer is pulled into the film and we become accustomed to the setting and general direction. Washington's direction is sure and doesn't overtly call attention to itself, the editing is seamless and the subtle use of music is effective. There is a lot to digest here and the film will remain in one's memory for days to come. This film features two actors at the top of their games and it is an honor and pleasure to be witness to their gifts. I would like to think that August Wilson is smiling about this excellent film version of his play.

Video


Presented in 2.40:1 widescreen 1080p HD (24/fps) mastered in AVC MPEG-4 compression. The video is precise and accurate with Washington breaking out of the restrictions of the dramatic stage setting with scenes filmed in the back yard and inside the house. The film looks great with precise color balance and presentation. Blacks are strong and deep, color palette is balanced and effective, costumes are subtle and non over whelming.

Audio


Two audio tracks are included, the primary English DTS-HD Master Audio 7.1 surround track and an English Audio Descriptive Dolby Digital 5.1 surround track for the viewing impaired. Since the majority of the film involves dialogue, all of the characters lines are clearly delivered and defined, there is a subtle use of a musical track underlying in some of the quieter scenes. The 7.1 DTS-HD audio track is notable and even when characters talk over each other, the dialogue is completely clear. Subtitles are included in English, English for the hearing impaired, French, and Spanish.

Extras


Paramount has included only a selection of featurettes and a digital copy of the film.

"Expanding the Audience: From Stage to Screen" featurette (8:54), is a feature that explains how important it was to take the play and transfer it to the big screen but still keep its intimacy. Includes many cast members talking about the film and how great a play Fences is.

"The Company of Fences" featurette (9:17), speaking with the cast members about their roles and how many of them were featured in the Broadway version of the play.

:Building Fences: Denzel Washington" featurette (6:56), focuses on the importance of Washington as both the director and the protagonist of the film.

"Playing the Part: Rose Maxson" featurette (6:56), Davis speaks about the essence of her role as Rose and how she approached the part. The role of Rose is the most important part of the drama and this displays several clips of Rose's emotional breakthrough.

"August Wilson's Hill District" featurette (6:24), the area in Pittsburgh that Wilson used as the basis for his ground breaking series of ten plays. The use of this authentic setting worked as the house of Troy and Rose is explored.

Included in the case is a download code for a digital copy of the film.

Packaging


Packaged in a standard blu-ray keep case housed in a cardboard slip-case for first pressings.

Overall


An impressive feature from Washington with dazzling performances from the entire cast, an engaging and challenging feature film that should find an extended audience on home video.
| | | | | |
| --- | --- | --- | --- | --- |
| The Film: A | Video: A | Audio: A | Extras: B | Overall: A- |