The Film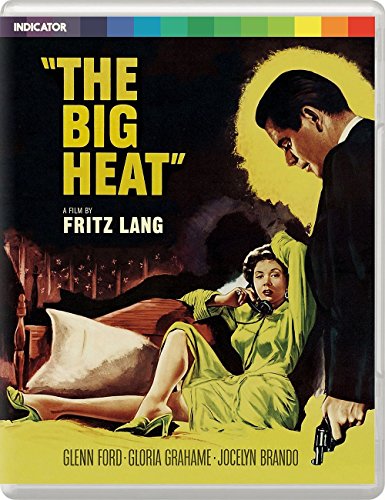 ***This is an A/V and Extras review only. For reviews on the movie from various critics, we recommend visiting HERE***

A HARD COP AND A SOFT DAME… IN A BRASS-KNUCKLE THRILLER!

Fritz Lang's iconic film noir masterpiece is an uncompromising exploration of corruption and violence at the dark heart of small-town America. Glenn Ford is the good cop in a bad town, who single-handedly takes on local mobsters headed by Alexander Scourby and his psychotic right-hand man Lee Marvin.

Video


Independent British distributor Powerhouse Films have released Fritz Lang's The Big Heat on to Blu-ray for the first time in the United Kingdom as part of their Indicator Series. The feature is presented in its original aspect ratio of 1.33:1 and it receives an AVC MPEG-4 encode. The feature is also 1080p. Although the film is yet to undergo Sony's 4K restoration process, it still looks stunning here.

Restored by Grover Crisp at Sony and authored by David Mackenzie, it should be unsurprising that there are no major issues to be found in this transfer. When it comes to black and white films, I have sometimes found contrast levels and inconsistent grain to be an issue, but I can happily reveal that there are no such problems here. A natural and consistent layer of grain runs throughout, and contrast levels are first-rate. Details are rather strong throughout, with the grain of wooden doors, and the contours of glasses on tables easily distinguishable. Close-ups are generally exemplary, especially when it comes to facial details and minute detail in the materials used in clothing. There are no compression artefacts and no obvious signs of damage to the print, though there is the very occasional minor speck that can be seen (which considering the film is over sixty years old is par for the course). There is no banding, aliasing, or edge enhancement, and certainly no digital noise reduction. There is room for some minor improvement here, but this is still an enormous step up from the old DVD release we had in the United Kingdom from Columbia TriStar Home Entertainment and is easily the best I have ever seen this film look (this was my first HD viewing).

The disc is region free, and the feature runs uncut at 89:34.

Audio


Powerhouse Films have provided a single LPCM 1.0 mono track for this release in the original English. The Big Heat is very much a dialogue driven feature, and importantly all speech is clear and easy to hear. There is the occasional boost of a big sound effect which adds some depth to proceedings and never overpowers the dialogue. According to the booklet, the audio was restored at the same time as the video, and is overall in very good shape. There is the occasional sign of some very light barely noticeable background hiss here and there, but there are no other problems of note. I noticed no signs of damage such as scratches, pops, or drop outs.

Optional English subtitles have been included for the hard-of-hearing.

Extras


We start off the extras with an audio commentary with film historians Lem Dobbs, Julie Kirgo, and Nick Redman which has been licensed from Twilight Time. I've praised these three participants on several occasions in previous reviews, and this case is no different. They really know how to do an informative commentary without being boring, with lots of background information about everyone involved, and various interesting thoughts on the story and genre in general. It's a very well balanced commentary, and their knowledge of the golden era of cinema would be difficult to beat.

Next up, we have "Tony Rayns on Fritz Lang and The Big Heat" featurette (33:21). Newly commissioned for this release, it's a fascinating overview of director Fritz Lang, and the main feature. Normally known for his expert knowledge on Asian cinema (so many great notes in the booklets of old Tartan releases), Rayns is a very good speaker with plenty of experience in commentaries, so a half hour spot squeezed full of information feels like an easy gig for him. Personally, I enjoyed how he compared the persona of Lang with Otto Preminger, but he also goes into depth about Lang's move to American cinema and his early expressionist films up to M (1932).

Isolated Music Track - presented in LPCM 2.0 mono, this is exactly what it says on the tin. Although not an extra I would ever look at in-depth (and I only flicked through it here), I am thankful for the inclusion as I know many people love isolated scores.

"Michael Mann on The Big Heat" featurette (10:56) - Mann takes a closer look at the importance of the female characters (Debby/Katie/Bertha) and how the relationship of these characters fit in with the era. He also talks about how some of the choices the characters make have influenced his own work, ethnic stereotyping, how the events in the film didn't occur in Hollywood films before film noir, and the grim reality of existence finally making its way into mainstream cinema during this time.

"Martin Scorsese on The Big Heat" featurette (5:47) - Unfortunately a little short (the featurette, not the man), but still an interesting extra that takes a look at Lang's visual style and how it can trick you into thinking it is expressionistic in its framing - even going on to say it isn't expressionistic in direct contrast to Michael Mann in his interview. He also talks about the nature of fate in the picture and more.

The on-disc extras end with an image gallery (40 pages) and a theatrical trailer (1:43).

The first 5000 copies also come with a DVD copy and a 36-page booklet with a new essay by critic Glenn Kenny, an archival interview with Fritz Lang, a critical anthology, and a look at the film's Production Code history. The booklet is an excellent read, so you won't want to miss out by being late to the party.

Overall


Yet another strong release from Powerhouse Films, The Big Heat is Lang's best American film, and it gets a very solid presentation here with a decent set of extra features. Definitely recommended.
| | | | | |
| --- | --- | --- | --- | --- |
| The Film: A- | Video: B+ | Audio: B+ | Extras: B+ | Overall: B+ |