The Film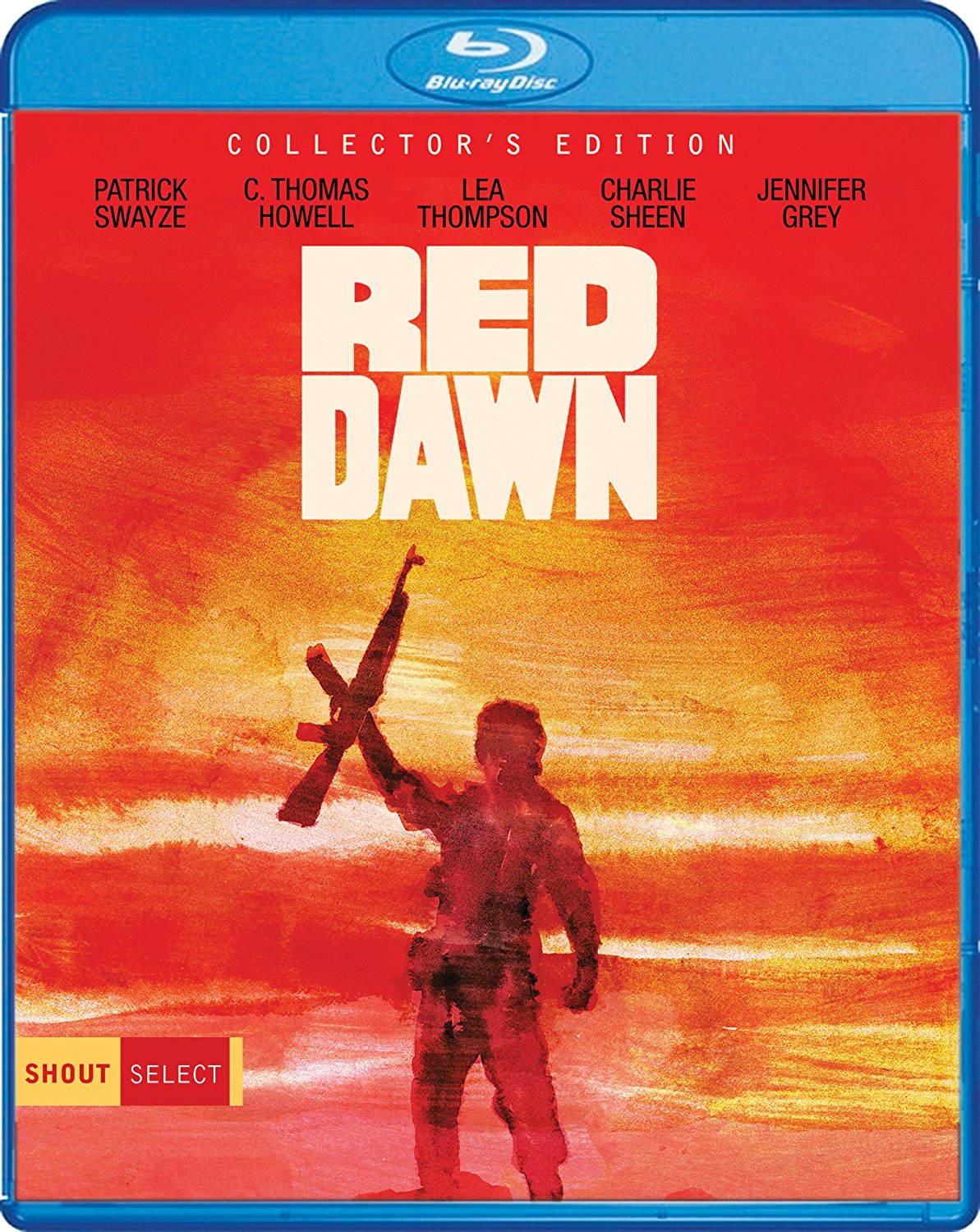 Considering the current political climate, where Russia is once again a hot button topic, it almost seems morbidly fitting that Shout! Select would be reissuing writer/director John Milius' invasion fantasy "Red Dawn" (1984). Some call the film banal propaganda, while others see it as a cinematic threat of sorts to any foreign powers who think about setting foot on U.S. soil. Knowing the sort of mad genius that lurks within the mind of John Milius, "Red Dawn" is a sis-boom-bah alternate reality answer to all of those "what if?" questions posed by the Cold War. "Go ahead", the film says, "Send over squads of your best men and our American kids can take them out!" The movie can be deconstructed a million ways to Sunday but what matters most is this: did Milius succeed in making a good, entertaining movie? The answer is a resounding "yes".

Film fact: "Red Dawn" was the first picture to be released under the new "PG-13" rating, although it was not the first film to be given that distinction; that went to "The Flamingo Kid" (1984) which saw release five months later.

The United States has become an isolated world power after the dissolution of NATO, leaving them with the U.K. as their sole ally. Meanwhile, the Soviet Union and its Warsaw pact partners have expanded their global reach. The film quickly moves into invasion mode as soldiers from Russia and Cuba begin to stream in from out of the skies and into the tiny town of Calumet, Colorado. The troops waste no time in taking over the small community, mowing down residents with machine gun fire and laying waste to much of Main Street. As the melee occurs, a group of high school boys led by Jed Eckert (Patrick Swayze) and his brother, Matt (Charlie Sheen) round up supplies and head off into the woods to avoid capture. Along with the brothers are their friends Robert (C. Thomas Howell), Danny (Brad Savage), Daryl (Darren Dalton), and Aardvark (Doug Toby).

Once the initial activity has settled down, the group heads into town to gather intel and additional supplies. While there they head to the home of Jack Mason (Ben Johnson), who tells Robert his father, owner of the general store where the boys got their first round of necessities, was killed for being a "problem". Mason asks the boys to take his granddaughters, Toni (Jennifer Grey) and Erica (Lea Thompson), because he cannot guarantee their safety hidden in his home. Rattled and distraught, the boys take the girls with them and head back up to their forest retreat to regroup and plan for attack. The group, calling themselves "Wolverines" after the local high school mascot, launches one assault after another on enemy troops, spray painting their logo on destroyed vehicles as a warning to enemies and a symbol of hope to survivors.

Weeks turn into months and the Wolverines show no signs of slowing, which manages to impress Colonel Bella (Ron O'Neal), the Cuban resistance leader who finds himself sympathizing with "the rebels". At one point the Wolverines hook up with Lt. Col. Andy Tanner (Powers Boothe), an Air Force pilot who was downed near their campsite. He helps the youngsters strategize and plan their attacks, but as the patience of the invading armies grows thin a Russian hunter is sent in to eliminate their one true threat.

The scenario that plays out in "Red Dawn" may seem far-fetched, but the way it is presented doesn't seem so far off the mark when considering the delicate nature of global politics. Given the current U.S. administration, it isn't so hard to believe other world powers would abandon our cause. Milius' film – which, to be fair, was also heavily shaped by Gen. Alexander Haig, a former Nixon chief of staff - is grim despite its jingoistic, "America, F*ck Yea!" nature. This isn't some fly-by-night operation like, say, "Invasion U.S.A." (1985), where a few hundred troops take over a couple of towns before being absolutely annihilated by U.S. armed forces. The assault in "Red Dawn" is a calculated attack that cuts off large swaths of the country, creating multiple fronts. This also helps to explain why Calumet doesn't receive full-blown military aid immediately: soldiers are tied up elsewhere. Although, it also doesn't explain why the Russia-Cuban partnership would choose to infiltrate such a tiny town to begin with…

Putting aside whatever military message the film is or isn't conveying – loads of subtext can be gleaned depending on the viewer's own personal beliefs – this is a movie that defined the 80's; not only for its content but also (mostly?) for its stars. Swayze, Sheen, Thompson, Howell, Grey – nearly all of the young leads featured here went on to promising careers. This is where Charlie Sheen made his feature debut (his first credited role) and his output in the 80's consisted of one big hit a year after the other. But more than being pretty faces these "kids" are all great actors who really sell their roles. Jennifer Grey and Lea Thompson barely even speak but their eyes and mannerisms say so much, a trait that imbues the few words they do speak with a sense of importance. My personal favorite is C. Thomas Howell as Robert, a character who goes from average awkward teenager to hardened icy-veined killer after learning of his parent's death. Not everyone is given equal screen time but all have an impact and no role feels superfluous or wasted.

One of the true standouts is Basil Poledouris' outstanding score, which brims with bravado and produces so many heart-thumping moments that viewers will vicariously live through the Wolverines with ease. His music is often a game changer for any film with which he is associated, and his work on "Red Dawn" ranks right up there as one of his finest efforts.

Video


Shout! elected not to remaster "Red Dawn" for this release, and it sports the exact same transfer as the previous MGM disc with one minor difference: the framing on this release is ever-so-slightly shifted to the left, leaving a slight black line down the right side of the screen. Odd and a bit troubling. Other than that, the 1.85:1 1080p 24/fps AVC MPEG-4 encoded image features the same average color saturation, moderate film grain, mostly-deep black levels, and slightly above average definition.

Audio


The English DTS-HD Master Audio track is available in 2.0 stereo and 5.1 surround sound. The extra channels add lots of activity and depth during the frequent bouts of gunfire, heavy artillery explosions, tank cannons, and more. Dialogue always sounds crisp and clear, never lost in the shuffle of big bangs. Basil Poledouris' score shines in lossless audio, providing the film with the right accompaniment to moments of triumph and terror. Subtitles are available in English.

Extras


Here is where this disc really lets consumers down. There is a single new bonus feature to be found and it is wholly useless and vacant. Otherwise, all of the previous, excellent bonus features from MGM's disc are included here, too.

"A Look Back at Red Dawn" (1080p) is a documentary that runs for 69 minutes and 8 seconds. This snoozer features interviews with such big names as… Doug Toby? Yep, the kid who plays Aardvark was the best they could do, along with other such notables as Production Designer Jackson De Govia, and the Casting Director Jane Jenkins. Considering the old MGM features had ALL of the main cast on camera discussing their roles this piece feels overly long and almost wholly redundant.

"Red Dawn Rising" (SD) is a featurette that runs for 23 minutes and 2 seconds. This legacy piece is the one to watch, featuring interviews with Swayze, Sheen, Thompson, etc. all of whom discuss their roles and the concept of the film.

"Training for WWIII" (SD) is a featurette that runs for 9 minutes and 49 seconds. The actors had to undergo rigorous training for to prepare for their roles.

"Building the Red Menace" (SD) is a featurette that runs for 9 minutes and 37 seconds. This look's at John Milius' knowledge of weaponry as well as covering how the Russian enemy was built of the film.

"WWIII Comes to Town" (SD) is a featurette that runs for 13 minutes and 27 seconds. Covers the shooting of the film, on location in Las Vegas, New Mexico.

A theatrical trailer (1080p) runs for 2 minutes and 29 seconds.

Packaging


The single disc comes housed in a standard Blu-ray keep case. The cover art is reversible, featuring both new art and the original key art. A slip-cover is included on first pressings.

Overall


The film is a classic but this disc is a cash grab. What the movie needed most was a new transfer, not a boring bonus feature that isn't likely to excite any fans. As much as I hate to give Shout! Select's new line a failing grade this is one release that feels utterly superfluous in every way. A big pass if you already own the old MGM Blu-ray - and even then you can find that older edition for cheaper than this sells for.
| | | | | |
| --- | --- | --- | --- | --- |
| The Film: A- | Video: B- | Audio: B+ | Extras: C+ | Overall: B- |