The Film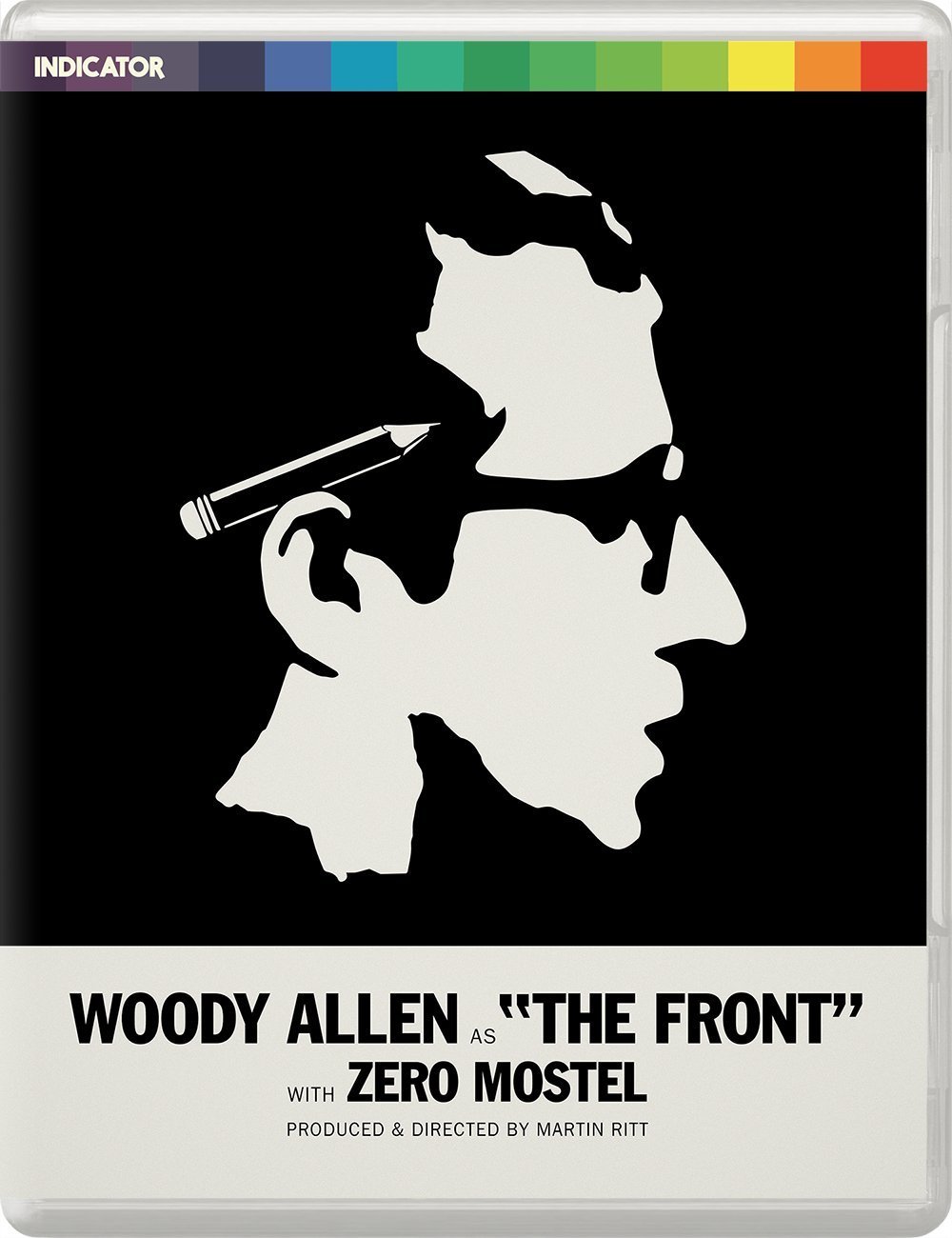 ***This is an A/V and Extras review only. For reviews on the movie from various critics, we recommend visiting HERE***

What if there were a list?

A list that said: Our finest actors weren't allowed to act. Our best writers aren't allowed to write. Our funniest comedians aren't allowed to make us laugh.

What would it be like if there were such a list?

It would be like America in 1953.

Video


Independent British distributor have released the Woody Allen starring The Front on to Blu-ray for the first time in the United Kingdom as part of their Indicator Series. The feature receives a 1080p transfer in its original aspect ratio of 1.85:1 and an AVC MPEG-4 codec. True to form for Powerhouse, this is yet another strong looking release.

Licensed from Sony, the source of the transfer is a 4K restoration overseen by Grover Crisp. Although this is far from the top end of Sony's 4K restorations from this era, it has certainly benefited from the attention with a natural moderate layer of film grain running throughout and adept contrast levels. Despite the fact there aren't as many close-ups as your average film, the clarity of the details is often exceptional. Every minor pattern in the fifties style suits/clothing, minor details on certificates and paintings hanging on walls, and even mid to long range facial details are all certain to be a remarkable step-up from the previously released 2011 DVD from Sony. Shadow details could be more refined overall, but are still above average. Colours are good with skin tones natural looking and blacks reasonably deep and inky. The only slightly negative comment I can make about this transfer is that some scenes did feel a little too soft, but this could have been intentional. Apart from some understandable minor blemishes in the archive footage during the opening credits, there is no noticeable damage to speak of and no issues with edge enhancement, banding, aliasing, or digital noise reduction. This isn't a reference quality print, but it is worth praising.

The disc is region free and the film is uncut, running 94:46.

Audio


Powerhouse Films have included a single LPCM 1.0 mono track in the original English here. It's quite an uneventful track, filled mainly with dialogue and not a lot else bar an intermittent score from Dave Grusin and some fairly basic subtle effects (the ping of an elevator door opening, footsteps, bar chatter). Still, the track has the depth required despite these limitations, rarely sounding flat. According to the included booklet, the audio was restored by Sony at the same time as the transfer. It should come as no surprise that there are no issues to be found with the audio. I noticed no scratches, pops, drop outs, or background hiss. This is a technically sound and faithful track.

Optional English subtitles have been included in English for the hard-of-hearing.

Extras


Woody Allen is a name that strikes fear into DVD and Blu-ray collectors who love their extra features, as noted in an interview with Total Film where he states "I'm not interested in all that extra stuff. [...] I want my films to speak for themselves. And hopefully they do.". This film is a little different however, as he is the star, and not both the star and director!

Audio commentary by actress Andrea Marcovicci and film historians Julie Kirgo and Nick Redman - Another great commentary with Kirgo and Redman, who are this time joined by Andrea Marcovicci who plays Florence. Those who have ever listened to a commentary by Kirgo and Redman will know what to expect - a non-stop barrage of information about the film, its stars, the era, and cinema in general. Marcovicci helps things move along nicely with plenty of little anecdotes about her own experiences on set making for not just an informative commentary, but a fun one.

Isolated Score - Presented in LPCM 2.0, this is a simple isolated score feature which unfortunately suffers from having many dead spots due to how intermittent the score by Dave Grusin is. I'm not someone who gets much of a kick from isolated scores, but for those who do enjoy them, this is of course a welcome addition.

"Behind the Front" (6:14) - In this interview with director of photography Michael Chapman filmed for Web of Stories, Chapman talks about the subject matter of the blacklist, the final performance of Zero Mostel before his death, and the end credits and the reasoning Chapman is listed where he is. It's an interesting little piece.

The on-disc extras end with an image gallery (22 pages) and a theatrical trailer (1:53).

The first 3000 copies also include a DVD Copy and a 36-page booklet with a new essay by professor Gabriel Miller, author of The Films of Martin Ritt: Fanfare for the Common Man and archival interviews with Woody Allen, screenwriter Walter Bernstein and director Martin Ritt.

Overall


This was my first ever viewing of The Front and it was a very interesting piece with some great performances. Once again, Powerhouse gives us a decent A/V presentation, and a nice selection of extras.
| | | | | |
| --- | --- | --- | --- | --- |
| The Film: B+ | Video: B+ | Audio: B+ | Extras: B | Overall: B+ |