Slasher.com
R1 - America - ITN Entertainment / Cinedigm
Review written by and copyright: Eric Cotenas (4th April 2017).
The Film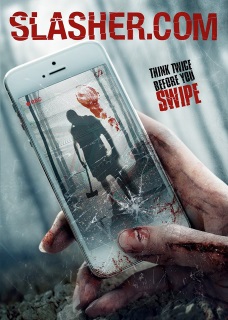 The Southeastern part of the country is in the grips of terror with a serial killer known as "The S/ash.er Killer" preying on female victims through online dating sites, his identity hidden behind complex proxy server manipulations that have led to the "SWAT-ing" and false arrests of several innocent parties. It is just as well that reserved Jack Roper (Ben Kaplan) takes up outgoing Kristy (Morgan Carter) on her idea to take their first date out of the country for a more rustic setting. Both pleasantly surprised that they have each more than lived up to their online profiles, they take Jack's car up to the woods where Kristy has made a reservation for a cabin. While the audience is at this point assuming that Jack must be the killer (having seen a bare torso that presumably belongs to the killer during the opening credits murder), he is even more unnerved than Kristy when they meet the family that owns Myers Rentals: Momma (Return of the Living Dead's Jewel Shepard) who intimately acquaints Jack with her heirloom Victorian silver spoon, hulking husband Jesse (Leatherface: Texas Chainsaw Massacre III's R.A. Mihailoff), and nympho-maniacal "daddy's little girl" Caitlin (Rebecca Crowley). The cabin mantelpiece is furnished unnervingly with framed photographs of past guests, eyes peer through knotholes in the walls, Momma drops by with special treats, Caitlin plays with dismembered dolls, and Jesse beats back mother nature's encroachment onto their property with a machete. It is not long before Jack and Kristy are at their mercy, but the S/ash.er may just be able to teach the family that kills together some new lessons. A hybrid slasher/backwoods horror/torture porn film, Slasher.com (the online aspect being so incidental) is unevenly acted and plotted with the subtlety of a sledgehammer but actually not too bad (nor too good) even as it obnoxiously tries to repeatedly one-up itself with surprise reveals. Shepard make a welcome return to exploitation, the younger cast are not afraid to show a little skin, and the overfamiliarity of the film's various genre borrowings is alleviated by the occasional arresting image like Jack's tumble into a lime pit mass grave. Writer/director Chip Gubera appeared on the horror scene with an entry in the Fangoria magazine video anthology Blood Drive and has also helmed two modern Mil Máscaras homages to the wrestling star's sixties and seventies genre-tinged Mexican star vehicles: Mil Mascaras vs. the Aztec Mummy (co-directed by From A Whisper To A Scream's Jeff Burr) and Academy of Doom.

Video


Whether the fault of the progressive, anamorphic encode, the original HD videography, or the final output, long shots of the woodsy setting (including some Drone "crane shots") are rife with compression noise but it is doubtful this will be a deal killer for curious viewers.

Audio


The sole audio track is a Dolby Digital 2.0 stereo mix with clear dialogue, scoring, and use of source music with a mostly sedate sound design suited to the setting. English Closed Captions are available.

Extras


The sole extra is a trailer (1:35) for the film.

Overall


A hybrid slasher/backwoods horror/torture porn film, Slasher.com is unevenly acted and plotted with the subtlety of a sledgehammer but actually not too bad (nor too good),

---
DVD Compare is a participant in the Amazon Services LLC Associates Program and the Amazon Europe S.a.r.l. Associates Programme, an affiliate advertising program designed to provide a means for sites to earn advertising fees by advertising and linking to amazon.co.uk, amazon.com, amazon.ca, amazon.fr, and amazon.de.