Jackie [Blu-ray]
Blu-ray A - America - Twentieth Century Fox Home Entertainment
Review written by and copyright: Eric Cotenas (4th April 2017).
The Film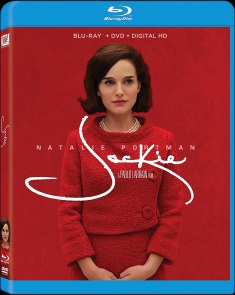 The goals of "Don't let it be forgot, that for one brief, shining moment there was a Camelot" and "Let them see what they've done to Jack" play tug of war in the mind of Jacqueline Kennedy (Black Swan's Natalie Portman) following the assassination of her husband President John F. Kennedy (Flame and Citron's Caspar Phillipson) in the fanciful exploration of the fall of Camelot as seen from the interior. Intercut with recreations of Kennedy's 1962 television White House Tour (a French sound stage recreation) are her numb hours in the immediate aftermath of the assassination, scrambling of the ongoing investigation in the periphery as brother-in-law Bobby Kennedy (The Skeleton Key's Peter Sarsgaard) tries to shield her from information and Vice President Lyndon Johnson (Gran Torino's John Carroll Lynch) is hastily sworn in, and the planning of her husband's funeral with a procession patterned after that of Abraham Lincoln and choosing to walk in spite of the security concerns that may have Johnson and foreign dignitaries of state declining invitation. Portman's performance is off-putting at first with her husky voice seeming more like a Jackie Kennedy impression than inhabiting the role, but the film focuses on the degree to which she has cultured her self-image, rehearsing her delivery or uttering phrases to get "into character" (in a manner that makes one wonder if she might have tried to incorporate Marilyn Monroe's huskiness into her own voice). The "waste" of the Kennedy legacy includes for her the expense and time devoted to her restoration of the White House (during the television interview, she wavers when asked about what happens to her contributions with the arrival of the next president's wife), her fear for her children's future and winding up destitute like Mary Todd Lincoln, and her fear that her husband will be forgotten like so many other presidents killed in office apart from Lincoln.

All this might have been compelling stuff had it been approached in a more straightforward narrative manner; instead, it feels as if the jumbled, point-counterpoint chronology was the work of a screenwriter (Today show producer Noah Oppenheim whose prior credits were the dreary The Divergent Series: Allegiant and Maze Runner) unwilling or unable to build up to the film's highlights and a director (Chilean director Pablo Larraín of the acclaimed The Club and other biopic Neruda) arthouse indulgences rather than reflecting the protagonist's frame of mind. That the film is told from her point of view allows for rather one-dimensional depictions of other real life personalities. Such reliable character actors like Lynch, Beth Grant (Donnie Darko) as Ladybird Johnson, Richard E. Grant (Withnail & I) as U.S. Commission of Fine Arts chairman William Walton, and Max Casella (Blue Jasmine) as pre-MPAA Kennedy/Johnson consultant Jack Valenti are relegated to the background, while only Sarsgaard really suffers with his performance reduced to scowls and posturing underneath his severe make-up and hairpiece with trailer-ready lines like "I don't think of [the Lincoln bedroom] so much as peaceful as a place of profound legacy." John Hurt (1984) is also wasted as the priest whose words of comfort of course offer Jackie little solace because the actor – in the last of his feature roles released before his death this year – was so obviously cast for the "gravitas" as yet another example of the film's Oscar-bating. The framing device of an interview is another misstep, emphasizing Jackie's determination to control the way her story is told but having the nameless reporter (Big Fish's Billy Crudup) alternate adversarial and deferential as required to shift Jackie's recollections from moments of quiet drama to high emotion along with lip service to her husband's infidelity and her veiled resentments. This aspect plays more like a therapy session than manipulation to obtain unrehearsed details and impressions (especially since we know from the start that she has complete control over what will be published). While not intended to be a flattering biopic, Jackie falls short of saying anything profound about the subject or anything original about love and loss.

Video


Fox's high bitrate 1080p24 MPEG-4 AVC widescreen encode of this 16mm-lensed film at times wonderfully evokes the look of studio films of the late sixties, with the 1.66:1 aspect ratio seemingly chosen not just for the intimacy of the predominant close-ups but also to create less disparity in the aspect ratio between the pillarboxed 1.33:1 recreations of black and white television footage as well as a couple fuzzy bits of genuine archival color footage dropped into the procession sequence at the end.

Audio


Audio options include a DTS-HD Master Audio 5.1 track with an emphasis on dialogue and the score (apart from a couple shock bullet sound effects) along with an English Descriptive Audio Dolby Digital 5.1 track and Spanish Dolby Digital 5.1 dub, as well as English SDH, French, and Spanish subtitles.

Extras


The sole substantial extra is "From Jackie to Camelot" featurette (22:25), an EPK piece with talking heads from Larraín, Oppenheim, and Portman among others with the usual glowing comments. The most interesting aspect of the featurette covers the recreation of the White House interiors on the French soundstage (with some time-lapse footage). A still gallery and theatrical trailer (2:30) are also included (along with bonus trailers from the menu and as start-up material).

Overall

---
DVD Compare is a participant in the Amazon Services LLC Associates Program and the Amazon Europe S.a.r.l. Associates Programme, an affiliate advertising program designed to provide a means for sites to earn advertising fees by advertising and linking to amazon.co.uk, amazon.com, amazon.ca, amazon.fr, and amazon.de.