The Film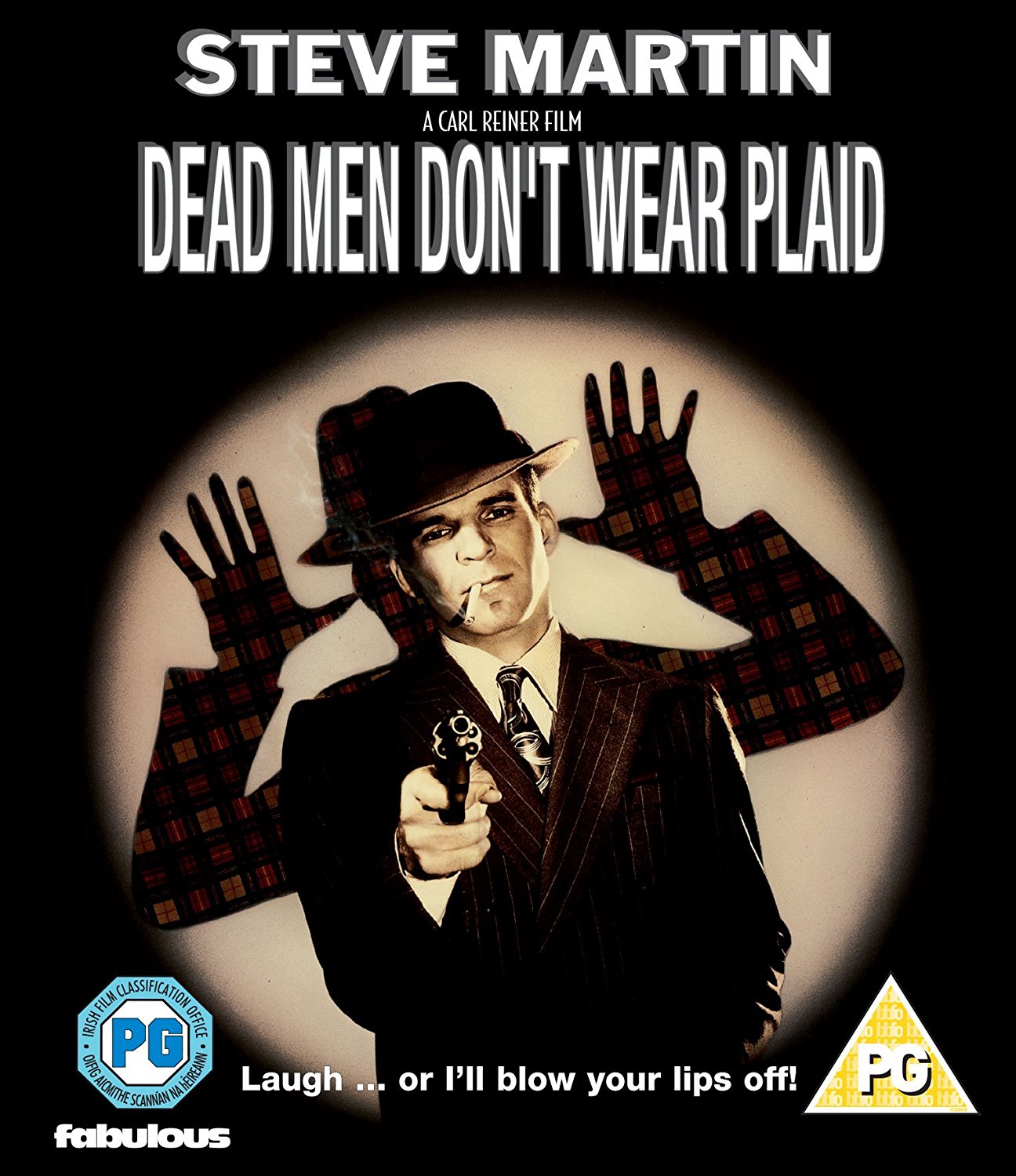 ***This is an A/V and Extras review only. For reviews on the movie from various critics, we recommend visiting HERE***

Laugh... or I'll blow your lips off!

As the private eye of private eyes, Steve Martin is Rigby Reardon. He's tough, rough and ready to take anything when Juliet Forrest (Rachel Ward) appears on the scene with a case: her father, a noted scientist, philanthropist and cheese-maker has died mysteriously. Reardon immediately smells a rat and follows a complex maze of clues that lead to the "Carlotta Lists'.

With a little help from his "friends", Alan Ladd, Barbara Stanwyck, Ray Milland, Burt Lancaster, Humphrey Bogart, Charles Laughton, etc, Reardon gets his man. An exciting, action-packed film the way 40s' films used to be!

Video


Independent British distributor Fabulous Films have released the Steve Martin comedy Dead Men Don't Wear Plaid on to Blu-ray for the first time in the United Kingdom using the original aspect ratio of 1.85:1. Unlike the only other available release (at time of writing) from Italy which received an MPEG-2 codec, Fabulous have provided an AVC MPEG-4 encode.

It has been a very long time since I last saw this film, but I did remember vividly the use of clips from older films such as Double Indemnity, The Big Sleep, and The Postman Always Rings Twice, and my initial thoughts would be to how these scenes would look on Blu-ray. Unfortunately it is a bit of a mixed bag, but quite understandably so. These scenes often have a little damage to them like light scratches or artefacts, but they are still certainly passable. Perhaps it is just the fact that the rest of the feature now looks more distinct in comparison that makes this more noticeable though. Filmed in black and white, I found contrast levels to be fine, and details to be reasonably strong throughout, especially in facial close-ups. Shadow details do struggle on occasion but are also generally good. There is some light edge enhancement throughout, which I believe was also an issue on DVD, which confirms that this is probably an older master, but it never gets to a level of causing concern. Damage in scenes filmed for the movie is minimal, with just the sporadic light scratch and bit of dirt. Compression is generally good, though there was an instance of compression artefacts at 16:22 for a couple of seconds. Whilst I have mentioned several problems, I should stress that they are all small and negligent, and for the most part, this is a pleasing transfer that most fans will certainly be happy about.

The feature is 1080p, uncut, and runs 88:35.

Audio


The only other release currently available from Italy only includes lossy audio and I am very glad to say that Fabulous Films have fixed this oversight to give us the film with lossless audio for the first time - an English DTS-HD Master Audio 2.0 Mono track! It sounds pretty good, and as far as mono tracks are concerned there are no major issues to discuss. Whilst some of the footage from other films can have a slightly inconsistent volume level, and a little background hiss to it, the footage from the main feature itself suffers no such issues. Depth is good, and the perfect tone of Miklós Rózsa's score is prominent without being overpowering. All things considered, this is a decent effort. Like with the transfer, fans will be pleased.

Unfortunately no subtitles have been included.

Extras


Just a theatrical trailer (1:47).

Overall


Dead Men Don't Wear Plaid is a cleverly written and very funny film that receives a very capable A/V presentation. The low price point on release (Ł8.99 at most places on pre-order) makes this an absolute bargain.
| | | | | |
| --- | --- | --- | --- | --- |
| The Film: B+ | Video: B | Audio: B+ | Extras: E | Overall: B |