The Film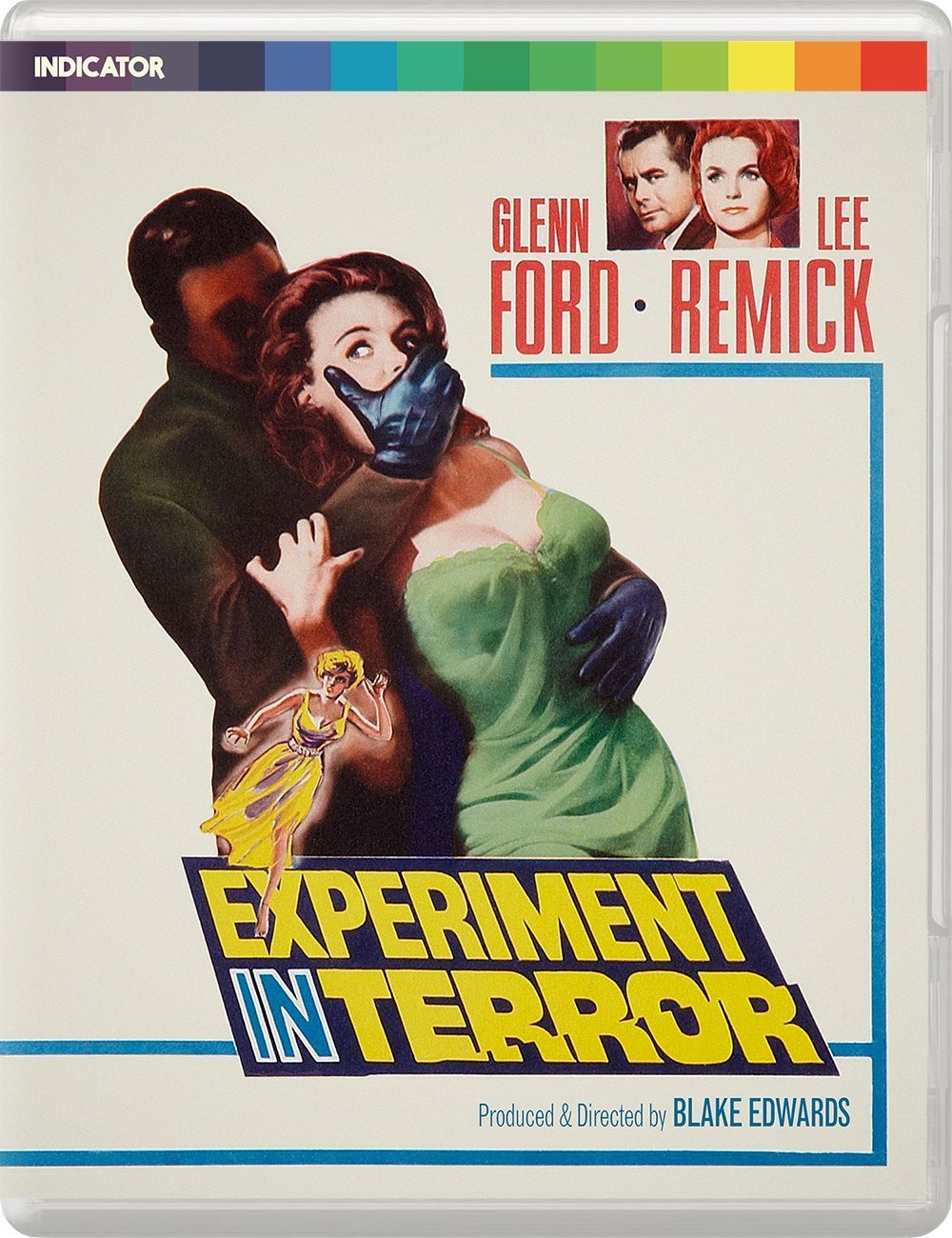 ***This is an A/V and Extras review only. For reviews on the movie from various critics, we recommend visiting HERE***

Terror stalks a beautiful bank teller in this classic thriller from Blade Edwards.

Glenn Ford plays the dedicated F.B.I. agent, John Ripley, who fights to protect Kelly Sherwood (Lee Remick) from a ruthless killer. Unless his plans to rob the bank succeed, the unseen assailant (Ross Martin) - identifiable only by his asthmatic breathing - threatens to murder Kelly and her teenage sister, Toby (Stephanie Powers). To save the two terrorised sisters, the F.B.I. sets up an elaborate trap using Kelly as a decoy, but the killer gets away. Nerve-racking suspense builds as Kelly, now panic-stricken, continues to act as bait long enough to let the Feds trap the killer. Unless they act quickly, the woman in distress will become the casualty of a deadly EXPERIMENT IN TERROR!

Video


Independent British distributor Powerhouse Films continue to plough through Sony catalogue properties for Blu-ray, this time opting for 60s thriller Experiment in Terror. As to be expected by their track record, Powerhouse release this feature in the original aspect ratio of 1.85:1 and with an AVC MPEG-4 codec. The transfer is 1080p, and is very strong overall.

According to the included booklet, the transfer is mastered in 4K and the restoration was undertaken in-house at Sony under the supervision by Grover Crisp from the original negative. The end result is a very pleasing transfer that even the most eagle eyed enthusiast will be very happy with, although not quite reference quality like the Powerhouse release of Bunny Lake Is Missing. Details are sharp throughout, with some of the facial close-ups adding to the tense atmosphere, such as at 32:12, where every little contour and bump in the protagonist's face helps to add a little more fear. Background details are occasionally a little clunky, but with no cause for concern, though the occasional wide external shots look stunning. Shadow details show without issue. Contrast levels are good, and there is a consistent fine natural layer of grain running throughout. There is no obvious damage, no banding, no aliasing, and no edge enhancement. There was also no digital noise reduction of note. This is another box to tick for Sony's in-house team.

The film is uncut and runs 123:21. The disc is region free.

Audio


Two options;
- English DTS-HD Master Audio 5.1
- English LPCM 1.0

Well isn't this a nice surprise? The only previously available release from American outfit Twilight Time unfortunately did not have the original mono track so it is great to see it included here. The track was restored at the same time as the transfer, and the 5.1 track was created by upmixing the D-M-E (dialogue, music and effects) stems and the original 3-track LCR music score. For my viewing I opted for the mono track, though I did of course switch it up a few times throughout. The mono track is great. Volume levels are consistent, dialogue is clear, score is well presented, and despite the limitations, depth is good. I have to say though, the upmix also sounds very appealing and has been done well (unlike many other examples from this era) and it does feel more immersive. There are no obvious problems with either track such as drop outs, damage or background hiss.

Optional subtitles are included in English for the hard-of-hearing.

Extras


We start the on-disc extras with a brand new audio commentary with film critic Kim Morgan who most will know as a contributor to Sight and Sound magazine, and the Criterion collection. There's a little stuttering over the first quarter of an hour or so, but she soon finds more of a stride and delivers a reasonably informative commentary (sometimes just points out the obvious without insight) looking at all the major aspects of the film, and the cast/crew in general. It's a good solo effort that would have benefited from better flow. For fans only.

"All by Herself" is an interview with actress Stefanie Powers, clocking in at 18:43. It starts with Powers asking if she is the only surviving member of the cast, but immediately jumps into a fascinating look at her career and her experiences as an actress. She has that old school presence that still seeps through the screen, making her a very gripping speaker. She presents some little tidbits about the studio system at the time, as well as currency controls. Essential viewing.

Isolated Score (LPCM 2.0) - Score by Henry Mancini. A welcome addition for those who enjoy listening to film scores.

The rest of the on-disc extras are self-explanatory:
TV Spot 1 (1:02)
TV Spot 2 (0:22)
Theatrical Trailer 1 (2:22)
Theatrical Trailer 2 (2:48)

The initial run of 3000 copies also include a DVD copy and an immense 32-page booklet with a new essay by film critic Kim Morgan, and a new examination of the secret FBI files dedicated to screenwriters The Gordons by Jeff Billington.

Overall


The inclusion of the original mono track and some brand new extras not seen anywhere else makes Powerhouse's Experiment in Terror release an essential purchase for fans of the film.
| | | | | |
| --- | --- | --- | --- | --- |
| The Film: B+ | Video: B+ | Audio: A- | Extras: B- | Overall: B+ |