Brothers (The): Series 5 (TV)
R2 - United Kingdom - Simply Media
Review written by and copyright: Rick Curzon (20th April 2017).
The Film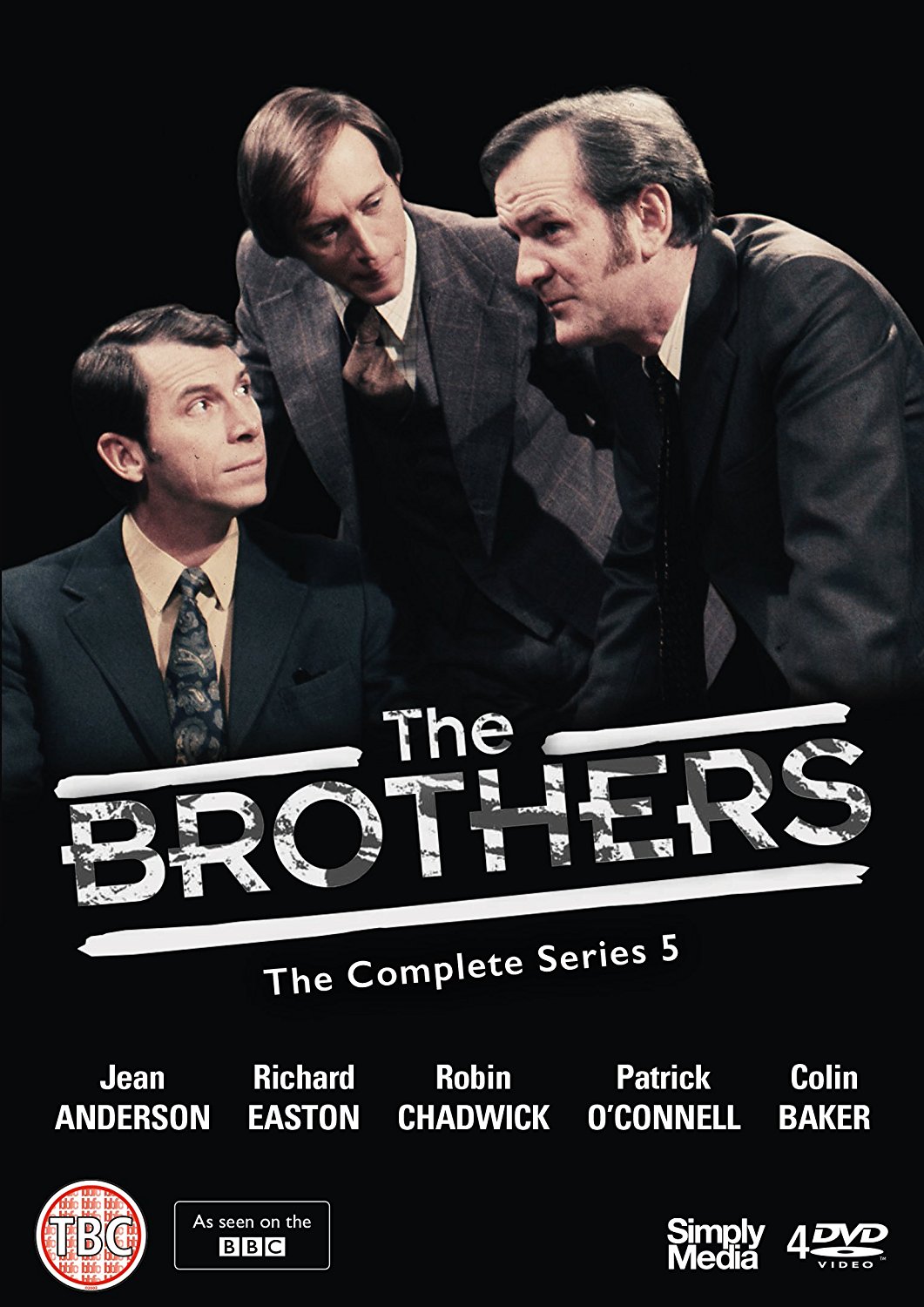 The fifth season of the classic BBC One Sunday soap sees the Hammond clan in deep public and private turmoil. As David (Robin Chadwick) comes to terms with his wife s death and Brian (Richard Easton) reels from the reverberations of his divorce, Edward (Patrick O'Connell) is in constant battle with scheming banker Paul Merroney (Colin Baker) about the direction of the family haulage firm. Edward finally ties the knot with Jennifer (Jennifer Kingsley), who has seemingly won over her new mother-in-law Mary (Jean Anderson), and with all eyes on the wedding, Merroney manipulates a bid for the ailing company. But he hasn't reckoned on a counter-bid from tough-talking air freight chief Jane Maxwell (Kate O Mara). As Merroney woos a rich Lebanese backer, the brothers plot to oust him from the firm altogether, but as always he's a tricky man to outfox.

Video


Created by Gerald Glaister and N. J. Crisp this very English-scale Dallas is about the dramas and  political machinations that take place when patriarch Robert Hammond dies and leaves his haulage firm to his three sons and his mistress: Edward (Glynn Owen / Patrick O'Connell*), Brian (Richard Easton), David (Robin Chadwick) and Jennifer (Jennifer Wilson).  Starting with series four Colin Baker (Doctor Who #6) came on board as arch villain Paul Merroney and series five Kate O'Mara as Jane Maxwell.  The series was extremly popular with the British viewing public and ran for seven series between 1972 and 1976; 92 episodes were produced.  One of the BBC's biggest popular properties of the era, although it's rarely screened now and largely forgotten.

Typical of the era this series (and specifically the fifth under discussion here) was produced on PAL 625 line broadcast standard video tape for all interior sequences and 16mm film for the opening and closing credits and all location work.

Anyone familiar with DVD releases of vintage UK television from this era will know the story: soft, fluid 40 fields per second videotape usually shot under fairly bright lighting and somewhat dingy, gritty film sequences which have flaws baked into the transfers because the negatives would have been discarded soon after the final takes had been edited into the master broadcast tapes and therefore are only as good as film to tape transfers of the era.  Serviceable, but were the original elements to still exist then massive improvements should be possible; see Network's The Sweeney (Series one) and all five sets of The Professionals on Blu-ray for how amazing 16mm film of this era can look when given top notch treatment.  Under the circumstances tape sequences come off better than the film.

The masters have had little or no restoration applied but they are in very good shape generally with only the very odd dropout or shimmer.  Encoding is also reasonable; I didn't notice anything too untoward bar the odd bit of brief macro blocking in dark scenes.  Colours are standard for the elements with modest colours and decent black levels; florid colour was not standard for videotape productions at this time, with a more naturalistic palette being the norm - some outrageous '70s fashions aside of course.

It's a shame the series lacks commercial cache because The Doctor Who Restoration Team would have worked their usual magic with the elements, which are much the same for the classic series of Doctor Who (1963-89).  In any case fans can breathe a sigh of relief that their vintage favourite looks as good as it can under the circumstances given the commercial realities of today's market.  Short of presenting these episodes uncompressed on Blu-ray / UHD Blu-ray and spending a lot more money on the restoration this is as good as we can realistically expect.

* Owen played the role for first run and O'Connell for the six remaining series.

Audio


English Dolby Digital 2.0 Mono

Nothing remarkable but it gets the job done; nice clear dialogue, and robust for what it is: a vintage mono soundtrack sent to the front left and right speakers.  I didn't detect any distortions or dropouts or sibilant issues.  Dudley Simpson's score sounds clear and never overshadows dialogue.  This is likely to only be improved upon by an HD or UHD release with lossless sound; which is about as likely as a rose growing outside in Antarctica.

Extras


Nothing; very disappointing for anyone who knows the wonderful Doctor Who releases which have dug up all sorts of ephemera like talk show interviews, trailers, still galleries and had special retrospectives made and commentaries recorded.

Overall


We have a very agreeable release of the fifth series of The Brothers with decent picture and sound based on the BBC's archive elements.  This set contains all 13 episodes of the series originally broadcast from April 6th to 25th June 1975.  I know from discussions online that this series has been much requested after the company that was originally releasing it stopped and Simply Media have stepped up to bat having previously released the fourth series.  Hopefully this will continue for the remaining two series.
| | | | | |
| --- | --- | --- | --- | --- |
| | Video: B | Audio: B | Extras: F | Overall: B |

---
DVD Compare is a participant in the Amazon Services LLC Associates Program and the Amazon Europe S.a.r.l. Associates Programme, an affiliate advertising program designed to provide a means for sites to earn advertising fees by advertising and linking to amazon.co.uk, amazon.com, amazon.ca, amazon.fr, and amazon.de.