The Film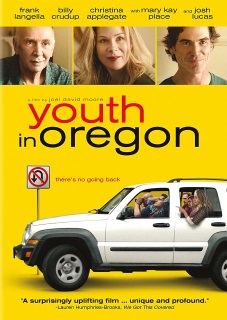 On his eightieth birthday, retired doctor Ray (The Ninth Gate's Frank Langella) announces to his family at dinner that he will be traveling to Oregon for an assisted suicide. His announcement is met with negative but diverse reactions: his wife Estelle (Sweet Home Alabama's Mary Kay Place) humors him because she is convinced that he will not qualify (although he does not know about the results of his latest physical), his daughter Kate (Married… with Children's Christina Applegate) goes into hysterics and badgers her husband Brian (Inventing the Abbots's Billy Crudup) into voicing an objection, their teenage daughter Annie (Bates Motel's Nicola Peltz) is both shocked and mortified since dreamy boyfriend Colt (Daredevil's Keenan Jolliff) is also present at the birthday dinner to hear the announcement. Living with his daughter Kate and son-in-law since his bypass, Ray has felt like a burden and his son-in-law has lacked conviction while trying to disabuse him of that notion. Kate decides she will drive her father to Oregon herself, assured by her mother that Ray will not qualify and by Brian certain that his father-in-law is just crying wolf and will give up after the first day of driving. Plans change, however, when Annie is suspended after a sexting photograph she sent to Colt gets spread around the school and Kate feels that she cannot be away from her daughter at this time. Brian reluctantly agrees to drive Ray to Oregon, and is even more reluctant when alcoholic Estelle insists on tagging along. When Brian suggests that Ray's health-related erectile issues and feelings that he may not be able to satisfy his wife may be contributing to his desire to end his life, Ray's jealous outburst at his wife's flirtation with a younger man and boasting to Brian about his stamina at the younger man's age assuage Estelle's doubts that her husband is not choosing to end his life rather than spend his remaining days with her. After a fall, Ray confides in Brian the results of his latest physical as well as his fears of further physical deterioration after observing the after effects of an old friend's stroke ("Somebody had grabbed him by the collar, and they shook him up, and his face just froze like that"), leading Brian to realize that his father-in-law is less concerned about being a burden to his family as getting to the point where he loses the ability make his own decisions. Needing reinforcements, Brian arranges a side trip to Ohio to visit Ray's gay Mormon son Danny (Session 9's Josh Lucas) hoping that a chance at mending their estrangement before Ray dies will make him change his mind; however, Brian is surprised when Danny (who has just broken up with his longtime partner) and tags along, and then shocked when Danny reveals that he is on Ray's side. Brian hopes to lay some more guilt on Ray with another side trip to visit his own son Nick (The Lifeguard's Alex Shaffer) proves more dispiriting for him when he learns his son has taken a semester off for an unpaid artistic internship. Meanwhile, back at home, Kate deals with Annie's flip-flopping emotions while trying to ease her daughter into the idea of flying to Oregon when it appears that Brian was wrong about Ray relenting once they called him on his bluff; but they may all be too late when it turns out that Ray's own plans are not as straightforward as they thought.

The third directorial effort of quirky, hangdog actor Joel David Moore (Hatchet), Youth in Oregon is an intriguing family drama that seems to want to also be a comedy; and it is the latter area where it falters. Place is reliably quirky while possibly in denial but a long sequence in which Estelle and Brian are hopped up on Annie's ADHD drugs and energy drinks for a hallucinatory night drive feels more like pandering to audiences who still find "straight-laced guy gets stoned" funny. Rather than taking a position on assisted suicide, the film observes the ways in which family members may mean well in their objections or support but end up seeming selfish in their reactions, from Kate's "you don't get to make that decision" to Danny telling his father he is on his side "I wanted you to see what support felt like"; indeed, their reactions to Ray's plans are wrapped up in their own issues about autonomy and support for their own choices from their loved ones (particularly son Nick who seems to take Ray's side because Brian is angry that he has left college and taken a job without consulting him). The scenes involving the assisted suicide of Ray's friend (Sweet Land's Robert Hogan) maintains a nice tension between our sympathy for the man's choice from the perspective of his daughter (Blue Valentine's Maryann Plunkett) and friend Ray, and our revulsion (from Danny's perspective) at the business-like transaction negotiated between Ray and the doctor (Everybody's Fine's James Murtaugh) and the methodical approach of the "compassionate aide" (Happiness' Ann Harada) in dispensing instructions to the daughter for administering the drugs and the boilerplate "cover your ass" questions to clarify the patient's consent and acknowledgment that he is fully aware of what will happen. Langella more than anyone else during the final scenes achieves the appropriate pathos but the open ending feels less ambiguous than an unwillingness to commit. The scenes with Annie and Kate feel like an extraneous attempt to open up the film, and are less successful at making us care about either character than to show that things are just as complicated and Kate just as ill-prepared to deal with them even when Brian is not around for her to blame. When his actors are not speaking, Moore's direction is on autopilot with every pensive silence underscored by acoustic guitar and almost every transitional sequence slipping into slow motion with a "cool" vocal dropped onto the soundtrack as if Moore did not trust himself enough as a filmmaker not to fall back on such clichés, or perhaps the filmmakers were so uncertain as to whether the audience would accept such a story without a degree of forced levity. The film remains watchable for the performances of Langella and Place while doing a disservice to secondary lead Crudup (his familial issues are settled during those pensive, music-dominated silences with meaningful glances and lending a shoulder for crying). The cast also includes Geoffrey Owens (The Cosby Show) as Ray's heart surgeon.

Video


Sony's single-layer, progressive, anamorphic widescreen encode gets the job done with a film in which colors are over-warm and many shots deliberately distorted with wide angle anamorphic bowing of the lens at the center and characters who are either backlit, shot through glass or mirrors, or against the lens-flaring sun.

Audio


The sole audio option is a Dolby Digital 5.1 track that keeps the surrounds active with atmosphere and becoming more lively in restaurant, diner, and bar sequences or when the scoring dominates the soundtrack. Optional English, English SDH, and French subtitles are included.

Extras


There are no extras.

Overall


Youth in Oregon is an intriguing family drama that seems to want to also be a comedy, and it is the latter area where it falters.