The Film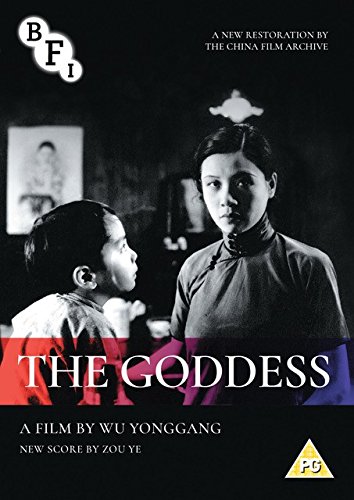 "The Goddess" 神女 (1934)

In order to support her child, a single mother (played by Ruan Lingyu) becomes a prostitute on the streets of bustling Shanghai. The streets are filled with danger from random patrons to police officers patrolling, in which at one point she seeks refuge in a random man's home. The man, Zhang (played by Zhang Zhizhi) thinks that he should be rewarded for sheltering her for safety which dismays her, but she has no choice as he towers over her in size. Things turn worse as he and his minions find out where she lives and threatens her and her baby son, effectively forcing her to work for him as he becomes her pimp.

As her life turns harder and her son, they run away in hopes of finding a better life away from Zhang and to have the son given a good education in school. But when the rumors about her profession start to spread with parents and school staff, her son may lose the education that she desires for him to have...

"The Goddess" is considered one of the finest Chinese silent films ever made. It was not a grand epic of sweeping spectacles, but an intimate drama with honest performances and non flashly storytelling. It's a straightforward narrative in linear form taking place over the course of a few years with hardships through social climate, and a fairly tragic but possibly hopeful outcome. So in a sense it is a film that does not change the rules of cinema at all but is one that plays the right notes by giving true characters in truthful situations. Visually speaking the film is not about large tracking shots or movement, but reserving them for closeups, medium shots and establishing shots to give more to the performers rather than the technical aspects.

"The Goddess" was a non-derogatory term to describe a prostitute and the nameless female character played by 24-year old Cantonese silent film superstar Ruan Lingyu is one for the ages. The story does not put prostitution in a positive light but as a forced way of survival that many people faced. Whether economic reasons, social reasons, or otherwise it was not a desired profession and it cinematically does not make it so. Her character is level headed in raising her child but knows that she is in a difficult position of being in a socially unacceptable lifestyle, and Ruan's performance is always there with a hint of sadness but showing exquisite honesty and beauty. It was no wonder that the young star was one of the most popular actresses in Chinese silent cinema since her debut at 16 years old. Unfortunately for Ruan, life and art did parallel, as she had grown up in a poor family with her mother and her living as servants to a make a living. She eventually started a relationship with her employer - a man from a rich family who became addicted to gambling which started from when she was 16 until she was 23. Tabloids picked up the story of the former lover trying to reconcile while she was already in another relationship with a tea tycoon. Stories of abuse, intense pressure from media and public led to Ruan taking her own life on March 8th, 1935, at the age of 24. Her suicide note stated the words人言可畏 "gossip is a fearful thing". While it was disputed whether she had actually written it or if it was forged, the truth was that China lost one of its biggest and brightest film stars. Her funeral was a procession 5 kilometers long, and reportedly three fans also committed suicide during the march. Only a handful of Ruan's films have survived over time, but luckily one of her most acclaimed - "The Goddess" has survived showing the power she had on cinemagoers of China at the time.

Note this is a region 2 PAL format DVD which can only be played back on region 2 or region free DVD or Blu-ray players

Video


The BFI presents the film in the original 1.33:1 aspect ratio (non-anamorphic) in the PAL format. The film was restored by the China Film Archive in 2014. Considering the age of the film and the condition it was stored in, it looks good but not a revelation. There are many instances of scratches and damage on the frame, missing portions of the image, and some telecine wobble throughout. In positive notes the film has been cleaned and remastered to remove more prominent issues that plagued earlier DVD and video transfers, and is relatively watchable with fair detail on subjects and backgrounds. Screencaps are as follows:




The film's runtime is 78:30.

Audio


Music LPCM 2.0 stereo
A new music score has been composed by classical music and film composer Zou Ye. The China Philharmonic Orchestra performed the new score, commissioned by the KT Wong Foundation - an organization dedicated to furthering Chinese arts and culture to the world. The music is presented in lossless stereo sound and it's a great addition to the powerful performances. The stereo separation is excellent and full, even if not a 5.1 surround track. There are no issues of distortion or audio errors on the track.

As it is a silent film, the film includes Chinese (pre-1950s standard) Intertitles with optional English subtitles in a white font for translation. The Chinese intertitles are not the modern simplified Chinese characters used in mainland China so modern mainland Chinese will certainly not be able to read the writing. As for the English subtitles, someone at the BFI seems to not have timed out the subtitles correctly as in many occasions the subtitles come a few seconds late while at other times they are completely on time. I had to question if the subtitles were accidentally turned off or not. As for spelling and grammar there are no errors to speak of.

Extras


8 Page Booklet
A short booklet is included. First is filmmaker Stanley Kwan's short essay on the film. Kwan directed the 1991 film "Center Stage", the award winning biopic of Ruan Lingyu starring Maggie Cheung. Next is a short tragic biography of Ruan Lingyu by Xiaolu Guo. A biography of compose Zou Ye and information about the KT Wong Foundation follows, and lastly a list of acknowledgements.

While it's commendable that the BFI has been releasing restored Chinese films from the China Film Archive, it is a shame that the restorations do not qualify for high definition transfers, and that more extras could not be added to the discs. No featurettes, interviews, commentaries, or much else. The US DVD of the film releases years ago did in fact include a commentary track which was not ported to the UK release.

Overall


"The Goddess" may have just been another run of the mill silent film but the powerful and tragic performance of lead actress Ruan Lingyu comes through strikingly, and is even more heartbreaking to know that the actress would not live another year after the film was released. The BFI's release has fair picture and a great sounding soundtrack making this recommended, even if there are no digital extras to speak of.
| | | | | |
| --- | --- | --- | --- | --- |
| The Film: B+ | Video: B- | Audio: A | Extras: D- | Overall: B- |