The Film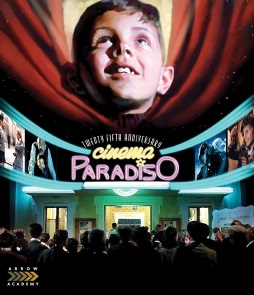 Oscar (Best Foreign Language Film): Italy (won) - Academy Awards, 1990
Golden Globe (Best Foreign Language Film): Italy (won) - Golden Globes, 1990
BAFTA Film Award (Best Actor): Philippe Noiret (won), (Best Actor in a Supporting Role): Salvatore Cascio (won), (Best Film Not in the English Language): Franco Cristaldi & Giuseppe Tornatore (won), (Best Original Film Score): Ennio Morricone & Andrea Morricone (won), (Best Screenplay - Original): Giuseppe Tornatore (won), (Best Cinematography): Blasco Giurato (nominated), (Best Costume Design): Beatrice Bordone (nominated), (Bst Direction): Giuseppe Tornatore (nominated), (Best Editing): Mario Morra (nominated), (Best Make-up Artist): Maurizio Trani (nominated), and (Best Production Design): Andrea Crisanti (noinated) - BAFTA Awards, 1991
Grand Prize of the Jury: Giuseppe Tornatore (tied with Bertrand Blier for Too Beautiful for You) and Palme d'Or: Giuseppe Tornatore (nominated) - Cannes Film Festival, 1989
César (Best Foreign Film): Giuseppe Tornatore (nominated) and (Best Poster): Cinema Paradiso (won) - César Awards, 1990
David (Best Music): Ennio Morricone (won), (Best Film): Cinema Paradiso (nominated), (Best Supporting Actress): Pupella Maggio (nominated), (Best Director): Giuseppe Tornatore (nominated), and (Best Producer): Franco Cristaldi & Giovanna Romagnoli (nominated) - David di Donatello Awards, 1989

Upon learning from his mother Maria (Amarcord's Pupella Maggio) of the death of his mentor Alfredo (Le Grande Bouffe's Philippe Noiret), Rome-based filmmaker Salvatore de Vita (Brotherhood of the Wolf's Jacques Perrin) flashes back thirty years to his boyhood in the Sicilian fishing village of Giancaldo when he was known as Totó (Everybody's Fine's Salvatore Cascio), an altar boy thoroughly enthralled by the cinema. Spying on village priest Father Adelfio (Bay of Blood's Leopoldo Trieste) who screens and censors "indecent material" from films before they can be screened at the parish-adjacent Cinema Paradiso, Totó becomes fascinated with job of projectionist Alfredo, pestering him until he gives the boy the censored trims (which he does not always splice back into films before returning them) to get rid of him. Although his mother (Solino's Antonella Attili) forbids him from going to the cinema after the highly-flammable trims of celluloid cause a fire in their home that destroys the family photographs (including those of Totó's father who was sent to Russia during the war and is either dead or still imprisoned), Totó continues to sneak into the audience and into the projection booth where he stuns Alfredo with his ability to learn the projector controls and his duties through observation; whereupon he takes the boy under his wing and teaches him about the tricks of cinema and exhibition. Although he is happy for the company of the son he never had (who is himself without a father), Alfredo also discourages Totó from the lonely life of a projectionist; more so after a nitrate fire which blinds the older man and burns the theater to the ground. When the Nuovo Cinema Paradiso is erected out of the ruins – thanks to the funding of Neapolitan lottery winner turned showman Ciccio (The Face with Two Left Feet's Enzo Cannavale) – young Totó is appointed the projectionist and it is Alfredo who is now the assistant. As Totó grows into a young man (The Stendhal Syndrome's Marco Leonardi), he finds his passions divided between the cinema (including his own budding attempts at filmmaking which reference Tornatore's own initial films about Sicilian folk life) and his first love Elena (Agnese Nano), the ups and downs of which – particularly when separated by his drafting and her going away to college – go a long way towards helping Alfredo show Totó that life is harder than it is in films.

Initially a flop in its native Italy when released at its original two-and-a-half-hour length, Cinema Paradiso from young director Giuseppe Tornatore (The Legend of 1900) went on to win the 1990 Academy Award for Best Foreign Language Film and other international awards in two hour cut which may be the only instance where Miramax's recutting was not to a film's detriment. After twenty-eight years, the film remains just as charming and endearing upon rediscovery as were the familiar but not always friendly faces to the film's protagonist upon returning to his village after thirty years. A film about the excitement and communal experience of going to the cinema made at a time when cinemas were closing down in the face of recession, television, and videotape, Cinema Paradiso is rapturously cinematic that even viewers well-seasoned in genre and cliché situations are charmed by Totó and the flawed if good-natured folksy caricatures – from the priest who brands an uncensored kiss between Alberto Sordi and Brunella Bovo in Federico Fellini 's The White Sheik as "pornography" or the lovestruck blacksmith (Delirium's Tano Cimarosa) to the village youths masturbating in their seats to the bare behind of in Roger Vadim's …And God Created Woman or the village idiot (The Unknown Woman's Nicola Di Pinto) who attempts to claim the square as his own after each night's curfew – as they are to the romantic heights of Totó and Elena as the camera circles and the love theme of Andrea Morricone (his first cinematic collaboration with his famed father Ennio) or the "stolen kisses" of the final scene. It is of general critical opinion that the theatrical cut was an improvement over the 155 minute original Italian version; the director's cut may seem overly indulgent to the first time viewer at just under three hours, and it is perhaps best viewed after the theatrical cut with the additional footage enhancing ones experience of the original with character bits that are entertaining as supplementary material but not essential . The greatest difference between the two is the resolution of the love story with Salvatore encountering the grown-up Elena (Forbidden Games' Brigitte Fossey all grown up) who does not appear at all in the theatrical cut in which Salvatore's closure is more internal as he is able to look back on his lost love with the same joy as the "stolen kisses" he watches on the screen.

Video


Released theatrically by Miramax and then on VHS by HBO in both English-dubbed and subtitled (in yellow) versions, and on Image Entertainment laserdisc as part of their CinemaDisc line (with English and Italian analogue mono tracks and burnt-in English subtitles), Cinema Paradiso has remained available throughout the history of home video starting with an anamorphic widescreen HBO DVD featuring English and Italian mono tracks and an additional Italian stereo track, a 2003 Buena Vista that presented the theatrical and director's cuts on a flipper disc (with the English dub option on the former) which was quickly replaced with in 2006 by LionsGate with a two-disc deluxe edition that dropped the English dub and stereo remix on the theatrical cut but added an audio commentary and a Limited Edition Collector's Box that added a CD soundtrack, one sheet reproduction, and lobby card reproductions, all of which was dropped for LionsGate's 2011 Blu-ray of the theatrical cut featured only a trailer.

Arrow's new two-disc Blu-ray edition is the stateside reproduction of Arrow's 25th Anniversary Edition from 2013 which recreated the theatrical cut (125:30) from a new 2K scan of the original camera negative of the director's cut (173:31). The image looks darker than the earlier masters but also more richly detailed from minute dust particles swirling into light to the visible scan lines on one or two shots during the kissing sequence (which might mean that some of those "stolen kisses" were not original film but shot off a monitor). There is a jump cut during the end credits as the dubbing credits roll but this may be a stylistic effect rather than the deletion of obsolete information.

Audio


The theatrical cut is accompanied by the original mono track in LCPM 1.0 and a 5.1 remix in DTS-HD Master Audio. The 5.1 mix is subtle, giving a real sense of distance to effects that are mixed lower while still feeling very up front in the original mix from thunder and rain throughout to to the romantic swellings of Morricone's score. The director's cut is viewable with LPCM 2.0 stereo and DTS-HD Master Audio 5.1 remixes (the 2.0 may be a downmix). On both tracks there is a single line of dialogue at roughly seventy-three minutes that sounds as though it were patched in from another source or possibly mixed in from the location guide track. Optional English subtitles are provided for both cuts.

Extras


The theatrical cut is accompanied by the audio commentary by Giuseppe Tornatore and Millicent Marcus recorded for the 2006 DVD, which is actually a commentary track by the Yale University Professor of Italian Language and Literature with a few translated interjections from Tornatore (who she first met at a 2003 Yale screening of the film during which she served as interpreter). Marcus provides some historical context on post-war Sicily, folk traditions, and references to Fellini in characters and stylistic touches. She also points out the film's "acoustic continuity", editing rhythms, the emphasis on vision and perspective, the choice of films seen in the film, as well as the deployment of Morricone's score. Also included on the first disc is "A Dream of Sicily" (54:47) which is less of a making-of for the film than a look at Tornatore's Sicily then (through his earliest short films) and other films about the island - including Visconti's La Terra Trema: Episodio del Mare and The Leopard, as well as 's Salvatore Giuliano - the folk and craft traditions of the island, its political history and cultural changes. "A Bear and a Mouse in Paradise" (27:28) is a charming featurette that combines interviews with Tornatore, Noiret, and a grown Cascio. Tornatore recalls his intention to cast Marcello Mastroianni (La Dolce Vita) as Alfredo but was overruled by producer Franco Cristaldi (The Name of the Rose) who thought a more international actor would ensure the film's popularity in other countries. He also describes how he conceived Alfredo as a mythical figure (perhaps too romantically he concedes) blinded at the point just before televisions entered the home and who died weeks before the Nuovo Cinema Paradiso was pulled down. Noiret recalls falling in love with the script and speaks highly of the inventiveness of co-star Cascio who he lovingly describes as a "brat" while Cascio recalls having never been in a cinema before the film and making Tornatore laugh when he described the screen as a giant television. The title of the featurette refers to how he envisioned the contrast between the characters of Alfredo and Toto. In "The Kissing Sequence" (7:03), Tornatore recalls the inspiration for the film in a story related to him about a theater in a parish hall where the priest censored all of the kissing scenes as well as his desire to have Fellini do a cameo as the projectionist in the final sequence only for Fellini to write him saying that his face would be a distraction and jokingly suggesting he cast a nobody like Tornatore himself. The disc also features the 25th Anniversary Trailer (1:42) while the director's cut disc's only extra is the Director's Cut Trailer (1:22). The set also features a booklet featuring new writing on the film by Italian cinema expert Pasquale Iannone, illustrated with original archive stills.

Overall


A film about the excitement and communal experience of going to the cinema made at a time when cinemas were closing down, Cinema Paradiso is just as charming and soul-stirring in an age where the theater experience is virtually unrecognizable.