The Film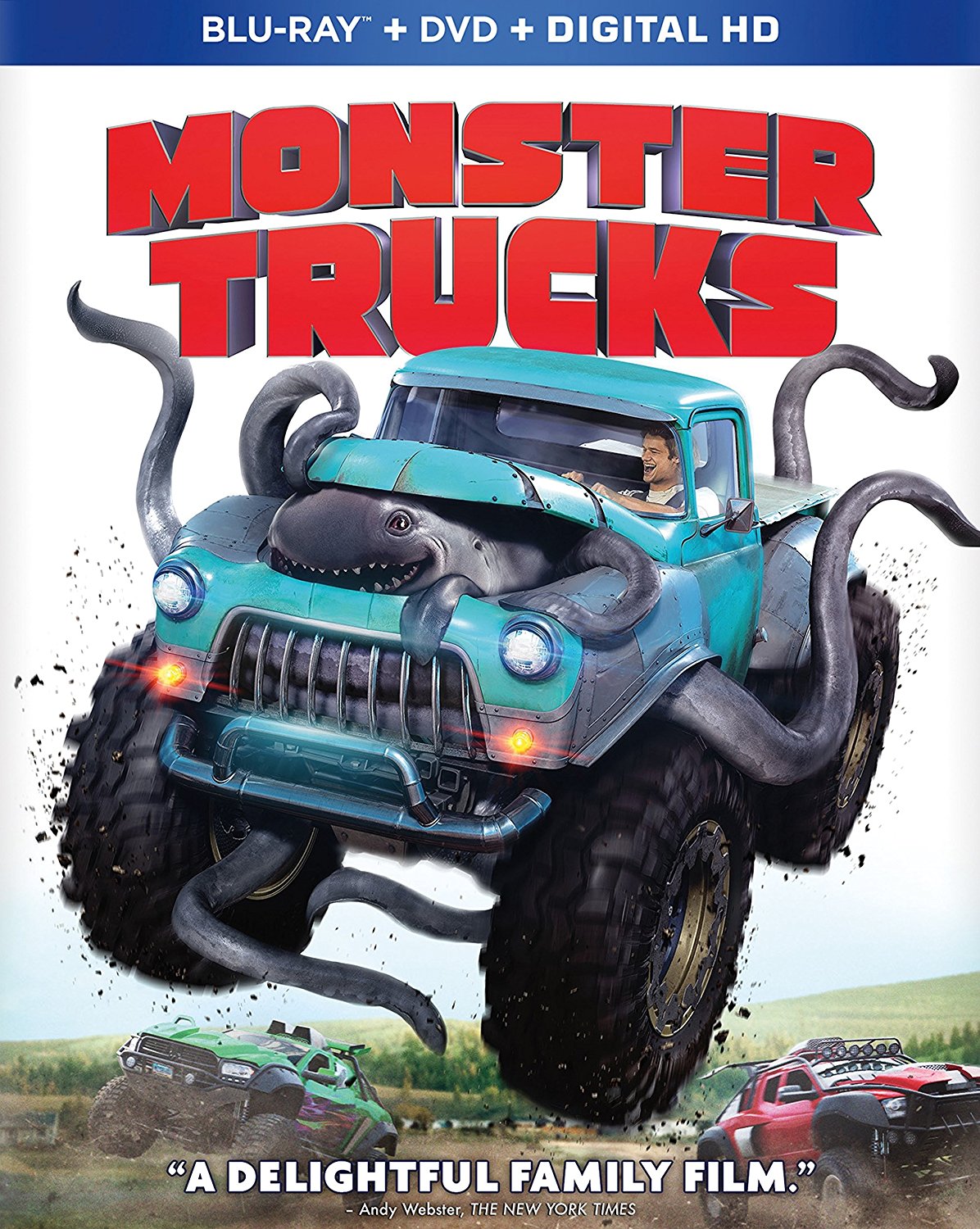 We have all seen scenes of a boy bonding with his dog, but what about a boy and his truck, wait a minute, make that a boy and his monster propelled truck. I know, you are wondering what I meant by that. "Monster Trucks" is a family film aimed straight at 8-year-old boys, boys that love monsters and trucks. It is hard to believe that it took a crew of four writers to bring this film to the big screen: Jonathan Aibel, Glenn Berger, Derek Connolly and Matthew Robinson and a $125 Million dollar budget, but it has received a very lukewarm reception at the box office, reaping a mere $64 Million dollars worldwide, with Forbes magazine and the Los Angeles Times have both labelled it a box office bomb. So why did this ecologically message inscribed film flop? Let's review the basic facts.

In a small North Dakota town, which is living off the sweet rewards of having an all-consuming giant company named Terravex Oil, transforming it from a dust withered ghost town into a booming noveau-riche town. At the fracking operations outside of town, trouble is indicated on the monitor of geologist Jim Dowd (Thomas Lennon); apparently there is an underground pocket of water right where they are drilling and the chances that there is life below ground is considerable, but money hungry bad guy Tenneson (a well-tanned Rob Lowe) insists that there is a lot of money at stake and ecosystems be damned, drill away. Immediately three alien life forms blast out from the drilling equipment and eventually two are captured, but one escapes and ends up at the junkyard where our protagonist Tripp (a 23-year-old Lucas Till portraying a high schooler) is working at night, hoping to assemble a workable truck from the various remnants of discarded vehicles. Earlier we are witness to an uneasy exchange between Tripp's mom (Amy Ryan) and her disgruntled son that basically filled in some of the blanks; dad is out of the picture, Sherriff Rick (Barry Pepper) is filling that slot, and he is sort of a dick, and parental authority is not a reality. Tripp is basically unsupervised, missing plenty of school, but clocking some serious time at old man Weathers' (a wheel chair bound Danny Glover) junkyard. This situation is ripe for some serious life changing bonding between boy and machine, er, monster I mean. Harkening back to a previous generation's feel good films, i.e. "E.T. the Extra-Terrestrial" (1982), "The Love Bug" (1968), "The Goonies" (1985), etc. "Monster Trucks" attempts to recapture some of those films innocence, but falls short of capturing that title despite a hearty effort by the cast and crew.

So what is there favorable to say about this film? It does have a pro environmental message built into its premise. It is not based on a comic book, or a television show, or an already existing line of toys; the entire idea is new, although it is based on the concept of the wordplay of Monsters and Trucks, but as far as striking out into new territory, this film certainly felt fresh. I was impressed by the CGI effects that are rather seamless and that is obviously where a lot of the budget went. The target audience will be thrilled by the scenes of the trucks scaling buildings, wedging themselves above the Sheriff's car in a tight alleyway, the general chaos of the chase scenes, and the idea that a friendly monster is powering the vehicles. Female audiences won't really have a lot to feel engaged with other than the fact that our hero is a handsome guy and he is the center of the action, but otherwise there wasn't any realistic violence or implied harm to any animals. And the ending is a happy one where Rob Lowe is lead off in handcuffs, the land where the drilling was happening is environmentally protected, and of course Creech and family are reunited and left to return back to their underground homeland. We are, of course, charmed by the family of sea creatures, and the scene where the family is reunited will tug at the heartstrings of even the most jaded filmgoer.

Perhaps I am just too picky regarding the film's lack of responsibility regarding the consequences of one's actions, or perhaps I have difficulty suspending my disbelief that Till is a senior in high school or that his co-star Jane Levy, also 26 years old, is a brainy, but sensitive pre-college babe that Till has no sexual interest in. Yeah, I'm just too darn picky when it comes to these details. And I haven't even started in on the Cthulhu-like monsters that are simply harmless and delighted to be guzzling oil and powering these hulking oversized vehicles. I realize that this is a children's film and all, but come on guys, but when the concept was supposedly the brain child of former Paramount president Adam Goodman's four-year-old son, then it is suddenly clear that the viewer reaps what it most righteously deserves. Essentially that translates into plenty of chase scenes with the trucks, mindless thrills, and clearly designated good guys and bad guys. However, if you have a male child that is 8 years or younger, than by all means sit him down in front of the set and press play and put your brain on hold for the next 104 minutes.

Video


Presented in an aspect ratio of 2.35:1 mastered in HD 1080p 24/fps using AVC MPEG-4 compression. For a CGI laden film, there was plenty to marvel at. The colors were very crisp and bright, blacks were very dark and looked great on my Television screen.

Audio


There are five audio tracks for this film, English Dolby Atmos 7.1.4 surround, French Dolby Digital 5.1 surround,
Portuguese (Brazilian) Dolby Digital 5.1 surround, Spanish (Latin) Dolby Digital 5.1 surround, English Audio Descriptive Dolby Digital 5.1 surround. I was disappointed that the sound fields weren't used more heartedly, with all those trucks revving their engines, I thought that I would be engulfed in surround sound. Subtitles are included in English, English for the hearing impaired, French, Spanish, and Portuguese.

Extras


Extras include a collection of featurettes, a gag reel, deleted scenes, production diaries, a second disc features a DVD copy and a code is included for a digital copy version of the film in HD. Below is a closer look at these supplements.

DISC ONE: BLU-RAY

"Who's Driving the Monster Trucks?" featurette runs for 7 minutes 6 seconds. The usual talking heads interview bits mostly with the cast and the crew regarding the difficulties encountered in making such an action packed film.

"The Monster in the Truck" featurette runs for 4 minutes 57 seconds. This is a brief low down with the director, various cast members and several stunt people and animators, this gets into the design and execution of the various parts of the film. We see how the truck in question was rigged to allow a number of special effects, such as shuddering, hopping, etc.

"Creating the Monster in the Truck" featurette runs for 6 minutes, 29 seconds. A minor look at the various aspects of the trickier parts of the film, featuring cast and crew. Director Chris Wedge discusses his change from animation to live-action among other topics.

A gag reel runs for 4 minutes, 35 seconds. The usual collection of flubbed lines and mistakes by the leads, some humorous moments by Thomas Lennon, and a lot of nasty faces by Jane Levy.

Six deleted scenes runs for 8 minutes, 36 seconds. The focus on the majority of these scenes were relating to the relationship between Tripp and Meredith and did not add any real depth to the film. The rest of the deleted scenes included what appeared to be a crazy stunt jump by the truck from an overpass onto stacks of cardboard boxes. There was also included a crazy scene involving Tripp changing a tire on Meredith's moving truck while it was balanced on two wheels. Unnecessary.

Production Diaries run for 10 minutes, 13 seconds. Some assorted time filling sequences with taped interview snippets from cast and crew, various moments in the film are reflected back on. Felt like it went on for too long but may be of interest to some.

DISC TWO: DVD

The second disc is simply a DVD copy of the film and does not include any of the extras. There are three coming attractions of other Nickelodeon/Paramount features for kids.

A download code is included in the case for a digital copy version of the film as well.

Overall


I was not completely engaged in the story, but this should make fine family entertainment, especially for the males of the household. Great for 8 to 10-year-old boys and tolerant parents.
| | | | | |
| --- | --- | --- | --- | --- |
| The Film: C | Video: A | Audio: B+ | Extras: B | Overall: B- |