The Film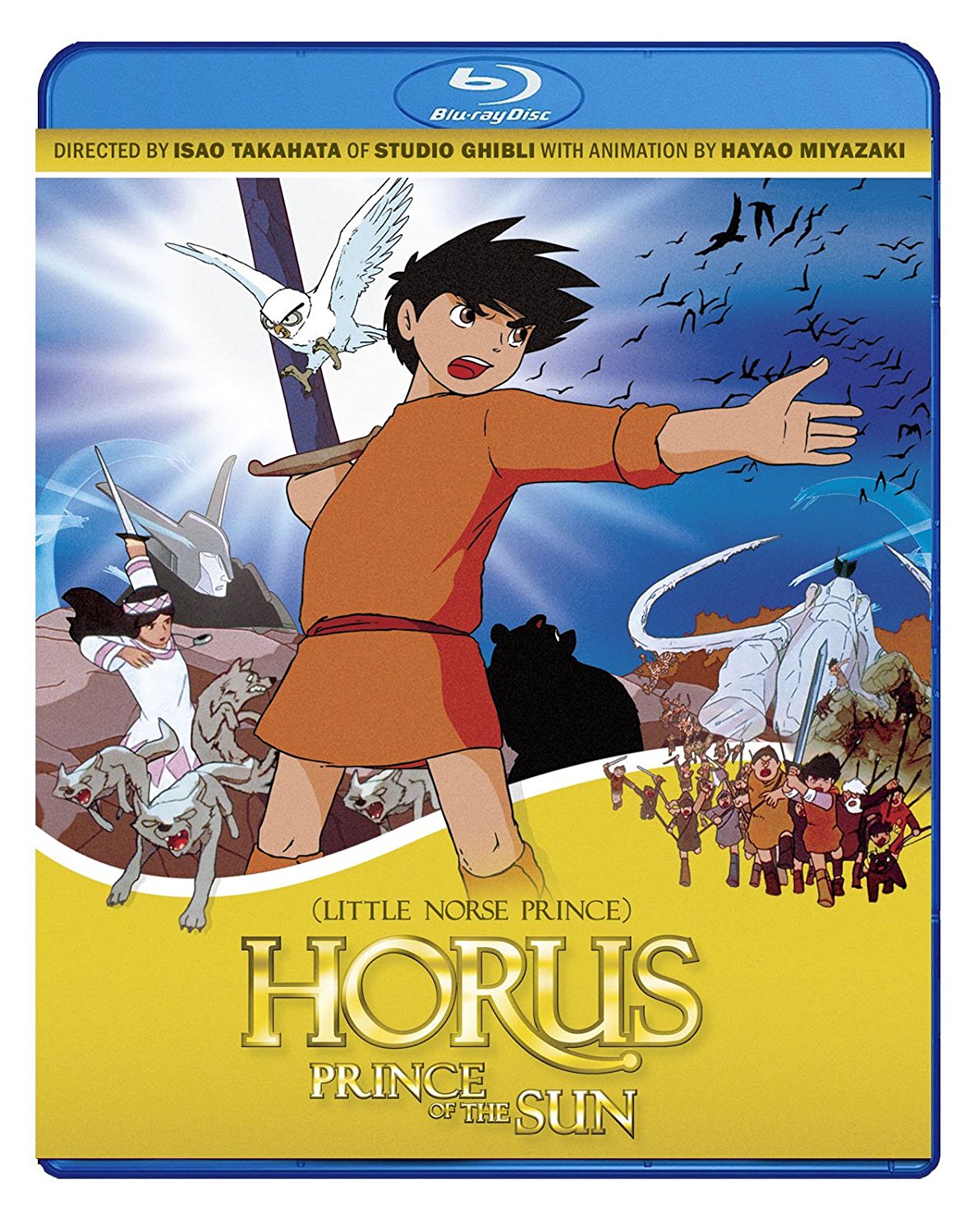 "Horus: Prince of the Sun" (AKA "Little Norse Prince") 「太陽の王子ホルスの大冒険」 (1968)

The film was previously reviewed for Discotek's DVD release in 2015, which can be read here. The synopsis and analysis have been updated from the previous review in addition to the technical specs and extras for this Blu-ray review.

A young boy named Horus discovers The Sword of the Sun. By legend if reforged, would turn the boy into The Prince of the Sun. Horus' father on his deathbed tells him that when Horus was a baby, their village was destroyed by the evil Grunwald and so they fled to their current isolated location. His biggest regret was not being able to return to their homeland to seek revenge, and urges Horus to find his people and help them. Horus with his trusted friend, the talking bear Koro travel by ship to find the land he came from.

A village that he finds has some trouble with a monster pike living in the nearby waters which is eating up all the fish and attacking fishermen. There, Horus meets a blacksmith who is willing to help reforge his sword, a young boy Flip whose father is killed by the pike, and Potom whose father is the village leader. During his stay, Horus proves himself by killing the pike and restoring faith to the village and becoming a hero trusted by the villagers. While out, Horus eventually meets a mysterious girl named Hilda and invites her back to the village out of kindness. Although she feels a strong connection to Horus, she suddenly feels ill when she comes close to The Sword of the Sun and also when she is draped with clothing with images of the sun on them. Eventually, the dark truth about Hilda threatens much more than Horus can imagine.

"Horus: Prince of the Sun" was produced by Toei Animation, over a long 3-year period of production between 1965 and 1968. It was the directorial debut of Isao Takahata, famed director of the Studio Ghibli classics such as "Grave of the Fireflies" and the Oscar nominated "The Tale of the Princess Kaguya". Takahata being a fan of realism, took the fantastical story and made the film not using an animation viewpoint, but made it as if he were directing a live-action film. His main vision was using many shots with camera movement and not the cheap static shots of the average Japanese anime movies of the time. This of course added to the production time, which Toei executives were not exactly happy with.

The film's themes reflected much of what was happening at Toei Studios at the time. The uprising of the villagers was a reflection of the struggle the Toei animators union was having with Toei Studios, and the studio was not happy with the obvious jab. Even with the very expensive cost of the film's production and the three years of hard work, Toei dumped the film into theaters with very little promotion compared to other Toei animated releases, and pulled the film out of theaters fairly quickly. Takahata was demoted and was not able to make another film at Toei.

But the film wasn't a complete bomb. Film critics gave it extremely high praise. And although Toei animation films were marketed toward young children, the film struck a chord with high school students and college students, who saw the uprising themes and battles with authority a parallel with the student demonstrations happening in Japan and the United States, as well as a metaphor for the happenings in Vietnam. Toei occasionally rereleased the film over the years, as well as selling the film rights abroad to various countries including the United States to American International Pictures TV. Apparently, the American producers were extremely praising of the film, but the Toei executives didn't really care much about the movie and were more about recouping the costs instead during the sale.

Years later when Takahata's later works such as the TV series of "Lupin the Third", "Heidi", "Anne of Green Gables", and his feature films for Studio Ghibli such as "Grave of the Fireflies" became popular cultural iconic works, awareness of "Horus" increased drastically, and is now considered one of the most important and influential anime movies of all time.

Considering a logical point of view of the story there are a lot of amusing things that come to mind. Horus' little axe doesn't seem like the most useful weapon for survival after so many years. His father's dying wish is so ambiguous that he doesn't tell Horus where his old village is, or who the people are, yet Horus finds them fairly quickly. A young boy falling off an extremely high cliff and surviving unscathed? Yes, there are a lot of impossible moments, but it is a fantasy film with adventure and discovery. And if that's what you are looking for, you will not be disappointed. It's still exciting and fun almost 50 years later. At a time in Japan when Disney was at a high peak of quality for animation and Japan was considered cheaply made for quick sales to kids, it was a revelation that something as adventurous and innovative as "Horus" would come along.

As for the additional crew and voice cast, it's an amazing collective assembled which at the time were full of new talents who would shine even brighter in later years. Takahata's closest collaborator and co-founder of Studio Ghibli Hayao Miyazaki was one of the head animators and character designers. Animator Yasuo Otsuka worked on various Toei film previously and later would continue in television animation with Takahata, Miyazaki, and also at Studio Ghibli. Animator Yoichi Kotabe would do the same and later continue on the successful "Pokemon" anime franchise. His wife, animator Reiko Okuyama was a rare female animator in the mostly male dominated orld, who worked on a handful of Toei films from 1958 onwards. For the voice cast, Hisako Okata who played Horus was mostly a television actress and "Horus" marked her first foray into animation voice acting. Although she would not have any further feature animation credits she would lend her voice out to a few TV anime series plus continue in TV in dramas and also in feature films. Etsuko Ishihara has one of the most recognizable voices in all of Japanese entertainment, as she has voiced characters for the long running weekly anime series "Manga Nippon Mukashi Banashi" which ran from 1975-1995, and one off specials that continue to this day. She is also a well known figure in TV and film productions, appearing in "The Eel" (1997), "Sweet Bean" (1995), and in "Black Rain" (1989) in which she won the Japanese Academy Award for her performance. She made a surprising comeback to feature animation voice acting in the massive critical and commercial success "Your Name." (2016) as the grandmother. Mikijiro Hira who played the evil Grunwald started his career as a stage actor and made his name in Japanese productions of Shakespeare plays. He would later move to television and films starring in acclaimed works such as "Three Outlaw Samurai" (1954), "Sword of the Beast" (1965), and "Face of Another" (1966) prior to "Horus" and continuing a very active career until his death in 2016. Eijirô Tôno was one of Akira Kurosawa's list of frequent acting contributors and to hear his voice as the mean spirited Ganko is hard to miss.

A long running success on home video in Japan, "Horus: Prince of the Sun" made its HD debut on Blu-ray in Japan in 2013. Discotek Media in the US prepped a special edition release in December 2014, but decided to release it on DVD only as it was unsure of how well it would do on Blu-ray in America. They stated that if the DVD special edition sold well enough it may warrant a Blu-ray upgrade in the future. A little over two years later, Discotek has made the wishes of the fans come true with a special edition Blu-ray edition.

Note this is a region A Blu-ray which can only be played back on region A or region free Blu-ray players.

Video


Discotek presents the film in 1080p in the AVC MPEG-4 codec, in the 2.20:1 aspect ratio. The ToeiScope picture quality looks very good as the DVD edition which used the same master also was very positive. The colors look great, although don't expect any bright eye popping colors since the film has a grey and blue overtone. There are some minor damage here and there but most of the major damage has been removed leaving a very clean master. It is not a huge leap forward to the already excellent DVD transfer considering the source material is identical, but for fans that were looking to add the film to their Blu-ray library, there will be no disappointment.

The runtime of the film is 81:44.

Audio


Japanese LPCM 2.0 mono
English Dolby Digital 2.0 mono
The original Japanese audio track is presented in lossless mono. The Japanese audio actually sounds great even when taking note that it is in mono. The dialogue is easy to hear and the music is well balanced. Being remastered, there are no hisses or cracks in the soundtrack.
As for the English track which is presented in Dolby Dgiital, it comes from a weaker source. Dynamic range is limited and the volume is much lower than the Japanese track. This was originally created for the AIP television dub.

There are optional English subtitles translating the Japanese dialogue. It is in yellow for the dialogue, white for credits, and blue for song lyrics.

Extras


Audio commentary by Anime News Network columnist Mike Toole
Toole puts in quite a lot of information during his commentary. He talks about the history of the film, from the story origin to the production history, as well as the labor dispute issues and the limited screenings imposed by Toei studios, also some background on the Japanese voice case and the English dub cast, and the embracement by young students at the time. An excellent commentary track.
in English Dolby Digital 2.0 with no subtitles

Audio commentary by writer of Ghibli Blog Daniel Thomas Macinnes
Macinnes has some overlapping information on his track, but instead of just an analysis of his own words, he also has a few essays read out loud from various Ghibli sites around the world. Usually a commentary where the speaker just reads aloud words not written by him or herself sounds like a dull lecture, but in this case Macinnes speaks very well, as if they were his own writing. Although he mentions the French essays were translated via Google Translate and he cautions the listeners about it, I think the commentary could have benefited from a bit of editing the translated articles beforehand. The commentary lasts for about 65 minutes, not the full duration of the film like the Toole commentary. Also, it sounds like Macinnes is talking through an AM radio broadcast for some reason.
in English Dolby Digital 2.0 with no subtitles

Isolated Score
To hear only the music cues in the film, the isolated score is presented. The track sounds clean and clear, on par with the Japanese audio track though note it is not a lossless track but in Dolby Digital. Note that this isolated score was included on the Japanese Blu-ray but was not available on the Discotek DVD edition.
in Dolby Digital 2.0

Isao Takahata Interview (12:08)
In this interview made for the French Collector's Edition DVD, Takahata talks about the genesis of the project from the original story idea, the 1960's social impact, and the complexity of good vs. evil, the mandatory animal characters imposed by Toei, and coming up with something unique and original in animation with many of the young staff, including Hayao Miyazaki.
in 480i MPEG-2, in 1.78:1, in Japanese Dolby Digital 2.0 with burned-in French subtitles and optional English subtitles

Yoichi Kotabe Interview (4:15)
In this interview made for the French Collector's Edition DVD, Kotabe praises Takahata pushing creative limits of the animators, including making animators go out and looking at natural settings with their own eyes.
in 480i MPEG-2, in 1.78:1, in Japanese Dolby Digital 2.0 with burned-in French subtitles and optional English subtitles

"Every Poet Is a Thief: Inspirations from Horus" (15:01)
This is a text and still frame based extra. It makes comparisons of scenes in "Horus" to later anime films which it influenced, such as later Studio Ghibli films and Takahata/Miyazaki TV works. Although they show the particular still frame of "Horus", they do not show a still frame of the film it influenced, probably due to rights issues. It does make it a little frustrating since we can't exactly see the influenced works they reference. The text is in an automated slideshow format, but arrow buttons are available on screen to scroll faster.
in English text with no music

"Horus and Hilda: Just Like Twins" text essay by Daniel Thomas Macinnes (8:01)
Macinnes had a long time reading various essays out loud that you think he doesn't have any more to talk about, but he does. In this essay, Maccines looks at the similarities between the two main characters and their complexities. The text is in an automated slideshow format, but arrow buttons are available on screen to scroll faster.
in English text with no music

"Reiko Okuyama: A Tribute to a Pioneering Legend" text essay by Benjamin Ettinger (9:01)
In this essay, one of the unsung heroines of anime is profiled: Reiko Okuyama, a female animator in a man's world. The essay includes information of her upbringing, her contributions to the anime world and also the trouble she had in the anime world because she was female, to her passing in 2007. The text is in an automated slideshow format, but arrow buttons are available on screen to scroll faster.
in English text with no music

"Message of Hope: A Conversation with Isao Takahata" text interview by Peter Van Der Lugt (8:01)
In 2006, the International Animation Film Festival held a retrospective of Takahata's films took place, writer Van Der Lugt had the opportunity to interview Takahata who was the special guest. The text is in an automated slideshow format, but arrow buttons are available on screen to scroll faster.
in English text with no music

Production Gallery (86:02)
This extra is a slideshow gallery of promotional stills in black & white and color, posters from around the world, photos of the production crew, and VHS, Laserdisc, DVD covers from worldwide editions, as well as the Japanese Blu-ray cover, which is just teasing the American audience. With its runtime being 86 minutes compared to the DVD's shorter 7 minutes, there actually isn't any new content. The Blu-ray's runtime is longer as it scrolls in realtime rather than the DVD which was still frame based. Again it is in an automated slideshow format, but arrow buttons are available on screen to scroll faster.
with no music

Theatrical Trailer (3:18)
The original Japanese trailer is in widescreen with optional English subtitles, and the print quality looks just as good as the feature film, though the audio is a bit weaker.
in 1080p AVC MPEG-4, in 2.20:1, in Japanese Dolby Digital 2.0 with optional English subtitles


Another minor thing about the text essays, maybe because I am used to Criterion or Masters of Cinema releases, but I would rather have booklets or books rather than text based disc extras. But I realize the cost of manufacturing the booklets would raise the prices of the discs. As for extras, the only extra missing from the DVD special edition is the list of credits for the film which was really not necessary as the credits are fully translated during the film. As a plus, the Blu-ray makes an upgrade in the extras department by including the isolated score. Great job on the extras, Discotek!

Overall


"Horus: Prince of the Sun" is a landmark anime film which deserves to be seen by everyone who likes animation, and Discotek has put together an excellent Blu-ray package with very informative extras. They treat classic anime titles with great care, and "Horus: Prince of the Sun" is definitely one of their best in their catalogue. Fans who begged for Discotek to upgrade their DVD only release should be absolutely happy with their work here. Highly recommended.
| | | | | |
| --- | --- | --- | --- | --- |
| The Film: A | Video: A | Audio: A | Extras: A- | Overall: A |