La rupture
R4 - Australia - Umbrella Entertainment
Review written by and copyright: James-Masaki Ryan (7th May 2017).
The Film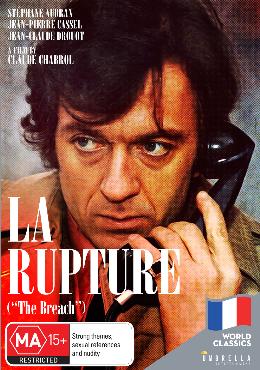 "La rupture" AKA "The Breach" (1970)

Helene Regnier's husband Charles injures their son Michel in a psychotic rage. Charles moves back in with his wealthy and manipulative parents, who blame Helene for their son's condition and vow to win custody of Michel.

Thwarted by the courts, they hire a seedy penniless operative Paul to destroy her reputation. He moves into her rooming house and begins to insinuate himself into her life, hatching darker and more convoluted plots to implicate Helene. A harrowing thriller from France's master of suspense, "La rupture" ranks among Claude Chabrol's finest works.

"La rupture" was director Claude Chabrol's 19th feature and made during his golden age of critical acclaim. Starring his then wife Stéphane Audran in the role of the tormented Helene, she gives an excellent performance on the physically and mentally shocked wife. Also starring Jean-Claude Drouot and Jean-Pierre Cassel, and based off the novel by Charlotte Armstrong, "La rupture" is one of Chabrol's stronger suspense works with some terrifying moments such as the husband's attack on his family and the disturbing sexual encounters.

Note this is a region 4 PAL DVD which can only be played back on region 4 or region ALL DVD or Blu-ray players.

Video


Umbrella Entertainment presents the film in 1.78:1 with anamorphic enhancement in the PAL format. The transfer is fair but not great. Colors are very soft and muted, there are some minor damage such as dust and specs, and detail is lacking, most likely coming from a dated source. The framing seems off as 1.78:1 is a more recent HD standard while at the time in Europe aspect ratios between 1.66:1 to 1.75:1 were common. On a positive note, the picture is anamorphic, does not have any major damage to speak of.

The runtime of the film is 119:46.
Screencaps are as follows:


Audio


French Dolby Digital 2.0 mono
The original mono audio is presented in Dolby Digital. Like the picture, there is nothing too relevatory here with dialogue mostly being clear and easy to understand. Although there is one issue at the 62:23 mark where the mono audio suddenly moves to the left speaker while the right goes mute. This only lasts for one line in the film.

There are optional English subtitles for the main feature in a yellow font. The subtitles are in an easy to read font with no issues of spelling or grammar errors.

Extras


There are no extras to speak of. No interviews with the cast, crew, or by film critics. It's a completely missed opportunity.

Overall


"La rupture" is a disturbing story that goes one step beyond mental health issues and violence. It's certainly one of Chabrol's finest and should not be missed by suspense or world cinema fans. The Umbrella Entertainment release does not have any extras and the film's audio and image transfers are slighly problematic.
| | | | | |
| --- | --- | --- | --- | --- |
| The Film: A | Video: C | Audio: B- | Extras: F- | Overall: C |

---
DVD Compare is a participant in the Amazon Services LLC Associates Program and the Amazon Europe S.a.r.l. Associates Programme, an affiliate advertising program designed to provide a means for sites to earn advertising fees by advertising and linking to amazon.co.uk, amazon.com, amazon.ca, amazon.fr, and amazon.de.