The Film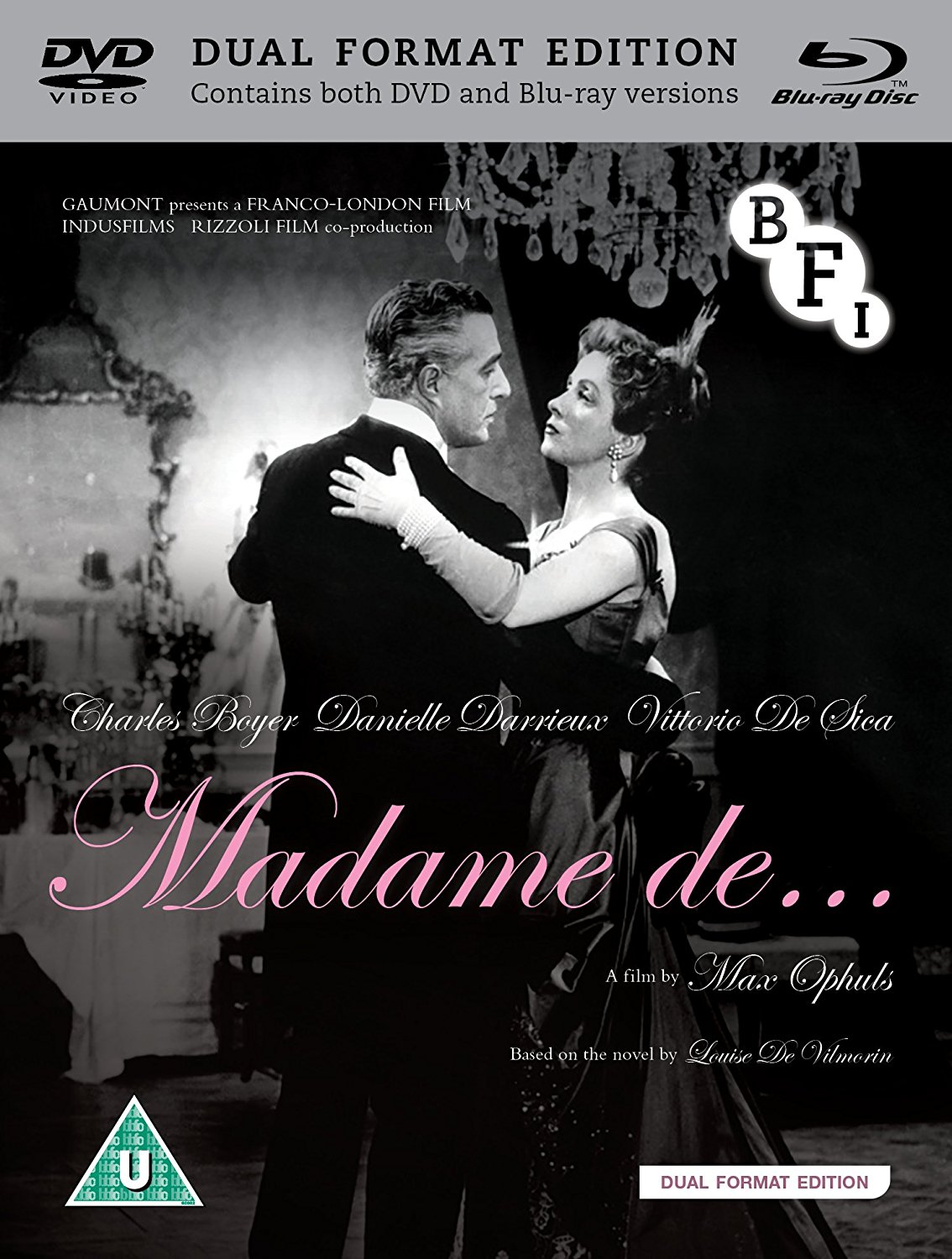 "Madame de…" (1953)

Louise (played by Danielle Darrieux) is living the upper class life as the wife of a French army general, but things are not particularly happy in her life. With accumulated debt from her rich lifestyle, she decides to secretly sell off her heart-shaped diamond earrings - the ones her husband Andre (played by Charles Boyer) gave her as a marriage gift. The jeweler Remy (played by Jean Debucourt) has second thoughts as he was the one that sold the earrings in the first place, but decides to help and buy back the special earrings. Louise tries to fool her husband into thinking she lost them, but the husband eventually learns from the jeweler that the earrings were in fact sold off by her. The husband decides to repurchase the earrings which are then given to his mistress Lola (played by Li De Lio) as a gift.

Throughout time, the earrings are exchanged through a series of events going from Paris, to Constantinople, and back to Paris, but all in all leading back to the hands of Louise in an intricate cycle. The earrings and the exchanges reveal a great deal about the various people involved. The general having a mistress, the mistress having a gambling addiction, an Italian diplomat Fabrizio Donati (played by Vittorio De Sica) falling in love with Louise. With the love triangles exposed, secrets and lies are brought out into open for all to see.

Starting as a film director in Germany and eventually in France in the 1930s, director Max Ophüls went to America following WWII but found the experience fairly limited and unsatisfactory. Although he was able to make acclaimed films such as "Letter from an Unknown Woman" in 1948 and "The Reckless Moment" in 1949, he returned to Europe in 1950 for creative freedom at home where he felt comfortable both in culture and language. "Madame de…" or "The Earrings of Madame de…" was his third film after returning to Europe. The film had its melodramatic sensibilities that Ophüls was known for, with a female centered story with both happiness and tragedy, but the film was not only centered around the human characters, but the driving force was a pair of inanimate objects - a pair of earrings. Like a Hitchcock MacGuffin, the balloon in "The Red Balloon", or "Rosebed" from "Citizen Kane", the objects were the cornerstone of the narrative flow, with the audience following it from hand to hand from place to place. But only following the earrings is the half of it. The characters and their connections personally are what keep the narrative stick together, with each person having an intimate connection to the next. Louise is unhappy not only because of her debt but she is also having nervous breakdowns from the unhappy marriage. She feels a disconnect from her husband and the jewelry is no longer a symbol of happiness for her - they are exchangeable. Andre is secretly leading a double life with the wife and the mistress Lola while having to keep a straight lifestyle as a Count and a military General. Donati's plans to make moves on Louise make things complicated for her life as a married woman, but he is the man that is making her feel happy, rather than the husband who should be. The narrative construction is excellent giving each major character time to be fully fleshed out to reveal their inner desires. Ophüls was especially particular about how the film looked but gave actors to give their all in performances. Rather than stilted performances read from a script, there were chances to gives some improvisation and rewrites to give natural performances and dialogue. Danielle Darrieux had a lengthy and successful career with over 100 film credits, but most agree that her collaborations with Ophüls in "La Ronde" and "Madame de…" were the most important of all. Charles Boyer was fluent in multiple European languages and made his name known in both French and English language films over the years. His restrained performance in "Madame de…" was apparently due to arguments made with the director on the motivations and characterization, but that stoic and cold attitude presented actually lends itself to the general being a very memorable character, different from the others. Vittorio De Sica is known more as a director, with classic Italian films such as "The Bicycle Thieves", "Shoeshine", and "Yesterday, Today and Tomorrow" which four films in his directorial filmography receiving Academy Awards in Hollywood. But in addition to that he was an accomplished actor appearing in over 160 film productions throughout his career. His affectionate performance as the diplomat to capture the heart of Louise is a powerful one in his lengthy filmography.

For the style of the production, Ophüls apparently originally wanted to shoot the entire film using mirrors on walls and ceilings to give literal meanings to double lives and hidden secrets but the idea did not pan out. Even without the mirrors to accent the film, the style and cinematography is exceptional, with gorgeous costumes, set designs, and astonishing camerawork. The camera is almost always on the move tracking characters and having especially longer than average takes - for example the extravagant ballroom scene where Louise and Donati dance together. It's impressive on a technical level and has a truly distinct look and feel as a later period Ophüls film.

The final four films directed by Ophuls between 1950-1955, "La Ronde", "La Plaisir", "Madame de…" and "Lola Montes" are currently considered masterpieces by the director but they were especially divided at the time of release, especially "Madame de…" and "Lola Montes" being divisive. The upper class nature and pretentiousness of the characters gave a large disconnect with modern audiences, with "Lola Montes" suffering the most, as significant cuts and recuts were made by Ophüls to try to satisfy audiences. It was not until later years after his death in 1957 that critics came to appreciate his films much more, with "Madame de…" and "Lola Montes" both considered milestones and masterpieces of his career, influencing many of the new wave French filmmakers to emerge from the late 1950s onward.

Note this is a region B Blu-ray which can only be played back on region B or region free Blu-ray players

Video


The BFI presents the film in 1080p in the AVC MPEG-4 codec, in the original 1.37:1 aspect ratio. The film was first released on Blu-ray by The Criterion Collection in the US in 2013 which was a controversial release. Compared to the DVD edition released a few years prior, digital noise reduction was applied to make the image waxy and flat in appearance, losing film like appearance by removing the details and film grain. The 2014 Blu-ray edition by Gaumont France was an improvement in the transfer, but it still wasn't perfect. The BFI release comes from an HD ProRes file provided by Gaumont France, which was restored from the original nitrate negative in high definition. The opening credits seem to have been recreated digitally rather than from the original prints, as there is no film grain at all with a perfectly stable background plate and text, making it seem like this would be yet another digitally scrubbed clean transfer, but luckily it does not continue that way. Film grain is in fact completely visible throughout the feature with no extra noise reduction applied. The print looks relatively clean but there are some minor damage found usually by the edges of the frames. There are no issues of major damage or errors to distract from viewing. The transfer is actually quite dark compared to previous Blu-ray releases with deep blacks and greys while whites are not completely white. This is probably the most film-like looking transfer the film has received on Blu-ray and thankfully it is finally available from the BFI.

The film's runtime is 99:39

Audio


French LPCM 2.0 mono
The mono track is presented in lossless audio. The Oscar Strauss music cues sound great and the dialogue is mostly fine, but there are some scenes such as the ballroom scene's ADRed lines sounding like they came from an echoey basement rather than a ballroom. It does sound unnatural and hollow but there are no issues of audio pops or dropouts with the audio overall.

There are optional English subtitles for the film in a white font. The text is easy to read and well timed with no issues of spelling or grammar errors.

Extras


"Madame de…" is a 2 disc set with one Blu-ray with the film and extras, along with one DVD that has the identical contents to the Blu-ray but in the standard definition PAL format.

"Max Ophüls: Le peintre de l'amour fatal" documentary (60:44)
Or translated as "Max Ophüls: The Painter of Fatal Love", this 2013 documentary features interviews with critics, crew members, and family recollecting about Ophüls and especially "Madame de…". Discussed are how he portrayed and treated women both in film and in life, the importance of Danielle Darieux working with the director, De Sica's involvement and the influence by Italian neorealism, and more. The documentary is in French with some interviews in Italian, but someone did not translate the English correctly with director Kenji Mizoguchi's name being spelled "Miserocci" in the subtitles. Also to note the film clips of "Madame de…" in the documentary looks particularly scrubbed clean with film grain nearly invisible. This documentary was previously available on the Gaumont France Blu-ray release.
in 1080i 60hz AVC MPEG-4, in 1.78:1 and 1.33:1, in French/Italian LPCM 2.0 with optional English subtitles

"Working with Max Ophuls" featurette (25:29)
Filmmaker Alain Jessua is interviewed about his time working with Ophüls before becoming a film director on his own. Uncredited in "Madame de…", he talks about the odd jobs he did including cleaning up the horse manure and helping minor tasks on set, just to be part of a film set. In addition he talks about his experience being promoted to second assistant on "Lola Montes" which sadly became his second and final time to work with the director. This featurette was originally made for the 2005 Second Sight UK DVD and later ported to The Criterion Collection DVD and Blu-ray releases.
in 1080p (upscaled) AVC MPEG-4, in 1.33:1, in French Dolby Digital 1.0 with optional English subtitles

DVD Copy
The second disc is a DVD copy which includes the film and identical extras, on a region 2 PAL encoded disc.

32 Page Booklet
The booklet includes essays, photographs, film credits, bonus features credits, transfer information, and acknowledgements. The first essay is by University of London Professor Laura Mulvey, giving a breakdown of the film and an analysis of the characters and themes. The next essay is "…Only Superficially Superficial: The Tragedy of Sophistication in Madame de…" by Adrian Danks, co-curator of the Melbourne Cinemateque, which is another great essay on the film and the characters. Next is a text interview with Ophüls conducted by Francis Koval from the July 1950 issue Sight and Sound reprinted. "Tributes to Max Ophüls" follows, featuring written statements from actor James Mason, cinematographer Christian Matras, writer Jacques Natanson, and actor Peter Ustinov. These were previously published in Sight and Sound in 1957 following the death of Ophüls.

The documentary and featurette are good extras but the release seems a bit bare compared to the Criterion release, which included a commentary and multiple interviews and featurettes. The French Blu-ray also had two exclusive featurettes. This release is in no way a definitive version out there, but it still includes a good amount of information in the extras department.

Overall


Max Ophüls's second-to-last completed film "Madame de…" divided critics in its initial run, only to be reappraised in the following years to become a bonafide masterpiece in style and construction. The BFI's Blu-ray features possibly the best video transfer, easily eclipsing the controversial US Blu-ray, but in the extras department is fair but not hugely impressive. The film still comes as highly recommended.
| | | | | |
| --- | --- | --- | --- | --- |
| The Film: A | Video: A- | Audio: B+ | Extras: B- | Overall: B+ |