The Film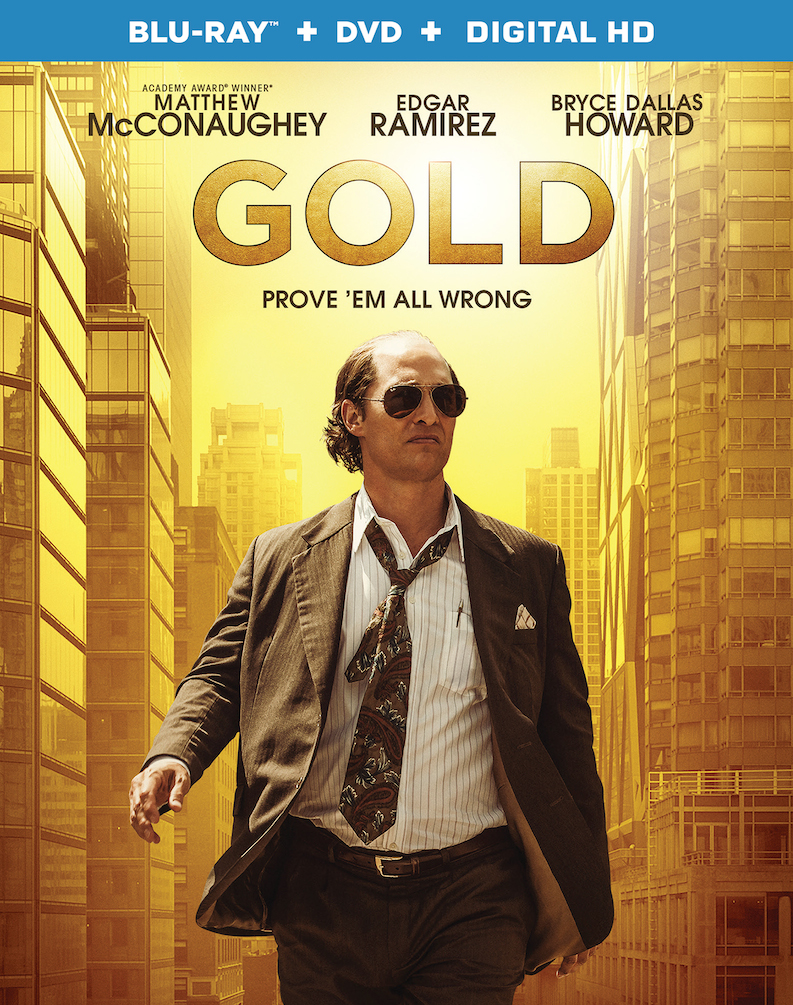 "Gold" is essentially a story about greed, but a specific type of greed: the feverish dreams that made men mad back in the 1800's, the notion that you could dig a hole in the ground and strike it rich. There have been lots of films that have treaded in similar territory previously: "The Treasure of the Sierra Madre" (1948), "There Will Be Blood" (2007), "The Wolf of Wall Street" (2013); sometimes it's gold, other times its oil, sometimes it's making a fortune off of penny stocks, but at the heart of them all, it is the subject of greed that drives the story. "Gold" is no different.

Based on a true story (Bre-X Minerals Ltd., founded by David Walsh based in Canada), "Gold" tells the story of one Kenny Wells (Matthew McConaughey) who is a third-generation prospector; his father and his grandfather started the Washoe Mining Company in Reno, Nevada and he continues in the family tradition. However, this is the 80's and the world is a dramatically different place than it was back in the elder Wells' day; the housing market has crashed, Kenny Wells has lost the company offices, and his company now operates out of a bar where his girlfriend Kay (Bryce Dallas Howard) works. The shots of Wells and company working the phones in a bar reminded me of a boiler room type scheme, and those scenes reminded me of the low rent shenanigans of "Glengarry Glen Ross" (1992); the smell of desperation, fop sweat, and booze pervade the scene. I was half expecting Alec Baldwin to stroll in with a pair of brass balls, but that didn't happen, instead Wells decides to fly off to Indonesia and to meet up with a geologist, Mike Acosta (Edgar Ramírez) that had once made a name for himself with a legendary copper strike, but whose better days have passed him by. This meeting of a dreamer and a supposed man of science proves to be a fruitful partnership as the two decide to drill for gold in the middle of an Indonesian jungle. At times appearing like a poor man's version of Werner Herzog, complete with a pot belly, receding hairline, bad teeth and an overall greasy appearance, McConaughey is a proverbial fountain of frantic energy; telling the world that this is acting, with a capital "A", he gives a heartfelt portrayal of a man that dreams about making that one big strike, and living up to his father's reputation.

Wells is the man with a dream that is willing to sacrifice everything and everyone to make that final claim to fame, and we happily follow him as he travels through the highs and lows of the script, onward to his reward. The film is an excellent portrait of life in the 80's with all of its greed and avarice, complete with a soundtrack featuring some excellent songs from The Pixies, New Order, and Iggy Pop. Hollywood loves the rags to riches and back storyline and there are no real surprises in this tale. The plot follows along in a predictable manner, and the dreamer is given a rude awakening when his partner/friend Acosta pulls a fast one and sells off stocks of the falsely appraised gold mine only to take it on the lam with a hefty score. I must admit that I didn't see that one coming because I was more intrigued by McConaughey's hijinks' than the manipulations of his silent partner. The ending has Wells humbly return to his slighted girlfriend where she simply resumes her former position of being the lady in waiting, but there is one last twist before the credits roll.

I found "Gold" to be an enjoyable romp of a film, and the pairing of scenery chewing McConaughey with straight man Ramírez results in an entertaining film. Along for the ride is Bryce Dallas Howard as Kay as the girlfriend that sees through the BS of Wall Street types, but she still loves the man for his heart and corrupted innocence. Howard is excellent as usual, and brings an authentic feel to her scenes, but I wish that there had been more developed of her character than the stereotypical babe in waiting role. I must applaud Matthew McConaughey for his brave and over-the-top performance; gone is that handsome dude in the Cadillac commercials and he is replaced by a booze guzzling, chain smoking conniver that is as real as any of McConaughey's previous acting creations. At times McConaughey is a bit like wrestler Ric Flair: limousine riding, jet flying, a wheeling and dealing hustler. Ladies, prepare yourself to see a very different version of the Hollywood matinee idol.

Video


Presented in 2.40.1 widescreen HD 1080p 24/fps using AVC MPEG-4 compression, the cinematography by Robert Elswit is lush and beautiful, whether it be in the smoky barroom, the austere offices of the Wall Street bankers, or especially when in the green jungles of Thailand, standing in for Indonesia. That partially is since this movie was actually shot on good old celluloid instead of being digitally recorded, and the difference is immediate and notable. Facial tones are significant and the characters looks are recorded cleanly whether sweaty and under a hat, or in a boardroom, the use of color is strong and bold. Blacks are very good and the image leaps off the screen.

Audio


The English DTS-HD 5.1 Master Audio soundtrack is excellent and rocks out hard when music is featured on the track. Dialogue is clear and understandable. The scenes comes that take place in the verdant jungle spaces really come to life with a commendable audio presence - with the sounds of rain, birds calling, and animals roaring, filling the room with their authentic sounds. The rear speakers fill the room with sound. Play this one loud. Subtitles are available in English SDH and Spanish.

Extras


"Gold" contains an audio commentary, a deleted sequence, and three featurettes. A DVD copy of the film and a code for a UV/iTunes digital copy are included with purchase. Below is a look at these supplements.

DISC ONE: BLU-RAY

The audio commentary features director Stephen Gaghan, he discusses the making of the film, various aspects of the production, difficulties in shooting on location, what he was trying to achieve with this particular story.

Deleted sequence (5:18), are a couple of scenes that didn't really need to be added to the film.

"The Origins of Gold" (4:37) featurette, is a chat with the screenwriters and the director on the difficulty of getting the film launched and how various other directors has expressed interest, but ultimately bailed out.

"The Locations of Gold" (4:20) featurette takes a look at shooting in Taiwan, Reno and New York city at various locations. The camp was destroyed in Taiwan on the second day of shooting because of the monsoon season and needed to be rebuilt elsewhere in a weeks' time.

"Matthew McConaughey as Kenny Wells" (3:45) featurette is a brief short featuring McConaughey speaking about how he developed the central character.

There are two bonus trailers on the disc:

- "Lion" (2:20)
- "The Founder" (2:30)

DISC TWO: DVD

This is the standard DVD copy version of the film.

Included in the case is a download code for a digital copy version of the film.

Packaging


Packaged in a standard blu-ray keep case, first pressings include a cardboard slip-case.

Overall


"Gold" is an interesting meditation on one man's dreams about finding gold in the mountains of Indonesia and his life and times during the 1980's.
| | | | | |
| --- | --- | --- | --- | --- |
| The Film: B+ | Video: A | Audio: A | Extras: B+ | Overall: B+ |