The Film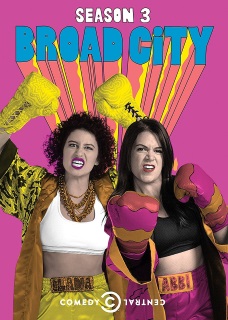 Hip Jewish New Yorkers Abbi Abrams (Neighbors 2: Sorority Rising's Abbi Jacobson) and Ilana Wexler (The Night Before's Ilana Glazer) and make cheerfully vulgar satirical jabs at the first world issues so blithely addressed in HBO's Girls in the third season of Comedy Central's Broad City. Over the course of ten episodes, "Soulstice" celebrity trainer Abbi ("Kris Kristofferson comes in, mostly core work"), internet startup social media worker Ilana ("I tweet, I tweet," she sings), Abbi's ambiguously bisexual roommate Bevers (John Gemberling), Ilana's on-and-off again boyfriend Lincoln (Daddy's Home's Hannibal Buress), long-suffering brother Eliot (Eliot Glazer), and gay roommate Jaime (Arturo Castro), brave warehouse sales (castigating sweatshop labor while reasoning that it will all have been in vain if they do not stick it to the labels take advantage of the deals), cult-like co-ops (run by The Fighter's Melissa Leo whose totally organic diet has made her fertile past menopause), hilarious wardrobe malfunctions, Tinder dating (swipe left, not right), adult swaddling, period pants, therapeutic masturbation (to decompress after reading social injustices Ilana on social media), recusing used cosmetics, dressing for DMV renewal ID photos, Airbnb hookups, waiting in line for Churrons (churro macarons), and meeting Hilary Clinton. Abbi and Ilana also try to take baby steps away from their codependent friendship (usually without the other's knowledge) – Abbi has to psych herself into going on a date with fellow trainer/amateur porn star Trey Pucker (Time Traveling Bong's Paul W. Downs) and Ilana hooks up with NBA player Blake Griffin ("Gingers have souls!") – and usually sabotage themselves as much as one another. This season's guest stars include Sister Act's Whoopi Goldberg, Ugly Betty's Vanessa Williams, M*A*S*H's Alan Alda, SNL's Rachel Dratch, Sex and the City's Cynthia Nixon, Taxi's Tony Danza as Abbi's father, Moonrise Kingdom's Bob Balaban as Ilana's father, Idle Hands' Seth Green, Maroon 5's Adam Levine, and of course… Hilary Clinton.


Season Three Overview:

3.01: "Two Chainz" (21:15) – Abbi and Ilana experience hip wardrobe malfunctions on the way to the gallery showing of a school friend.

3.02: "Co-0p" (21:15) – Abbi and Ilana take a walk in each other's shoes when Ilana begs Abbi to cover her mandatory shift at a co-op or risk being banned for life.

3.03: "Game Over" (21:15) – Abbi's competitive side comes out during a teambuilding exercise while Abbi shares a little too much on her company's Twitter feed.

3.04: "Rat Pack" (21:15) – Saddled with an expensive extermination bill, Ilana throws a party in hopes of recouping the costs, misleading Abbi into believing she has to meet all potential dates in person when she signs up for Tinder.

3.05: "2016" (21:15) – Abbi enters purgatory to renew her ID card at the DMV while Ilana's new calling may having something to do with the 2016 election.

3.06: "Philadelphia" (21:14) – Abbi and Ilana go to Philadelphia to clear out Abbi's childhood bedroom, which leads to a mission of atonement when Abbi discovers that she accidentally kept money she raised for a high school friend who was in a terrible accident.

3.07: "B&B-NYC" (21:15) – In need of extra money, Abbi and Ilana list their apartments on Airbnb and try to make the best of "the city that never sleeps" until their guests check out.

3.08: "Burning Bridges" (25:15) – Abbi runs back and forth between a date with Trey and dinner with Ilana's parents in the same restaurant to support her friend after she Lincoln dumps her.

3.09: "Getting There" (21:15) – Abbi and Ilana brave subways, taxis, and wheeled baggage to make a free flight to Israel.

3.10: "Jews on a Plane" (21:15) – Abbi gets her period aboard a flight to Israel, and Ilana's attempt at McGyver-ing a tampon from available objects has the flight team suspecting that they are terrorists.

Video


Paramount spreads the ten episodes (~21 minutes each) of the third season over two dual-layer DVDs, and the Arri Alexa-photographed show looks crisp and colorful throughout with no compression noise or video noise from underexposure or blown out highlights.

Audio


Audio options include Dolby Digital 5.1 and 2.0 stereo tracks that sound about the same. The surround track has a bit more depth in the exteriors as well as some atmosphere in the rears in the interiors. Optional English SDH subtitles are also included.

Extras


Extras are split over the two discs and seem to have been aimed primarily at web exposure. "Hack Into Broad City" is a series of six webisodes with mini-sketches by Abbi and Ilana video chatting with each other from their apartments on subjects ranging from "Yom Kippur" and "The Purge" - here being the act of streamlining their wardrobes - to "Columbus Day" and "Halloween". The first disc also includes a series of deleted scenes that have me suspecting that they were possibly conceived as extra web and DVD material since, although they do not make sense without the context of the episode, it seems like it would be obvious that some of these bits would cause an episode to go over the standard running time (the minute-per-page script rule would seem to apply considering just how dialogue-driven the show is, although they may also be heavily improvising on scripted versions of the scenes). Disc two includes a handful of extended scenes, with funniest being an extension of "Co-Op" and the second half of "Jews on a Plane". Strangely, the behind the scenes (2:29) is a look at the show's season three promo - a boxing match between the two featuring Michael "Let's Get Ready to Rumble" Buffer - that is not included anywhere on the disc itself. Of more interest is "Nomo Fomo: An Art Show about Broad City" (7:44), a look at the aformentioned art show with comments from some of the New York-area artists. All of the extras have English subtitles (I had to select them via my remote but perhaps some players will remember if you turned on the SDH subtitles for the episodes when you access the extras).

Overall