Worksaholics: The Final Season
R1 - America - Paramount Home Entertainment
Review written by and copyright: Eric Cotenas (25th June 2017).
The Film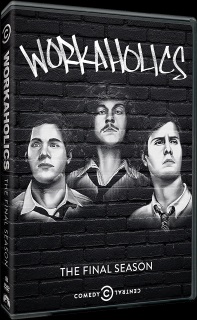 "You know what? When you guys started here seven years ago, this was all kinda cute. But you know what? You're old as fug now," says harried boss Alice (Maribeth Monroe) to her three most troublesome phone sales employees: toxic "bros" delusionally narcissistic Adam (Adam DeVine), "human khakis" Ders (Anders Holm), and micro-penised stoner Blake (Blake Anderson). As in the fashion of many shows about co-dependent friendships, the final season of Workaholics actually offers little in the way of closure as the characters find ways to reassert the status quo amidst change; there is, after all, always the possibility of a movie spinoff (in this case, Netflix). The guys smoke more weed, try to get laid, and engage in pseudo-homoerotic sophomorics in ten more adventures that all seem as they could just as easily be slotted in earlier seasons. Adam, Blake, and Ders take over hiring and training the new trainees (in pranking) in "Trainee's Day" (21:21) creating sociopaths out of a youthful trio (Fifty Shades of Black's Andrew Bachelor, Scotty Dickert, and Jen D'Angelo) – along with senior citizen (Logan's Run's Greg Lewis) hired for his age (sixty-nine). In "Weed the People" (21:20) , Adam poses as Alice's fiancé as the sales team use a fire-prevention invention created by her father (Vantage Point's Dennis Quaid) as a front to sell weed. Seaside hijinks (including a Top Gun-hommage volleyball sequence) go expected awry when the gang makes use of TelAmeriCorp's beach house timeshare in "Monstalibooyah" (21:05) while the trio take a supporting role to sad sack Bill (Billy Stevenson) and cuck-colded Montez (Erik Griffin) in the Transporter-esque fantasy "Bill & Tez's Sexcellent Sexventure" (21:10). Adam, Blake, and Ders take to the stage to impress bar girls in "Faux Chella" (21:20) and psych themselves into believing that Adam is being hunted for sport by a pair of wealthy philanthropists (The Princess Bride's Cary Elwes and Back to the Future's Thomas F. Wilson) in "The Most Dangerless Game" (21:20). The entire office goes The Fast and the Furious with remote control race cards and VR glasses in "Tactona 420" (21:20) and have to consult the videotape to remember what happens when they choose hos over bros on the dating show "Termidate" (21:10). When a motivational speaker (madTV's Mo Collins) visits the office in "Bianca Toro" (21:20) it is Alice who ends up spilling her guts. The finale "Party Gawds" (25:40) is somewhat reminiscent of last seasons's "Going Viral" as an energy drink executive (The Daily Show's Craig Kilborn) puts the trio under contract to throw ragers as a promotional gimmick. Of the few things that might signify something like closure in this season are Alice's father-assisted shut-down of Adam's romantic interest, long-suffering PA Jillian's (Jillian Bell) single appearance in episode seven after Alice's single shout-out of "Where's Jillian?" in the season's opener, the rest of the office finally tiring of the trio's pranks to take matters into their own hands with the newer band of tricksters, Blake finally earning his bros' respect with dancing to stand up to his bullying uncle (UFC fighter Chuck Liddell), and Adam actually noticing and being hurt by Blake and Ders exploiting his gullibility (and likely brain damage) as retardation. For the sober viewer, the show is still intermittently funny but the trio may indeed have worn out their welcome with the viewers as they have with Alice.

Video


Paramount spreads ten episodes over two dual-layer DVDs. The progressive, anamorphic 1.78:1 widescreen image is given a mid-range bitrate encode that is sufficient for the program given the modest production values and sparse use of visual effects (although it is still unfortunate that Paramount has abandoned the Blu-ray format for television series, especially after putting out the first five seasons of this one on the format).

Audio


Audio options include Dolby Digital 5.1 and 2.0 tracks, with the surrounds utilized conservatively apart from certain instances (including much of the "Bill and Tez's Sexcellent Sexventure" episode). Optional English SDH subtitles are also included.

Extras


The bloopers and outtakes are combined and indexed by episode - and placed on the disc of theri respective episode - and each one is further split into two parts. Although nudity is uncensored in the episodes themselves, shots are pixellated in these featurettes. The "Wrap Party Reel" (2:46) features some video of the wrap party interspersed with a series clip reel of bloopers and outtakes while "The Final Shot" (5:58) is an extension of the final crane shot in which Anderson, Devine, and Holm give a farewell thank you speech to the crew.

Overall

---
DVD Compare is a participant in the Amazon Services LLC Associates Program and the Amazon Europe S.a.r.l. Associates Programme, an affiliate advertising program designed to provide a means for sites to earn advertising fees by advertising and linking to amazon.co.uk, amazon.com, amazon.ca, amazon.fr, and amazon.de.