The Film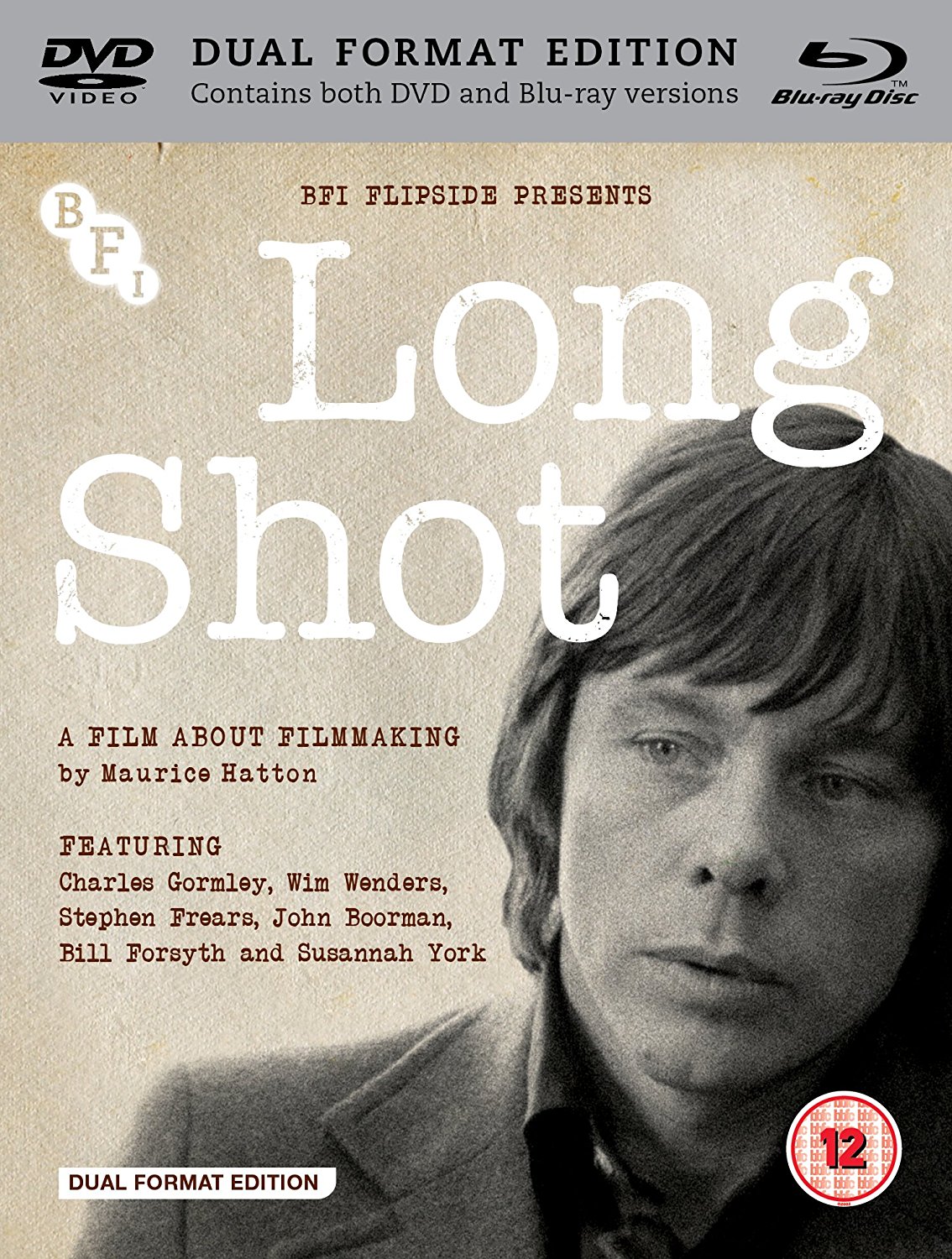 "Long Shot" (1978)

Charlie (played by Charles Gormley") and Neville (played by Neville Smith) are respectively a film producer and a film writer. It's 1977 and these two Scots are trying to get their script for "Gulf and Western" a greenlight. Problems are - they have no financing, no director, and no experience in feature filmmaking. The two hustle and bustle in hopes of getting people interested in their project, and the upcoming Edinburgh Film Festival is the perfect opportunity. A financer says a consideration would be to get a big director on board and Charlie and Neville have just the name in mind - Samuel Fuller. The celebrated hardboiled director is supposed to appear at the festival to promote "The American Friend", the Wim Wenders directed film which Fuller makes an appearance. While neither have met the legendary director, they do everything they can to get information on the man while posing as industry vets themselves. But when it's not known if Fuller is even coming or not, their plans go through major changes…

By the late 1970s, British film productions were not at its high point. There were big productions being shot in England including the "Star Wars" and "James Bond" films but they were almost entirely Hollywood based productions with England providing the studio craftsmanship. Films made in the UK with UK funding was reserved for very few titles and many filmmakers decided to go fully independent. "Long Shot" is an independent low budget film that cannot hide from the fact, as it is shot in super grainy about-to-expire 16mm film stock in harsh black and white, it's an incredibly creative film by using the available resources to its fullest. (Not "Fuller"!)

The actors used their real names. Charles Gormley, Neville Smith, Ann Zelda were their real names and character names. Their personalities come through as there are a lot of improvised moments shown on camera and possibly shooting in certain places without permits. For Wenders to appear in the film as himself, he actually was promoting "The American Friend" at the festival and he was cast as himself to give a bit of extra reality in the production. Other directors from the industry including Bill Forsyth and Stephen Frears make small appearances as well. Like a cross between Federico Fellini's "8 ½" and Robert Altman's "The Player" but on an extremely low budget, "Long Shot" showcases the difficulty of film producing from an independent standpoint while also giving a satirical look through comedy on the subject. When the receptionist says "Sam Fuller? Is he press?" or the multiple rewrites happening to "Gulf and Western", the seemingly endless car driving scenes with quirky dialogue throughout, the film has charm and wit that is still fun to hear in a modern viewing.

What doesn't work is that certain scenes go on far too long. Granted the plot of the film is fairly simple and the film builds around the many moments, there are a lot of scenes that go nowhere. Pacing is most likely due to using all the available takes rather than constructing an evenly paced production and the latter half does suffer a bit more than the first half. Stylistically it is a cross between Jean-Luc Godard's early films and the early works of Jim Jarmusch, concentrating on the slightly off center characters while experimenting with cinematic techniques including jump cuts and sudden cuts to black in the middle of a scene. Overall it is more of a film experiment more than a standard motion picture.

Shot in 1977, the film premiered in 1978 at the London Film Festival, with a theatrical release in UK cinemas in 1980. Over the years the film has been in obscurity as it has not been reissued theatrically or shown much on television. The BFI is now releasing this as part of their "Flipside" series that showcases underseen cinematic works from the UK.

Note this is a region ALL Blu-ray which can play back on any Blu-ray player worldwide

Video


The BFI presents the film in 1080p in the AVC MPEG-4 codec, in the original 1.33:1 aspect ratio. Shot on 16mm film, the film was remastered in 2K from the original negatives held at the BFI archive. Because the filmmakers used various cheap film stocks, the image can be inconsistent from scene to scene, with certain shots looking fine while others are much too dark. Also the film is extremely grainy due to the stock issue. The film was digitally restored to remove dirt, specs, and damage but note that the grainy look is how the film originally looked and was not corrected using artificial softening. Overall the image is inconsistent in quality, but that is how it should look.

The runtime of the film is 84:35.

Audio


English LPCM 1.0
The original mono track is presented in lossless audio. As with the image, the audio is also on the weaker side. Indoor locations sound fair, but there are certain points such as the Wim Wenders interview scenes where the audio suddenly drops like someone forgot to turn on his microphone. In positive notes, there are no hisses or pops or other audio errors in the soundtrack. The audio was restored from the original 16mm optical negative.

There are optional English HoH subtitles for the main feature in a white font.

Extras


"Long Shot" is a 2 disc set with one Blu-ray with the film and extras, along with one DVD that has the identical contents to the Blu-ray but in the standard definition PAL format.

"Scene Nun, Take One" 1964 short (25:57)
The directorial debut of Maurice Hatton 13 years before making "Long Shot", this comedic drama centers on an actress playing a nun for a production suddenly getting fired. On her way home in her nun outfit she runs into a series of events, from helping out people in need to being carjacked by a thief. The short looks and sounds very good in its black and white photography, but there are som missing frames around 14 minutes in.
in 1080p AVC MPEG-4, in 1.33:1, in English (with Italian portions) LPCM 1.0 with no subtitles

"Sean Connery's Edinburgh" 1982 promotional film (29:13)
Sean Connery, arguably the most famous Scottish actor in cinema appears in front of camera to narrate the short film - showcasing historical sites, modern sports, and even alcoholic beverages.
in 1080p AVC MPEG-4, in 1.33:1, in English Dolby Digital 1.0 with no subtitles

"Hooray for Holyrood!" 1986 TV film (39:49)
This two part TV special hosted by Robbie Coltrane showcases the Edinburgh Film Festival - the oldest continuing film festival in the world. The special introduces the history of the festival starting as a showcase for documentary works, later years becoming a place to showcase retrospectives, including a famous one featuring director Samuel Fuller. Shot on film, the transfer seems to be from a standard definition source and upscaled to HD. Colors are slightly washed out and the sound is on the average side.
in 1080p AVC MPEG-4, in 1.33:1, in English Dolby Digital 2.0 with no subtitles

DVD Copy
The DVD offers identical content but on a PAL DVD.

Booklet
Included is a 20 page booklet. First is an essay by the BFI's Dylan Cave introducing the film and its place in Scottish film. Next is "Charlie Gormley: Long Shot to Hollywood", written by celebrated Scottish filmmaker Bill Forsyth as an appreciation for the film and his reaction rewatching it 40 years later. In addition there are stills, film credits, special features credits, and acknowledgements.

While the supplements are interesting, it would have been interesting to hear from Neville Smith now, or with vintage interviews with Maurice Hatton and Charles Gormley as they have passed away. Besides the booklet, the video supplements are indirect supplements to the film.

Packaging


This is spine #34 of the BFI Flipside series, showcasing various offbeat, forgotten, and overlooked British films.

Overall


"Long Shot" is an interesting satirical look at the pre-filmmaking process and hustling of the independents. It's flawed and imperfect but that is part of the charm of the film. The BFI brings the film out of obscurity and into the Blu-ray line of their continuing Flipside series for reevaluation from modern audiences. Recommended.
| | | | | |
| --- | --- | --- | --- | --- |
| The Film: B | Video: B | Audio: B | Extras: B- | Overall: B |