The Film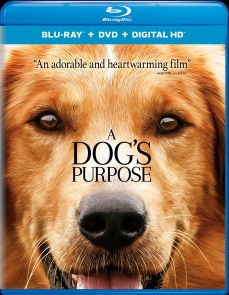 Growing up among his litter mates, a puppy (voiced by Beauty and the Beast's Josh Gad) wonders if there is more to life than eating, playing, and sleeping. No sooner does he start to explore the outside world than he is caught by a dog catcher and put to sleep. Reborn as a golden retriever, he grows up in a puppy mill with the same questions. Escaping his captivity, he is caught by a factory worker who thinks he might be worth some money to whoever owns him. The man leaves him in the back seat of his truck during the lunch hour and the young dog nearly dies of heatstroke when he is rescued by eight-year-old Ethan (Bryce Gheisar) and his mother (Frances Ha's Juliet Rylance). The two work on Ethan's salesman father (Touched With Fire's Luke Kirby) to keep the dog (which Ethan names Bailey), and the relationship between a boy and his dog distracts both from the father's alcoholism as he becomes embittered by life and Cold War insecurities about job security and the safety of home. As a teenager, Ethan (Riverdale's K.J. Apa) is the popular quarterback, with Bailey having as important a place in his life as girlfriend Hannah (Tomorrowland's Britt Robertson), but separation is imminent as Ethan and Hannah plan to go off to the same college in the spring. When jealous teammate Todd's (Scouts Guide to the Zombie Apocalypse's Logan Miller) attempt to embarrass Ethan in front of his friends with a visit from his drunken father (who Ethan threw out of the house after he pushed his mother) fails, Todd throws a firecracker through the letterbox of Ethan's house and accidentally causes a fire. Ethan is able to rescue his mother and Bailey but breaks his leg jumping from a window to escape the blaze, ending his dreams of being a college athlete. Moving out to his grandparents' country farm, Ethan convalesces slowly and neglects Bailey (who finds a friend in a "horsedog" or pony) and Hannah. A bitter Ethan breaks up with Hannah and chases her away before going off to agricultural college to take over the family farm. As the years pass with Ethan away at school, Bailey grows lonely and sick, getting one last chance to see Ethan before dying of old age. Reborn as a female German Shepherd, he is adopted by police officer Carlos (Silver Lining's Playbook's John Ortiz) and trained as a police dog and learns the values of help and self-sacrifice. Reborn again as a Corgy and adopted by college student Maya (House of Lies' Kirby Howell-Baptiste), he experiences first love with dog Roxie and inadvertently finds a mate (Ray Donovan's Pooch Hall) for Maya. During this life, he discovers the importance of companionship, family, and love. With both of his beloved masters, he recognizes sadness and loneliness, and tries to assuage it with his own devotion, preparing him his next life as a St. Bernard when he spends the first years of his life without it as the neglected and then abandoned pet of a pair of meth addicts (John Tucker Must Die's Nicole LaPlaca and The Age of Adaline's Primo Allon) before finding his way back to grown up Ethan (Innerspace's Dennis Quaid) who never married, lives a solitary life, and is not too interested in replacing long lost Bailey or Hannah. Taking what he has learned from his previous lives, he endeavors not only to help his master find happiness. Based on the best-selling book by W. Bruce Cameron – whose earlier book "8 Simple Rules for Dating My Teenage Daughter" was the basis for the sitcom 8 Simple Rules – A Dog's Purpose is yet another solid mainstream work by Lasse Hallström that is miles away from the likes of My Life as a Dog but not so far from his American works of the last twenty-odd years (including the more recent Hachi: A Dog's Tale, a remake of Hachi-ko). A tearjerker for anyone who has lost a pet, and wants to see a pet die multiple times, the film is heavily dependent on the cuteness of the animal performers, Gad's quirkiness, and scoring of Hallström-regular Rachel Portman (The Joy Luck Club) with the first half of the film devoted to Bailey's relationship with young Ethan while the Carlos and Maya stories are ten minute digests that rush ahead to required dramatic beats before returning to Ethan's story; the resolution of which unfolds as predictably as anticipated in spite of good work from Quaid and Peggy Lipton (Twin Peaks) as the adult Hannah. Ultimately, A Dog's Purpose is meant to be a feel-good family film, and it meets its goals.

Video


Universal's 1080p24 MPEG-4 AVC 2.40:1 widescreen Blu-ray of this Red Epic-photographed production looks spectacular throughout, with the bookending Ethan sequences sporting a warm look, a cooler color palette for the Chicago-set scenes with Carlos, and leaving the color saturation to the wardrobe for the eighties and nineties-set scenes with Maya.

Audio


Audio options include a state-of-the-art DTS-HD Master Audio 5.1 that makes use of the surrounds to add to the sensory world of the canine protagonist (relying on Gad's narration to convey the smells, of course). An English Descriptive Audio Dolby Digital 2.0 stereo track is also included along with French and Spanish DTS 5.1 dubs, as well as English SDH, French, and Spanish subtitle tracks.

Extras


Extras start off with a selection of deleted scenes (9:24), most of which expand upon young Ethan's part of the film, but three are afforded to more character development for Carlos, and two alternate takes of a scene for Maya and Al, as well as three more for Buddy and older Ethan. A short sampling of outtakes (2:11) includes some dog-related bloopers and blown line readings. "Lights, Camera, Woof!" (8:46) looks at each of the dog performers (as well as supporting animals) along with some of the cast and crew (from the dog's POV). "A Writer's Purpose" (4:44) features talking heads of the cast and the writer discussing the source novel.

Overall


Ultimately, A Dog's Purpose is meant to be a feel-good family film, and it meets its goals.