Ice: Season One
R1 - America - E1 Entertainment
Review written by and copyright: Eric Cotenas (23rd June 2017).
The Film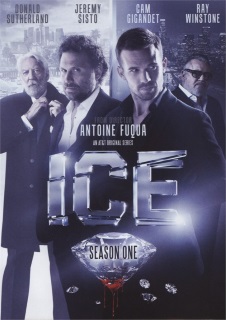 The family-run diamond company Green & Green has always had an outwardly spotless reputation until screw-up son Freddy (Six Feet Under's Jeremy Sisto) kills diamond smuggler Avi in a drug-fueled struggle for trying to cheat him. Younger but more responsible brother Jake (Never Back Down's Cam Gigandet) has no trouble disposing of the body, but their father Isaac (Little Children's Raymond J. Barry) – whose father escaped to America from World War II Hungary and built the business from the ground up with a single "Holocaust diamond" – and adopted uncle Cam (The Departed's Ray Winstone) are gearing up for a war with Lady Rah (Heroes Reborn's Judith Shekoni), a Sierra Leone diamond kingpin who feeds her enemies to pet hyenas for whom Avi was a top earner. Jake attempts to hide Freddy while he tries to arrange a payoff for Lady Rah but none of the other diamond dealers or fences is willing to cross her. When she gets her hands on Freddy, Jake is backed into a corner and forced to make a transaction for her that crosses the line for Green & Green by dealing in blood diamonds (stones mined from war zones and sold to either side of an insurgency) from Qatar. Freddy is allowed to accompany Jake and reveals his special talent by observing that the stones are not actually from Qatar, causing Jake to abort the exchange when he realizes that they are in a setup. Jake believes that he has made Green & Green even with Lady Rah but keeping away the feds, but she puts a steep and unlikely price on Avi's replicability of twenty-five million dollars. Jake tries not to worry his frail father who is recovering from a heart attack and starting to have memory issues, as well as attempting to keep Cam out of the loop since his seeming devotion to the family goes as far suggesting on more than one occasion that liquefying the company and the family legacy when the alternative is losing their lives (even if that means turning Freddy to the wolves as well). As the series continues, Jake and Freddy find themselves not only running into problems from the feds to various backstabbings and betrayals as they try to "repay" Lady Rah (who seems just as interested in Jake and sees the company's reputation as a means of moving illegal stones) while also wresting for control of Green & Green from Cam when Lady Rah's boss Pieter Van De Bruin (M*A*S*H's Donald Sutherland) attempts to take over the firm and threatens the safety of Jake's ex-wife Ava (The Unit's Audrey Marie Anderson) and teenage daughter Willow (Chloe East). The latest series from Antoine Fuqua (Training Day), Ice is more of the same: backlit photography, steely and stoic posturing, muttered dialogue, outbursts of stylized violence, and dialogue that is equally portentous and pretentious ("This is your grace moment" shouts Jake's cop buddy Carlos [Logan's Reynaldo Gallegos] as he tries to convince Jake to give up Freddy as one of the many times Jake must decide whether saving his family legacy is worth losing his soul). Badly miscast with with Gigandet not so much steely as charisma-free, Sisto gives the more interesting performance but falls back too often on his character's drug-addled twitchiness, Sutherland chewing scenery as per usual when he plays a villain, and Winstone muttering much of his dialogue (and almost seeming to channel Peter Falk, or sometimes Corleone to Sisto's Fredo). Shekoni's Lady Rah and NCIS: Los Angeles' Ella Thomas as her enforcer Lala are the more interesting characters when allowed to perform rather than strike fierce poses. Things pick up after the pilot but the family drama is given short shrift in favor of the wheeling and dealing with various parties (legit or otherwise) and little insight into the diamond trade (once again, legit or otherwise). The setting is just another backdrop for the usual Fuqua-isms on the small screen, feeling very rote and "safe" in spite of the sex, drugs, brutal beatings, death, and threat of hyena jaws.

Video


The ten episodes of the first season are spread over three dual-layer DVDs, and the interlaced, anamorphic encodes do are competent given the moody, heavily-graded color noir look of the film (it would probably look fantastic on Blu-ray).

Audio


The sole audio option is a Dolby Digital 5.1 track that gets the job done, although the optional English SDH subtitles will be useful sometimes for Winstone's muttered performance.

Extras


Extras are rather meagre, consisting of the flashy web-ready promos "Premise" (2:13) and Jeremy Sisto and Cam Gigandet (2:02) sound-bytes, as well as the Rachele Royale "Diamond Girl" Music Video (4:57) helmed by T.J. Scott who directed by the season's seventh episode "Clarity".

Overall

---
DVD Compare is a participant in the Amazon Services LLC Associates Program and the Amazon Europe S.a.r.l. Associates Programme, an affiliate advertising program designed to provide a means for sites to earn advertising fees by advertising and linking to amazon.co.uk, amazon.com, amazon.ca, amazon.fr, and amazon.de.