The Film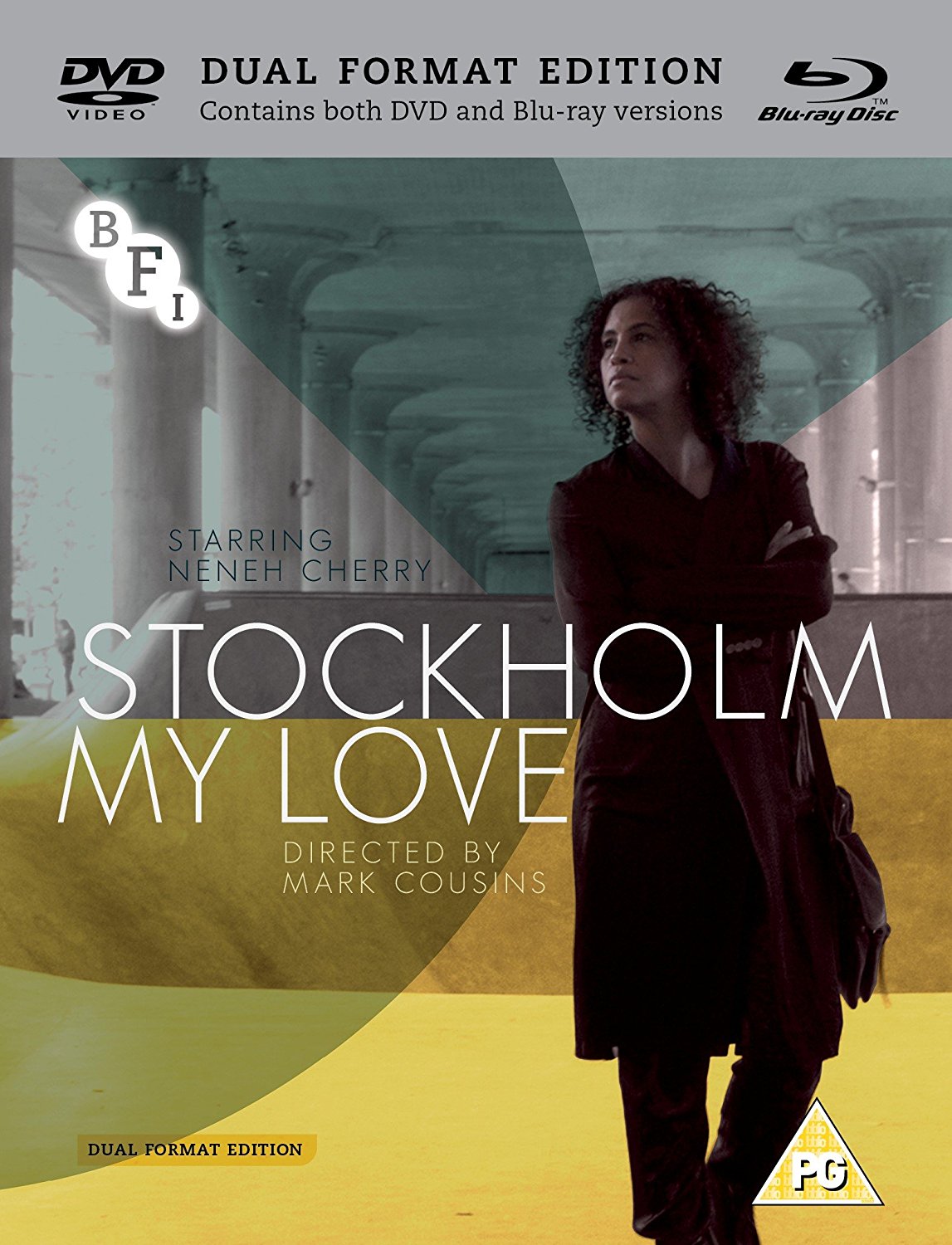 "Stockholm My Love" (2016)

Alva Achebe (played by Neneh Cherry) is an architect wandering the gloomy streets and sights of her home city of Stockholm, Sweden, seeing the architecture of the old and the new interact with the people of the city. Through her inner monologue Alva communicates to her father that passed away, as well as revealing the fact that she lives with a large guilt over her heart - an accidental death of an elderly man in which she can only blame herself for the incident. Traveling through various areas of the city, Alva expresses herself internally, but what is her ultimate goal?

In 2015 director Mark Cousins directed two feature documentaries - "I Am Belfast" and "Atomic: Living in Dread and Promise". Both films were cityscape films looking at Belfast, Northern Ireland and Hiroshima, Japan respectively, reflecting on their history and their present form through images, and an avant garde indirect narrative form. 2016's "Stockholm My Love" would also be a cityscape film showing as the title states - Stockholm, Sweden, but rather than a documentary effort, this would be a fully fictional film experiment with the city as a backdrop. A fictional character was written and created, locations would have significance to the character or have reflective moments from the character, and the music would be an integral part of the narrative.

Swedish singer Neneh Cherry broke onto the international scene when in 1989 with her landmark album "Raw Like Sushi", which yielded the hits "Buffalo Stance", "Manchild", and "Kisses in the Wind", with the singles and album charting in the top 10 in various countries around Europe and in the United States. The dance heavy rhythms and production by Tim Simenon of Bomb the Bass, Robert Del Naja and Andrew Vowles pre-Massive Attack, and Cameron McVey, her husband were a mix of the club music of the time, deep grooves that were precursors to the trip hop movement, and jazzy rhythms. 1992's follow-up "Homebrew" also included hits such as "Trout" and "Buddy X" and featured additional work by Geoff Barrow of Portishead and Michael Stipe of REM on production. 1994's duet with Senegalese Youssou N'Dour "7 Seconds" is still considered one of the most breathtaking and emotional songs of the 1990s, sung in English, French, and Wolof languages depending on the verse, and the music video directed by Stephane Sednaoui won Best Song and the song was nominated for a Grammy Award in the United States. 1996's "Man" included the song as well as the top 10 UK hit "Woman", but following that Cherry's solo career took a break. She appeared as a member of the music projects CirKus and The Cherry Thing but she made a sudden comeback in 2014 with her first solo album in 18 years - "Blank Project". Collaborating with McVey and Four Tet on the record, it did not rejuvenate numbers in sales, but critics did take notice of the matured yet still experimental sound of the 50 year old singer.

The soundtrack would feature five new songs written by McVey, Ben Page of RocketNumberNine, Mark Cousins, and performed by Neneh Cherry on screen. In addition there were compositions by Franz Berwald and Benny Andersson of ABBA to accent the backgrounds. The music plays a heavy part of the narrative and Cherry's vocals which range from spoken word to rap to singing accentuates the scenes and the narrative while also giving something different from say a musical or a music video in the visual style. Cherry had never acted in a feature film, though director Mark Cousins chose her as the face and voice of "Stockholm My Love", which would not be a traditional film but like a longform music video of sorts.

Visually the film is divided by a multitude of styles and motifs. Shot by Cousins himself and scenes shot by cinematographer Christopher Doyle who worked on "I Am Belfast" previously, the first half is a gloomy and gray toned look at the cityscape - filled with cloudy images together with the slightly depressing narration. There is a mix of stillframed shots where the Alva character looks on and narrates, while there are other shots of shaky handheld scenes - sometimes following the character and sometimes in the first person view. It is wildly inconsistent in style but in tone fits together completely with the graded color of the seemingly cold environment. Colors start to come alive in the third act where the character sees more optimism and vibrant, the colors are.

While "Stockholm My Love" is supposed to be a love letter and alternate view of the Swedish capital, it's not exactly clear why the narrative was told through Cherry playing a fictional character. Cherry herself is a fascinating famous figure and to have a pure collaboration with her playing herself looking at her city might have had a bit more focus rather than the free flowing slightly directionless loose narrative of the fictional account. It would also make clear sense as to why she could break out into song rather than why an architect in an emotional crisis would.

A collaboration project between the BBC, Swedish Television, and Film Capital Stockholm, "Stockholm My Love" was first released at the 2016 Stockholm International Film Festival and later released theatrically in the UK in 2017. Missing the personal touch of "I Am Belfast" but furthering in experimentation of crossing the fine line of documentary and fiction, "Stockholm My Love" is still visually interesting and musically a gem to see.

Note this is a region ALL Blu-ray which can be played back on any Blu-ray player worldwide

Video


The BFI presents the film in 1080p in the AVC MPEG-4 codec, in the 1.78:1 aspect ratio. Shot digitally, the film should look pristine and it certainly does in certain shots, but others do not. Some shots have moiring, compression issues, and slight ghosting, most likely due to transferring issues. Some outtake footage in the bonus features section has the images in 30fps while the finished film is presented in 24fps. The transfer process seems to have caused a few issues during movement. As stated the first two acts of the film is quite drab in its color palate but things become much more vibrant in the latter portion of the film and colors look great. The outdoor scenes seem to suffer the most while the indoors scenes look excellent.

The film is uncut and the runtime is 87:37.

Audio


English/Swedish LPCM 5.1
English/Swedish LPCM 2.0 stereo
The original soundtrack is available in both 5.1 and 2.0 options in lossless LPCM. Not that the packaging claims the 5.1 track to be DTS-HD Master Audio but it is in fact an LPCM track. It is a very quiet film with narration coming from the center speaker but once the music tracks kick in, the surrounding speakers get a workout with clear separation of the audio channels. There are no issues with audio dropouts or hard to hear portions in the production. The first act has almost all monologue scenes in English, the second act in Swedish, and the final act mostly being music and text in a mix of Swedish and English.

There are optional English (for Swedish portions), English HoH, and Swedish (for English portions) available for the main feature in a white font, making this an English friendly and a Swedish friendly release. The default is the standard English for the Swedish portions option and the subtitles can be changed via remote or by menu options.

Extras


The BFI is releasing "Stockholm My Love" as a dual format Blu-ray+DVD release, with the film and extras on a single Blu-ray and the same repeated in standard definition PAL on the DVD. The specs of the extras listed as follows is for the Blu-ray disc:

"Behind the Scenes" featurette (17:20)
This featurette includes various on set location B-roll footage showing Cousins directing and reacting to the shot scenes, both indoors and out. In addition Cherry also talks about her first time acting in a feature film and the challenges involved in a non-traditional production. Also interesting to hear Cousins not saying the traditional "action!" at the start of a shot but instead saying "Neneh, go!" appropriately.
in 1080p AVC MPEG-4, in 1.78:1, in English LPCM 2.0 with no subtitles

"Stockholm Locations with Commentary" featurette (12:25)
Cousins gives his comments on locations for the film over the shot images, which some are not used in the final cut, including location scouting and test footage.
in 1080i 60hz AVC MPEG-4, in 1.78:1, in English LPCM 2.0 with no subtitles

"Planning Stockholm My Love" featurette (1:38)
Cousins narrates over footage of him writing notes on the three act structure of the film in an early clip during the planning stages.
in 1080i 60hz AVC MPEG-4, in 1.78:1, in English LPCM 2.0 with no subtitles

Stills and Poster Gallery
39 pages of stills featuring location shots and the theatrical poster.
in 1080p AVC MPEG-4

Original Trailer (2:19)
Featuring some of the best shots in the film, it's certainly an effective arthouse trailer that does not give away much of what the story is, even if it features Cherry's narration.
in 1080p AVC MPEG-4, in 1.78:1, in English/Swedish LPCM 2.0 with burned-in English subtitles for the Swedish portions

Original Teaser (0:31)
The teaser is completely without dialogue, using only images and text for the short montage of images.
in 1080p AVC MPEG-4, in 1.78:1, LPCM 2.0

BFI Theatrical Release Trailer (1:20)
The BFI trailer is similar to the original trailer in execution, but is shorter and adds some film festival logos.
in 1080p AVC MPEG-4, in 1.78:1, in English LPCM 2.0 with no subtitles

DVD Copy
The film and extras are repeated on a PAL DVD.

Booklet
Included is a 20 page booklet. The first essay included is titled "A Walking Cure" by film critic Ian Christie comparing the work to Cousins' previous films along with other city films such as "Hiroshima Mon Amour" and "Man with a Movie Camera". Last year I was fortunate enough to conduct an interview with Mark Cousins on last year for the site (which can be read here), but instead we have Mark Cousins interviewing Mark Cousins in "Mark Cousins: Self Interview" as a sometimes self mocking yet informative interview text. Lastly there are photos, credits, special features information, and acknowledgements.

Overall


"Stockholm My Love" is Mark Cousins just barely crossing over into fiction film territory while still keeping with his series of cityscape film features. Neneh Cherry's music is wonderful yet the narrative does seem to be slightly lacking compared to Cousins' previous works. The video portion may suffer in certain points, but there are good extras on the disc as well as fine audio, still making this a recommended release.
| | | | | |
| --- | --- | --- | --- | --- |
| The Film: B | Video: B | Audio: A- | Extras: B | Overall: B |