The Film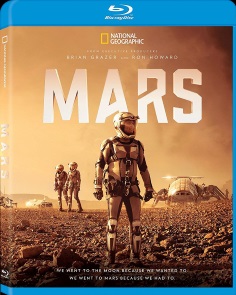 The first manned mission to Mars on the ship Daedalus in 2033 is a collaboration by the International Mars Science Foundation – a consortium of space programs and private industry – and Elon Musk-like spokesman/aeroscape engineer Ed Grann (S.W.A.T.'s Olivier Martinez), the first trip's international crew is made up of American commander Ben Sawyer (Slither's Ben Cotton), Korean systems engineer Hana Seung (singer Jihae), Nigerian mechanic Robert Foucault (Django Unchained's Sammi Rotibi), French microbiologist and physician Amelie Durand (Shut-in's Clιmentine Poidatz), Russian geologist Marta Kamen (4 Months, 3 Weeks and 2 Days's Anamaria Marinca), and Spanish geochemist Javier Delgado (Cell 211's Alberto Ammann). The landing is a rough one with Sawyer gravely injured while trying to make repairs during a massive pressure drop. Overshooting the base camp by seventy-five kilometers and damaging the support systems in the landing, the ship that was supposed to have sustained them for two years now only has three days of breathable air. Back on Earth, Grann works with his team – among them Hana's twin sister Joon, exobotanist Paul (North & South's John Light), and physicist Leslie (V for Vendetta's Cosima Shaw) – are receiving intermittent audio from the ship and endeavor to help the team make their way to the closer Russian workshop before night falls and the temperature drops to seventy degrees below zero. The trip on foot with the Mars Rover carrying vital equipment takes its toll on Sawyer, and Durand discovers that he not only has blood in his lungs but has also ruptured his spleen. Sawyer does not survive the operation and Hana must take over as leader, putting aside her own doubts and encouraging the rest of the crew to continue on with the mission – even though their reduced resources now mean that they have only months to find un underground lava tube to deploy their dome instead of the intended two years – so that Sawyer will not have died in vain. As the group toil on (and below) the inhospitable surface of Mars, Grann – who has sunk ninety-percent of his net worth into the mission – faces scrutiny from the publicity- and profit-minded IMSF and tries to convince them that the journey of the vehicle Vega to Mars should be to replenish supplies and not a rescue mission. Based partially upon the speculative non-fiction work "How We'll Live on Mars" by Stephen Petranek (who also executive-produced, the National Geographic science fiction (or fact?) series Mars returns to the classic science fiction themes of the human endeavor in an inhospitable environment. Cutting back and forth between the fictional 2033 storyline and 2016 (and further back), the show addresses the common fault of dramas with highly technical situations and characters by relegating the exposition to a series of interviews with real-life personalities from SpaceX's Musk, astronaut Scott Kelly – who, like the show's Joon, has a twin also employed by NASA – and astrophysicist Neil deGrasse Tyson to writer Petranek and Andy Weir (author of the source novel for The Martian) on the challenges of radiation, finding water, the search for life on terrain of which only three percent has been mapped as of 2016, physical adaptations, and the psychological pressures of extreme isolation. While not always speculating in detail about the nature of technological advances in the future to address some of these issues, the 2016 sequences do look at the current work SpaceX's and other foundations as well as studies of how life may be on Mars in analog environments (fans of John Carpenter's The Thing may be pleased to learn that Antarctica's McMurdo Station makes an appearance). Although the reality sequences are heavily focused on Musk and SpaceX, they do counter the charismatic idealist versus those looking at the bottom line dramatics of the future parts, conveying to the audience that the dream of colonizing Mars and space exploration in general is not that of just one wealthy man but the fascination and obsession of scientists, astronauts and their families as well as writers, filmmakers, and every one of us who gaze up at the stars at night with telescopes or our own eyes. Director Everardo Gout d – who produced along with Imagine Entertainment's Ron Howard (Apollo 13) – has experience with this sort of timeframe hopping storytelling, having previously helmed Days of Grace, a Mexican crime drama telling three stories with interweaving destinies during three Soccer World Cups in 2002, 2006, and 2010.

Video


Photographed with Arri Alexa and Red Epic Dragon cameras, the dramatic scenes and contemporary talking heads sequences are as sharp as the real and digitally-created space imagery while film clips and some upscaled archival video look softer and even pixellated as per the digitizing of the source.

Audio


Audio options include full-bodied 5.1 mixes in lossless English DTS-HD Master Audio as well as French and German DTS 5.1 dubs and a Spanish Dolby Digital 2.0 Surround track. The lossless track judiciously employs the surrounds for the landing sequences, music, and other action sequences while surprising the listener with just how quiet the surface of Mars is supposed to be. Although this is a Region A Blu-ray, one suspects that the content and the authoring will be virtually the same for international releases since subtitle options include English SDH, French, German, Spanish, as well as Danish, Finish, Norwegian, and Swedeish.
Extras


While the series' six episodes occupy the first two discs, disc three features a full slate of extras starting with the bonus episode "Making Mars" (47:17), an extended making-of featurette that aired the week after the final episode on Christmas Day 2016. Interspersed with commentary from Howard, Gout, the cast members, executive producer Justin Wilkes (Stan Against Evil), and production designer Sophie Becher (Alfie) on the research that went into set design, shooting in Morocco and Hungary, the visual effects, and the quest for authenticity are more commentary from experts Degrasse-Tyson, Petranek, Musk, and Weir as well as former Jet Propulsion Laboratory director Charles Elachi, aerospace engineer Robert Zubrin, Planetary Society director Casey Dreier, NASA historian Roger Launius, and scientist Peter Diamandis among others. More interesting is "Before Mars: A Prequel" (33:00), the backstory of twin sisters Hana and Joon (played here by actual twins Nekhebet Kum Juch and Uatchet Jin Juch) who move into an old house with their career military mother (Joyce Wong). While exploring the attic, Hana discovers an old ham radio and is able to temporarily contact a space station while playing with it. She makes the acquaintance of retiree Albert (Peter Judd) who shows her how to use the radio, leading to her fateful decision to go off in search of a place where she can get a stronger signal to the space station just as a torrential storm is rolling into town. Directed by Lloyd Lee Choi and independently-produced from the series by National Geographic, the touching short does have a very Ron Howard-esque feel to it and is a nice supplement to some of what the character references in the series itself. "Before Mars: Behind the Scenes" (2:28) is a glorified promo hosted by producer Andy Baker. The three multi-part "Play All" sections "Getting to Mars", "Living on Mars" and "More Mars" are web-ready shorts with some of the experts from the show answering questions about current technology for getting to mars, finding water on the planet, and not contaminating the environment, while the three Behind the Scenes featuerettes draw from the aforementioned bonus episode for more succinct pieces. The disc also includes a series of short web-ready interviews with executive producer Howard (1:42), director Gout (3:06), series writer Paul Solet (2:23), and actors Cotton (1:50), Jihae (1:50), Poidatz (2:20), Ammann (2:15), Rotibi (2:09), Martinez (1:53), Light (2:21), and Shaw (2:18) which appear to be extensions of the talking head pieces they did for the making-of episode.

Overall