The Film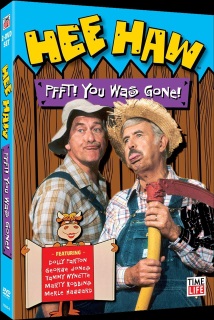 The Andy Williams Show, and The Virginian on NBC, along with The Johnny Cash Show and The Lawrence Welk Show on ABC; and, indeed, it was one of the many shows to fall victim to the network wide "rural purge" of 1971. Due to the show's popularity, it found a second life in first run syndication and would continue from 1971 to 1992. Hosted by singer-songwriters Roy Clark and Buck Owens, Hee Haw showcased musical acts from Loretta Lynn, Merle Haggard, Hank Williams, Patti Page, Pat Boone, Johnny Cash, and Dolly Parton to Randy Travis, Garth Brooks, George Strait, andNaomi Judd among others in later years – along with regular numbers by Clark and Owens as well as cast members The Hager Twins (Jim and Jon) – amidst comedy sketches, routines, and even single jokes between recurring sets of characters (one of the most popular being the song "PFFT! You Was Gone!", adding a new stanza per episode ending with the titular line). At least in these early seasons, one gets a sense of country music that was well-written and felt genuine, before the genre was dumbed down into a subgenre of mainstream pop music. Regulars on the show included Petticoat Juntion's original Billie Jo Gunilla Hutton, Goodbye, Norma Jean's Misty Rowe, future Playboy Bunny Barbi Benton (Hospital Massacre), Archie Campbell , Gordie Tapp, Cathy Baker, former go-go dancer Lulu Roman, Jeannine Riley (Electra Glide in Blue), and comedians Junior Samples, Minnie Pearl among others. The four episodes included in this set range from 1969 to 1973:

Episode 02 (48:04) features Merle Haggard performing "Mama Tried" and "Branded Man", Susan Raye performing "Just Enough to Keep Me Hanging On", Buck Owens performing "But You Know I Love You" and "Happy Times Are Here Again", and Roy Clark performing "Yesterday, When I Was Young".

Episode 34 (49:12) features Marty Robbins performing "(I'm So) Afraid of Losing You Again" and "Don't Worry", Buck Owens performing "Sing a Happy Song" and "Tennessee Bird Walk" (with Susan Raye), Roy Clark performing "When You and I Were Young, Maggie" (with the cast) and "Black Sapphire", Grandpa Jones performing "You'll Make Our Shack a Mansion", and The Hagers performing "Everything is Beautiful".

Episode 70 (43:46) features Dolly Parton performing "Coat of Many Colors", Porter Wagoner perfoming "What Ain't to Be, Just Might Happen", Parton and Wagoner performing "The Right Combination", Jackie Phelps and Jimmy Riddle performing "Brown's Ferry Blues", Buck Owens performing "Old Dan Tucker" and "I Don't Care (Just as Long as You Love Me)" and "Bright Lights, Thick Smoke (and Loud, Loud Music)", and Roy Clark performing "(There'll Be) Peace in the Valley (For Me)" and "John Henry" (with the cast).

Episode 111 (48:54) - George Jones performing "Nothing Ever Hurt Me (Half as Bad as Losing You)", Tammy Wynette performing "Kids Say the Darndest Things", Wynette and Jones performing "We're Gonna HOld On", Wynette guesting with Archie Campbell in a version of "Pfft! You Was Gone", The Hagers performing "Tie a Yellow Ribbon Round the Ole Oak Tree", Roy Clark performing "Rollin' in My Sweet Baby's Arms" (with the cast) and "I'll Paint You a Song", Buck Owens performing "Too Much Water" and "I Think I'm Going to Like Loving You" with Susan Raye.

Video


The four episodes are split between two single-layer DVDs and the encoding does the best it can with the old broadcast videotape sources, with the shows looking about the same as they have on television syndication.

Audio


The Dolby Digital 2.0 mono audio track is without any issues that do not stem from the original studio recording. English Closed Captioning is included, and is sometimes helpful for the Southern slang and transcribing the song lyrics.

Extras


Extras are limited to two interesting but disappointingly short interviews. Singer-songwriter Aaron Tippin (2:25) speaks reverently about growing up watching the show and his opportunity to appear on it in 1991 as well as his friendship with Owens. Moe Bandy (2:52) also discusses his admiration for the show, his 1984 appearance, and how much he misses the show being on the air.

Overall


The two disc set Hee Haw: Pfft! You Was Gone! is an excellent introduction to the series but four episodes seem quite meager even for the low price and buyers may wish they had purchased one of the Time Life boxed sets instead.