Scobie Malone
R0 - Australia - Umbrella Entertainment
Review written by and copyright: James-Masaki Ryan (2nd July 2017).
The Film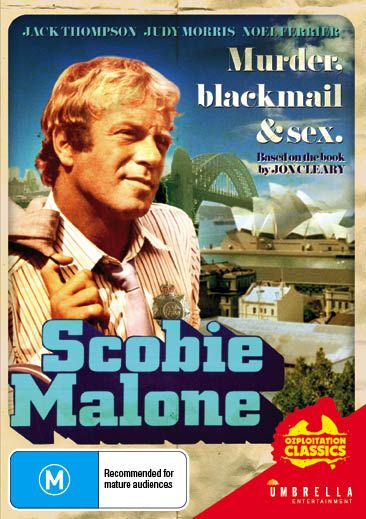 "Scobie Malone" (1975)


Adapted from John Cleary's series of Aussie detective novels, "Scobie Malone" (also known as Helga's Web and Murder at the Opera House) is a 70s 'Ozploitation' murder mystery with a sexy wink to the crime genre.

Sydney homicide detective Sergeant Scobie Malone (AFI Award winner Jack Thompson) and Constable Clements (Shane Porteous) investigate the murder of Helga Brand (Judy Morris), a high class prostitute who was also a mistress of the Minister for Culture (James Condon). Digging around for clues Malone discovers Helga's association with some shady characters and her propensity for blackmail - including the minister, his wife Norma (Jacqueline Knott), and crime boss, Mr Sin (Noel Ferrier). As the web of deceit surrounding the murder grows, including certain members of the police force, Malone is tasked with uncovering the true nature of the crime and using his particular expertise to bring the perpetrators to justice.

A unique blend of detective story and erotic thriller, mixed with laconic Aussie charm and 1970s sensibilities, "Scobie Malone" is presented in a brand new widescreen transfer.

The first time the Scobie Malone character appeared on screen was in the 1968 film "Nobody Runs Forever", adapted from the novel "The High Commissioner", though author John Cleary was unsatisfied with the final outcome. The 1975 film simply titled "Scobie Malone" was the character's second outing and adapted by a different production company. Adapted from the 1970 novel "Helga's Web", this also left an unsatisfactory feeling for Cleary, who felt the sexy womanizing Malone character portrayed was not the one that he had written. Critics and audiences also felt the same, as the film failed at the box office even with Jack Thompson's star power attached. For the scenes of sexy girls, there was not enough of. For the detective scenes, there wasn't enough action or suspense. Regardless, the film did find a cult audience seeing the film as a cheeky film not taking things too seriously.


Note this is a region ALL DVD in NTSC which can be played back on any DVD or Blu-ray player worldwide

Video


Umbrella Entertainment presents the film in 1.78:1, anamorphically enhanced in the NTSC format. There are some good and bad points to the transfer. For the good, colors are bright and fairly well balanced with a stable image. On the bad, the colors do seem artificially sharpened with some faces looking red, and there are specs and other damage even with the slight digital cleaning to the image. Overall it certainly is watchable and the damage is not too distracting.

The runtime of the film is 98:13.

Screenshots are as follows:


Audio


English Dolby Digital 2.0 stereo
Although labeled stereo and it certainly is a stereo track, this seems to be from a monaural source. There are some issues with the audio and the first part is the 2.0 bump making everything sound slightly echoey rather than a natural audio track. In addition some of the dialogue with "s" or "p" sounds being spoken gets a little tinny and distorted. Also there are some scenes which have a slight sync error, but only for a frame or two of a difference. There are no hisses or cracks in the audio track which is one positive of the audio.

There are no subtitles offered for the film.

Extras


Bonus Trailers

- "The Great Bookie Robbery" (3:27)
A clip rather than a trailer is presented here.
in non-anamorphic 1.33:1, in English Dolby Digital 2.0 with no subtitles

- "Road Games" (2:04)
- "Monkey Grip" (2:54)
- "The Long Weekend" (1:58)
The original theatrical trailers are presented from very dated transfers with damage marks and washed out colors.
in non-anamorphic 1.85:1, in English Dolby Digital 2.0 with no subtitles

Overall


"Scobie Malone" is not a classic in the Ozploitation genre but does have some cheeky charm and enough skin to go around for viewers. Umbrella Entertainment's DVD offers a fair but flawed video transfer and a questionable audio transfer, and to cap it there are no extras besides bonus trailers.
| | | | | |
| --- | --- | --- | --- | --- |
| The Film: C- | Video: B- | Audio: C- | Extras: F | Overall: C- |

---
DVD Compare is a participant in the Amazon Services LLC Associates Program and the Amazon Europe S.a.r.l. Associates Programme, an affiliate advertising program designed to provide a means for sites to earn advertising fees by advertising and linking to amazon.co.uk, amazon.com, amazon.ca, amazon.fr, and amazon.de.