The Removalists
R0 - Australia - Umbrella Entertainment
Review written by and copyright: James-Masaki Ryan (9th July 2017).
The Film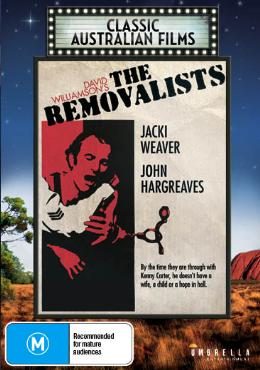 "The Removalists" (1975)

This compelling adaptation of David Williamson's influential play stars John Hargreaves and Peter Cummins as good and bad cops who assist a battered wife (played by Jacki Weaver) as she tries to escape her belligerent husband (played by Martin Harris).

Like the equally successful "Don's Party", the film sees Williamson continue his dissection of Australian sexual politics by exploring issues of female empowerment versus male violence and sexual intimidation as a beaten housewife tries to retrieve her possessions from a threatening husband, but gets little help from a chauvinistic cop. Comic relief comes in the form of the whingeing, bludging Cockney removalist Chris Haywood, who only wants to finish the job and get paid for his services.

Performed by a faultless ensemble cast, "The Removalists" is a powerhouse presentation and a gripping look at suburban Australian life.

Following the critical success of the 6-person stage play from 1971, playwright David Williamson adapted his work into a screenplay which would eventually be made in 1975. Kate Fitzpatrick and Jackie Weaver would reprise their roles in the film version while all others were recast. For casting this would be a landmark work for John Hargreaves as it was his first feature film launching him into the top ranks of Australian cinema stardom.

While the adaptation did get fair critical reviews, it was not a financial success. It kept most of the key elements of the original stage production and that may have been its greatest drawback. Staging of the scenes are quite dull with no major though put into camera setups and movements. Characters are not given additional development and the ending of the play is kept - meaning the film's ending is extremely open ended which may bother some as just when things are starting to heat up, it abruptly ends. The biggest saving grace comes from the performances and the gritty dialogue that does not shy away from sugarcoating. It is brash, harsh, and oftentimes shocking.

Note this is a region 0 NTSC encoded DVD which can be played back on any DVD or Blu-ray player

Video


Umbrella Entertainment presents the film in the 1.33:1 aspect ratio without anamorphic enhancement in the NTSC format. There are quite a few issues with the transfer and not many positives, if any at all. First off, the 1.33:1 transfer - whether this is a cropped transfer or matted transfer it is uncertain, but it was most likely projected in the 1.66:1 or 1.85:1 aspect ratio theatrically. As for the picture quality, colors are washed out, there are dust and specs throughout, detail is lacking with blurriness, and the interlaced picture shows ghosting in the image. While it is in fact "watchable" this is like watching a video transfer from the 1980s rather than something from the 21st century. Overall this is a very big disappointment that a better master could not be used or located.




The film's runtime on the disc is 85:31. Curiously the runtime is 8 minutes shorter than the 93 minute runtime given on IMDB and the Australian Classification. Considering this is an NTSC transfer there is no speedup issue, the only conclusion seems that there are 8 minutes of missing footage. What exactly is missing is unknown.

Audio


English Dolby Digital 2.0 mono
The original mono track is offered here and it also suffers just as the image does. There are issues with fidelity and depth to the audio with some hissiness in the background. Dialogue is still intelligible and there are no problems with dropouts or major damage to the audio track.

There are no subtitles available for the feature.

Extras


The only extras available are bonus trailers:

Bonus Trailers
- "The Great Bookie Robbery" (3:27)
- "Road Games" (2:04)
- "Monkey Grip" (2:54)
- "The Long Weekend" (1:58)
"The Great Bookie Robbery" is a clip rather than a trailer, while the other three are the original theatrical trailers sourced from dated masters.
in English Dolby Digital 2.0

Packaging


The packaging states the disc to be PAL but this is in fact an NTSC encoded disc.

Overall


"The Removalists" has a great cast involved though it's disappointing that once things get fired up, the story ends quite abruptly. Umbrella Entertainment's release is a bit disappointing with its dated master used and curiously missing footage. Considering that this is currently the only DVD release available worldwide, fans looking for a physical release will have to deal with this release for now.
| | | | | |
| --- | --- | --- | --- | --- |
| The Film: B- | Video: D- | Audio: C- | Extras: F | Overall: D |

---
DVD Compare is a participant in the Amazon Services LLC Associates Program and the Amazon Europe S.a.r.l. Associates Programme, an affiliate advertising program designed to provide a means for sites to earn advertising fees by advertising and linking to amazon.co.uk, amazon.com, amazon.ca, amazon.fr, and amazon.de.