The Film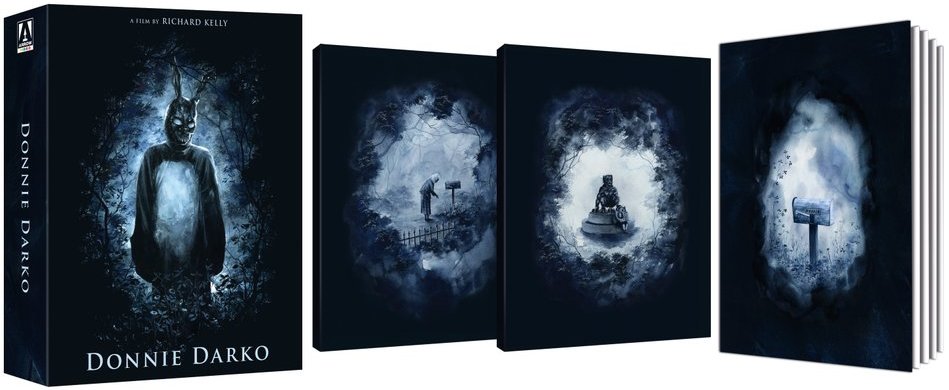 When considering the most auspicious debuts of the 21st century, one film that consistently appears near the top of many lists is writer/director Richard Kelly's bleak riff on time travel and teenage philosophy, "Donnie Darko" (2001). Largely ignored upon release – more than likely because the storyline prominently features a jet engine disaster and it was released a mere month after 9/11, signalling the studio death knell – Kelly's film almost immediately gained a cult status, one that has been feverishly growing ever since. In the ensuing years a sequel was released, and by all accounts (my own included) "S. Darko" (2009) is a steaming pile of horsesh*t. Kelly has attempted to recapture the critical success (or, sadly, any success at this point) of his debut in the years since but nothing has stuck with audiences like "Donnie Darko". Just over 15 years later, the film remains as potent and cleverly warped as ever.

Donnie Darko (Jake Gyllenhaal) is not your normal teenager, unless you count his complete disdain for authority. He sleepwalks. He sees a psychotherapist. He also sees Frank (James Duval), an unknown figure inside of a twisted rabbit suit. During one of his sleepwalking stints Frank tells Donnie the exact time when the world will end – 28 days, 6 hours, 42 minutes, and 12 seconds from now. Donnie laughs. The next morning he awakens on a golf course and walks home, where he is greeted by a jet engine sticking out of the roof. Had Donnie been home that night, he surely would have died. The FAA has no explanation for the engine's origin. Donnie, under the spell of hypnosis, explains to his psychotherapist, Dr. Thurman (Katharine Ross), that he has been seeing visions of Frank. As Donnie explains, Frank makes him do things, like flooding his school and vandalizing the property.

Despite his clear mental issues, Donnie has a small group of friends and also manages to draw the attraction of Gretchen (Jena Malone), a new girl on campus who was told to "sit next to the boy she thinks is the cutest" by their teacher, Ms. Pomeroy (Drew Barrymore). Frank's appearance and apparent ability to portend something as major as the world ending prompts Donnie to begin speaking with Dr. Monnitoff (Noah Wyle), one of the school's science teachers. As their conversations grow more hypothetical and in-depth, Dr. Monnitoff suggests Donnie read a book, "The Philosophy of Time Travel", written by a former science teacher at the school, Roberta Sparrow (Patience Cleveland). The once-prominent teacher is now a frail old woman who spends all day checking her mailbox; the local kids call her "Lady Death". Donnie's mental state continues to deteriorate, his interactions with Frank leading to more violent actions, such as burning down the home of a local motivational speaker, Jim Cunningham (Patrick Swayze). Eventually the days tick down to mere hours and on the eve before Halloween night Donnie finally faces down the cataclysmic event that Frank warned him about.

This film nearly wouldn't have been made if it weren't for Drew Barrymore getting a hold of the script and jumping on board as a producer first, actress second. Her involvement also bumped up the financing considerably, allowing Kelly to fully realize his vision. Well, almost… more on that "Director's Cut" in a bit. "Donnie Darko" could not have been better cast, and each role – no matter how small – plays an important part in shaping Donnie's daily life and his potential future. Except for Seth Rogen, who is mostly here to be a dick and tell Jena Malone's character he likes her boobs. Jake Gyllenhaal was still relatively new on the scene circa 2001 and his performance as Donnie is no less convincing than the killer roles he's been handed in recent years. Donnie is smart, intimidatingly so per his principal, but his detachment from reality grows by the day - and it scares him. Gyllenhaal pulls off Donnie's range of emotions with apparent ease, perfectly conveying the internal conflict within him every day.

A few years later in 2004, Kelly revisited his now-cemented cult classic for a "Director's Cut" that added in some deleted footage and added in chapter cards based upon those found in Roberta Sparrow's novel, "The Philosophy of Time Travel". I will admit that some of the reinstated character moments add extra depth and emotion but the decision to insert the chapter cards was woefully misguided. Furthermore, the music cues and general flow of the feature is now thrown off, turning a lean drama into something bloated and less refined. I tend to lump it in with "Director's Cut" like the "Star Wars" (1977-1983) films, "Battle Royale" (2000), and Walter Hill's "The Warriors" (1979) in that it does not exist to me. It functions only as a curiosity for fans.

Perhaps it can be chalked up to the period in my life when I saw the film, just as much as it can be the very nature of Kelly's movie itself, but "Donnie Darko" still packs an emotional wallop that, frankly, can feel devastatingly depressing. Donnie is a fully realized character, and his potential seems so great that his ultimate denouement brings forth some palpable emotion; you grieve with the family once all is said and done. Every film can be made a thousand different ways and Kelly, along with a very talented group of individuals, pulled it off with exquisite results. Recently, while bashing "S. Darko" Kelly has been recorded as saying he has "ambitious" plans for a proper sequel. My advice (which he doesn't want or need) is simply: don't. Sequels to ages-old properties are all the rage right now but this is lighting that can't be captured twice; don't dilute the original in a search for old glory. Kelly has already proven he can make a brilliant film with a unique voice. Find it again and make something else to stand the test of time.

- "Theatrical Cut" rating: A
- "Director's Cut" rating: B-

Video


Past home video releases of "Donnie Darko" have been noted for featuring a soft image with poor brightness and a pervasive darkness, and this is because Kelly and cinematographer Steven B. Poster shot the film using low lighting film stock. In short: Arrow Video's newest 4K scan of the original 35mm negative is unquestionably the best it can and will ever appear. The 2.35:1 1080p 24/fps AVC MPEG-4 encoded image is still grainy, still soft, and still not vibrant. But that's how Kelly wanted his film to look, and if the video quality is being graded based on faithfulness of reproduction then this receives the highest marks. Donnie's world is bleak and dark so, too, is his film. It's never going to pop or be demo material. But it certainly smokes the previous Blu-ray releases and, given the overall impressiveness of this package, is the definitive edition on home video. The "Director's Cut" has also received the same level of restoration, and it looks commensurate with the "Theatrical Cut".

Audio


Both cuts of the film receive the same audio treatment, which is an English DTS-HD Master Audio 5.1 surround sound track. Music plays a huge part in the movie, from the opening Echo & The Bunnymen tune to Tears for Fears' "Head Over Heels" during an epic one-shot to composer Michael Andrews' hypnotic, classically trained score, and everything is presented with the highest fidelity. Dialogue is understandable and clean, with no instances of hissing, pops, or crackling. Directionality is strong, with many effects seamlessly panning across the assembly of available speakers. Subtitles are available in English.

Extras


Here is where this gargantuan release really shines, with a plethora of extra features spread out across the edition's two discs. Multiple audio commentary tracks, documentaries, featurettes, interviews, deleted & extended scenes, fake infomercials, promotional materials, and much more can be found in here. Furthermore, Arrow Video has included a beautiful hardcover book filled with over 90 pages of writings on the film, interviews, and photographs.

DISC ONE: BLU-RAY – "Theatrical Cut"

There are two audio commentary tracks included here – the first with writer/director Richard Kelly and Jake Gyllenhaal; the second with writer/director Richard Kelly plus "cast & crew", which consists of producer Sean McKittrick, producer/cast member Drew Barrymore, cast members Jena Malone, Beth Grant, Mary McDonnell, Holmes Osbourne, Katharine Ross, and James Duval.

"Deus Ex Machina: The Philosophy of Donnie Darko" (1080p) is a documentary that runs for 85 minutes and 23 seconds. This retrospective piece doesn't get too deep but there are some solid recollections here from a few of the cast & crew, most notably Kelly who discusses the production process at length. It is perhaps a bit redundant when considering the other bonus features already available, but a well-done piece nonetheless.

"The Goodbye Place" (1080p) is a 1996 short film by Kelly, which runs for 8 minutes and 43 seconds.

There are numerous deleted & extended scenes included (1080p, but very clearly sourced from video) that can be watched with optional audio commentary by Richard Kelly, running for 31 minutes and 54 seconds.

A theatrical trailer (1080p) runs for 2 minutes and 28 seconds.

DISC TWO: DVD – "Theatrical Cut"

This is the "Theatrical Cut" version in standard definition DVD.

DISC THREE: BLU-RAY – "Director's Cut"

The lone audio commentary to be found here features writer/director Richard Kelly alongside fellow filmmaker Kevin Smith.

"The Donnie Darko Production Diary" (SD) is a featurette that runs for 52 minutes and 54 seconds. This fly-on-the-wall piece, shot with a camcorder, covers many days of the film's production, from location scouting to shooting with the actors and behind-the-scenes footage. Optional audio commentary with director of photography Steven B. Poster is available.

"Archive Interviews" (SD) features quick interview chats with Jake Gyllenhaal, Mary McDonnell, Holmes Osbourne, Maggie Gyllenhaal, James Duval, Jena Malone, Drew Barrymore, Noah Wyle, Katharine Ross, writer/director Richard Kelly, producer Sean McKittrick, Nancy Juvonen, executive producer Hunt Lowry, executive producer Casey La Scala, and director of photography Steven B. Poster, running for 14 minutes and 19 seconds total.

"They Made Me Do It" (SD) is a featurette that runs for 4 minutes and 48 seconds. Graffiti artists were commissioned to produce pieces inspired by the film, and they are shown here.

"They Made Me Do It II" (SD) is a featurette that runs for 30 minutes and 17 seconds. Subtitled "The Cult of Donnie Darko" this piece takes a look at the cultural impact the film has made since release.

"#1 Fan: A Darkomentary" (SD) is a featurette that runs for 13 minutes and 18 seconds. See the winning entry for a fan contest originating on the film's website.

"Storyboard Comparisons" (1080p) is a featurette that runs for 7 minutes and 58 seconds. See the storyboards for the film side-by-side with the finished footage.

B-Roll footage (SD) runs for 4 minutes and 37 seconds.

"Cunning Visions Infomercials" (SD) fake infomercials runs for 5 minutes and 42 seconds, with optional audio commentary director Fabian Van Patten and Cunning Visions CEO Linda Connie.

Music Video (SD) runs for 3 minutes and 21 seconds, featuring Gary Jules' somber take on the Tears for Fears classic "Head Over Heels".

An Image Gallery (1080p) features 48 images.

A theatrical trailer for the "Director's Cut" (1080p) runs for 55 seconds.

Five TV spots (SD) are also included:

- "Sacrifice" runs for 32 seconds.
- "Darker" runs for 32 seconds.
- "Era" runs for 32 seconds.
- "Cast" runs for 17 seconds.
- "Dark" runs for 17 seconds.

DISC FOUR: DVD – "Director's Cut"

This is a standard definition version of the "Director's Cut" on DVD.

Packaging


Arrow Video loves them some sexy packaging and "Donnie Darko" gets the five-star treatment. Each cut of the film is housed in a separate DigiPack, with two discs overlapping each other on the back panel while just inside each jacket is a little goodie – the "Theatrical Cut" has a fold-out double-sided poster, while the "Director's Cut" features an envelope with postcards of inspired art that can be put together to reveal a larger image. These DigiPacks side-load into a sturdy chipboard slip-case alongside an attractive hardcover booklet with over 90 pages of material.

Overall


Not only does "Donnie Darko" hold up as one of the more original tales of teen angst, but Arrow Video's "Limited Edition" release is a fan's dream. The A/V quality is as good as it can be, extra features are plentiful and wholly comprehensive, and the entire package just oozes with home video sex appeal.
| | | | | |
| --- | --- | --- | --- | --- |
| The Film: B+ | Video: A+ | Audio: A- | Extras: A+ | Overall: A+ |