The Film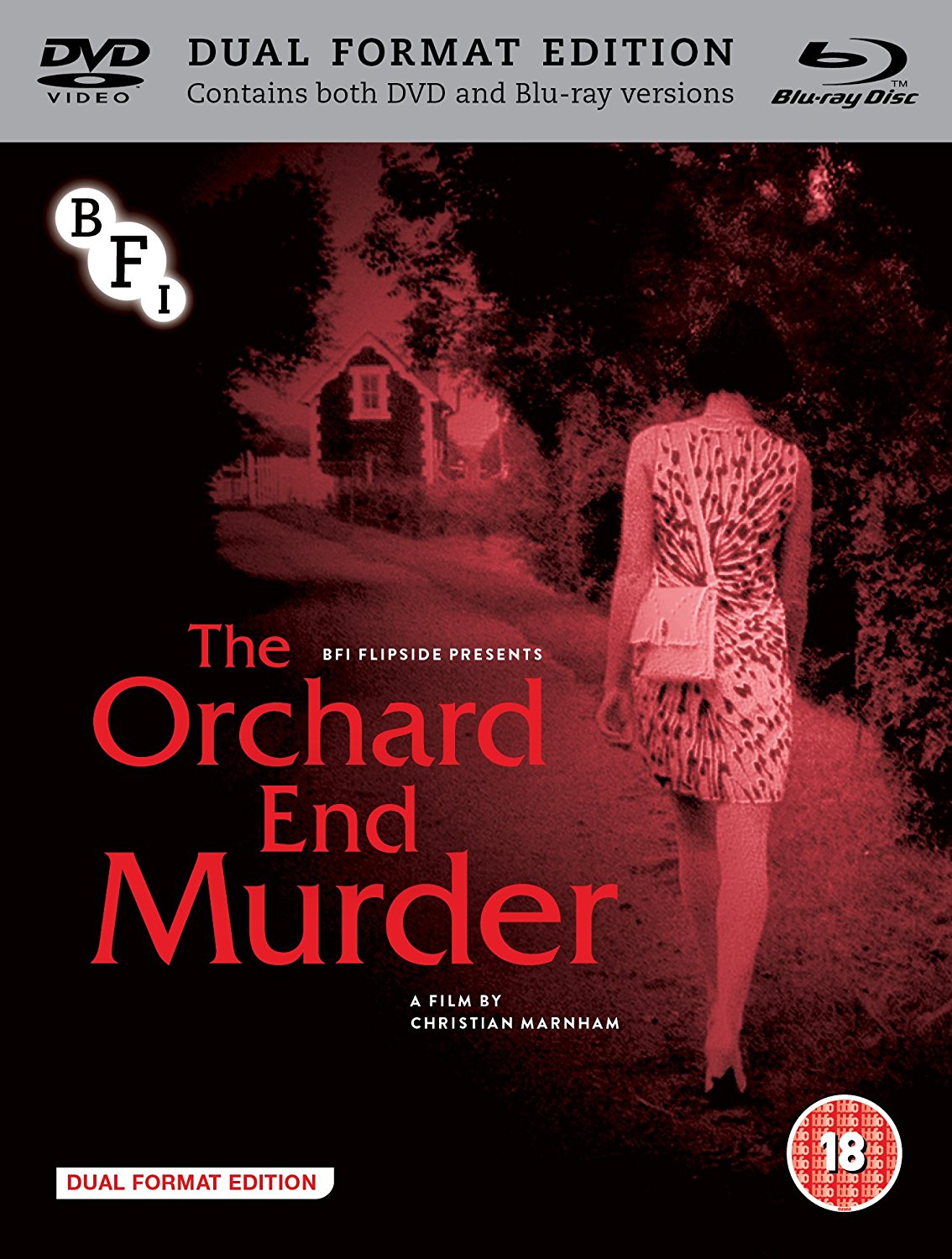 "The Orchard End Murder" (1981)

Star cricket player Robins (played by Mark Hardy) is nowhere to be found at the game because he is busy with other thoughts - making out with his girlfriend Pauline (played by Tracy Hyde) in the orchard. With her sexy mini one piece dress and white stockings, she is obviously a city girl visiting from London to be with him in Kent. Pauline is not too interested in the sport and decides to take a walk around the small town on her own as he plays, in which she finds a small cottage with a cute gnome garden. There she meets the railway gatekeeper (played by Bill Wallis) who offers her tea, and also Ewen (played by Clive Mantle) who is a giant brute that seems to have a mind of a stubborn child rather than a grown man of his age. But what seems to be a simple walk through town ends with an unsuspecting murder…

"The Orchard End Murder" was written and directed by Christian Marnham making his fiction film debut, as he was a documentary short filmmaker up to that point. Though it is labeled "fiction" and has a disclaimer that the events depicted in the film are not based on any particular true event, Marnham has stated the film did take cues from a similar murder than happened in Kent years ago that stayed in his mind. Though it may be a spoiler it is something that cannot be avoided - the girl is the one that gets murdered. Taking a cue from "Psycho" (1960), the flow is very similar - the girl is seen having sexual relations with a man, she goes off somewhere on her own, ends up in a home where an eerie person lives, and is killed very quickly due to the crazed reason of jealousy. The protagonist is gone from the story and the rest is through the viewpoints of both the murderer and the people looking for her. In that case "The Orchard End Murder" is not particularly original per say but is highly effective in delivering through atmosphere. Like many other Alfred Hitchcock films it also takes inspiration of finding the right amount of tension to make audiences gasp even in scenes that are seemingly without violence. We do want to see the killer caught but at the same time the audience is looking to see how the villain's escape plan will turn out. It is not particularly a dark looking movie as most of the film is shot brightly lit and in the daytime, though there are scenes at night they are after the murder was committed. Even though the film runs at a short 50 minutes, the "long short film" does have good pacing to create a creepy and unsettling tone in the relatively short runtime for a fully realized story.

From a modern look at films, there seem to be two types: feature films which can range from about 90 minutes to several hours, and short films which can be anywhere from a minute long to 30 minutes or so. But where does a 50 minute film fall? Is it a short? Is it a feature? Where would it play theatrically? "The Orchard End Murder" was a 50 minute film that played theatrically though not on its own, as it was common in the past for double or triple features to be shown back to back in cinemas rather than having a bombardment of trailers and commercials before the main feature. In the United Kingdom the film played as the first half of a double bill with the acclaimed horror film "Dead and Buried" which "The Orchard End Murder" could have easily stolen the title. As "Dead and Buried" was a sizeable hit theatrically, "The Orchard End Murder" was a moneymaker as well, since the slightly long length qualified to take half of the box office grosses.

Although "Dead and Buried" was and still is a well known cult hit around the world, "The Orchard End Murder" fell into obscurity as it did not have wide international distribution theatrically or on home video. Thankfully the BFI has rescued the film from obscurity and onto Blu-ray and DVD for the first time in this Flipside release.

Note this is a region B Blu-ray which can only play back on region B or region free Blu-ray players

Video


The BFI presents the film in 1080p in the AVC MPEG-4 codec, in the original theatrical 1.85:1 aspect ratio. The film opens with the original GTO Films logo which looks like it was transferred from a grindhouse cinema print filled will scratches, dust and crackly sound. Thankfully when the film itself starts the restored 2K transfer from the original 35mm camera negative looks wonderful. Damage such as scratches and dust are relatively non-existent with a clean image throughout. Colors are slightly faded but color balance is stable as well as the image being constantly stable with no wobble or telecine errors. Another excellent image restoration and transfer from the BFI.

The film is uncut and the runtime of the "long short film" is 49:43.

Audio


English LPCM 2.0 mono
The original mono track is presented in a two channel lossless LPCM track. There is good and bad on this audio track. The first half of the film sounds great. Dialogue is well reproduced with no major issues or damage or problems as well as the background effects and music cues. But during the second half, it almost seems like someone forgot to remaster the sound. There are crackly sounds during dialogue scenes, pops and cracks in reel changes. I've taken the film to ask the BFI about the audio track and if it was a mastering error or not and their response was:

"There is some very slight distortion in places, which is as per the original optical track. Unfortunately we did not have the time or budget available to embark upon repairing it, nor did we feel that it would too negatively affect the viewing experience. Whilst we always endeavour to repair this sort of damage, it just isn't always possible."

While it is true that is doesn't disrupt from the film that much as dialogue is still intelligible, but it is slightly disappointing that quality was not kept consistent.

There are optional English HoH subtitles for the main feature in a white font. While there are no issues or spelling or grammar errors, there were one or two lines which were missing a few words in the displayed text in comparison to what was being said by the actors.

Extras


The BFI is releasing "The Orchard End Murder" as a dual format Blu-ray+DVD release, with the film and extras on a single Blu-ray and the same repeated in standard definition PAL on the DVD. The specs of the extras listed as follows is for the Blu-ray disc:

"The Showman" 1970 documentary short directed by Christian Marnham (25:46)
Wally Shufflebottom Sr. was a true to live carnival showman. His main attraction was knife throwing - by having young beautiful girls in scantily clad clothes or with topless girls to be standing at a wall as he would throw large knives and axes around the girls, never missing his intended marks. Knife throwing is not a magic trick but a true skill and the documentary short directed by Marnham captured the life and the skills of an art that even to this day causes more gasps of terror than a horror film.
in 1080p AVC MPEG-4, in 1.33:1, in English LPCM 2.0 with no subtitles

"Christian Marnham on The Orchard End Murder" interview (37:26)
Although Marnham has not directed any work in nearly 30 years, he was thankfully a participant for interviews on this release. He talks about his start as an editor in the business, his move up to director, and how "The Orchard End Murder" was commissioned and made. He recalls everything from the casting, the location scouting, the opening crane shot, using different film speeds, and the reception the film received. While his stories are very interesting to hear, one aspect not covered was what he has been doing in the last 30 years out of the entertainment world. Where has he been?!
in 1080p AVC MPEG-4, in 1.78:1, in English LPCM 2.0 with no subtitles

"Christian Marnham on The Showman" interview (4:40)
Marnham gives additional information on his first documentary short. Interesting stories include how he and some of the other crew members had knives thrown at them for demonstration, how they had to recast the girls overnight as the original girl who has to have knives thrown at her actually ran away, and some of the camera techniques used for the shoot.
in 1080p AVC MPEG-4, in 1.78:1, in English LPCM 2.0 with no subtitles

"From Melody to Orchard End Murder" an interview with Tracy Hyde (11:19)
Tracy Hyde started as a child model and actress with her big break in 1970's "Melody" which was not a hit in the UK or the US but was a massive hit in Japan. Hyde talks about her unexpected rise to fame as a child gracing magazine covers in Japan and going on a tour there up to her later career as an adult. She eventually retired from acting in 1988 and has not contributed much in terms of interviews or much else in recent years so having this candid interview along with thoughts from the director after all these years are most pleasing. One annoying aspect in this particular interview is that the interviewer's questions are sometimes heard, though since he is not using a microphone, it is hard to hear what he was asking at times.
in 1080p AVC MPEG-4, in 1.78:1, in English LPCM 2.0 with no subtitles

An interview with David Wilkinson (12:28)
The actor that played the minor part of the cricket batsman gives an interview on his career as an actor and a producer plus memories of making the film. Interesting is how he was basically retired from acting at the time but was reeled back in for the minor role in "The Orchard End Murder".
in 1080p AVC MPEG-4, in 1.78:1, in English LPCM 2.0 with no subtitles

DVD Copy
The film and extras are repeated on a PAL DVD.

Booklet
The 16 page booklet includes photos, an essay, a contemporary review, film credits, special features credits, and transfer information. The essay is entitled "Red Riding Hood from Suburbia" written by BFI curator Josephine Botting which goes in depth from the themes presented in the film as well as the background of the making-of and distribution. A short review of the film from 1982 written by Tim Pulleine for Monthly Film Bulletin is reprinted, followed by the usual round of credits and special features information. BFI curator Vic Pratt gives a lengthy written introduction and information on "The Showman" which is a definite must read.

For the BFI to track down and have interviews from Marnham and Hyde for this release is almost a miracle. They have not been active in the industry for decades and for both to give their thoughts for this release is absolutely amazing, especially as they both have interesting stories to tell. This Blu-ray may not have a commentary track but these interviews are absolutely far beyond expectation.

Packaging


This is spine #35 of the BFI Flipside series, showcasing various offbeat, forgotten, and overlooked British films.

Overall


"The Orchard End Murder" is a great 50 minute film that is effectively creepy and tense, and thankfully rescued from obscurity through this excellent release. The BFI release offers great video and great extras including interviews with the director and actress who had not been heard from in a very long time. The audio does have its drawbacks but the release still come as very recommended.
| | | | | |
| --- | --- | --- | --- | --- |
| The Film: B+ | Video: A- | Audio: C+ | Extras: B+ | Overall: B+ |