The Film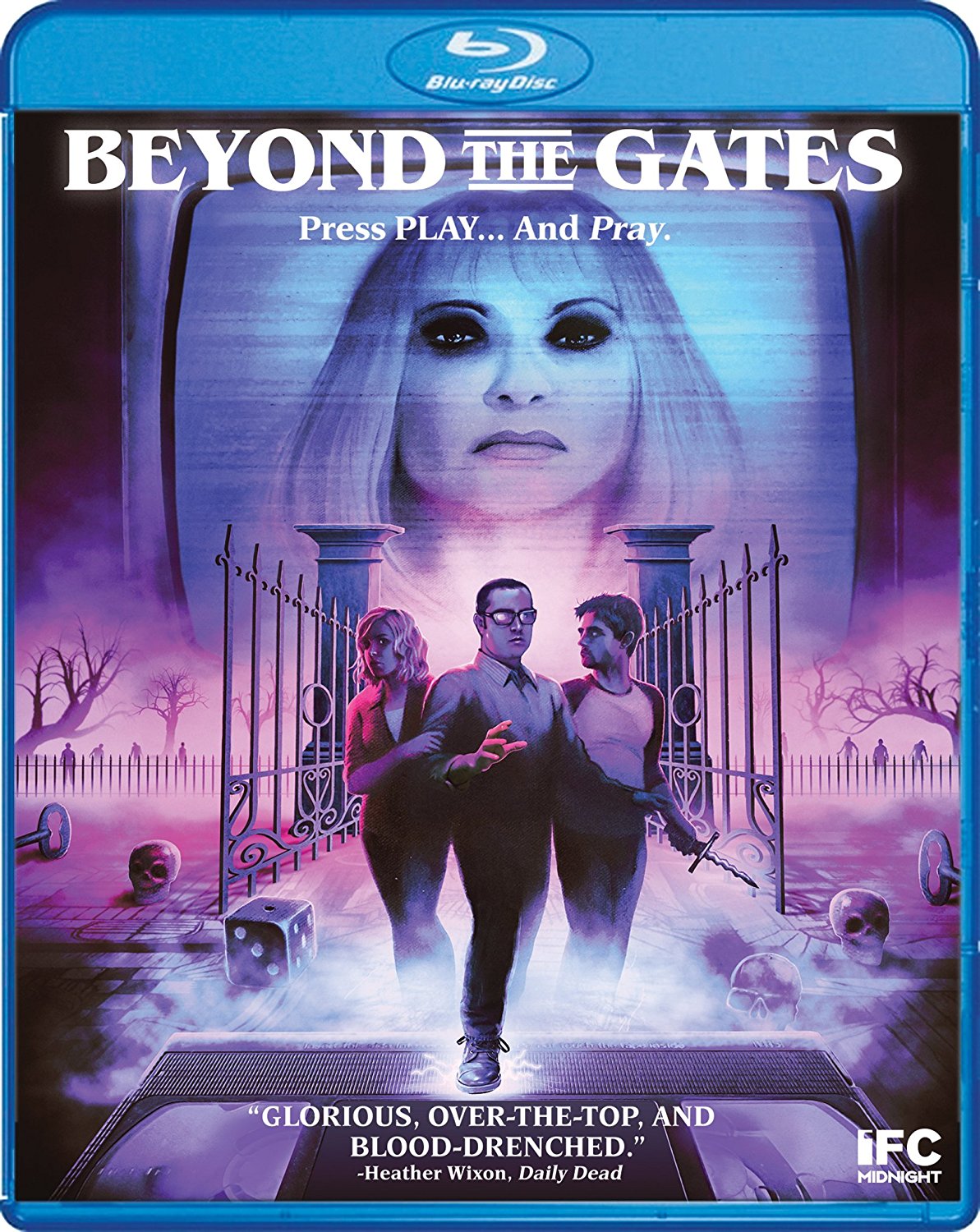 Riding atop a wave of that sweet genre festival buzz, I had high hopes for the retro styling of "Beyond the Gates" (2016). A Luddite love letter to the bygone relics of VHS and interactive board games (both of which, oddly enough, have made minor comebacks), the synopsis and trailer suggest viewers are in for 82 minutes of otherworldly dimensions, bloody splatter, daddy issues, and splashes of neon horror. I couldn't help but ramp up my excitement after popping in the disc and being greeted by Wojciech Golczewski's Italian pop-infused synth melodies, as the main menu portends a trio of lead actors venturing into some cryptic netherrealm operating under the auspices of Barbara Crampton's big head. Unfortunately, what I got was something more akin to "Beyond the Budget", where spotty acting and a dearth of activity consume much of the runtime. It is over an hour into the picture before anyone even attempts the eponymous journey, conveniently located in the primary location's basement, and by that point my interest had long since tucked into bed for a snooze. Ambition was in the air but it never materialized where it counts: the screen.

Brothers Gordon (Graham Skipper) and John (Chase Williamson) have returned home to reunite at their father's video store after he went missing and is now presumed dead. A flashback shows the boys both have fond memories of dad's old VHS shop, but as the two have grown older they have also grown apart. Gordon is the responsible one, holding a stable job as well as a steady girlfriend, Margot (Brea Grant). John, on the other hand, has had his own share of issues as the reckless sibling who makes poor choices both in life and in choosing his friends. Their initial reunion reignites a tenuous bond, with John making a concerted effort to show his brother he is attempting to change his ways. Gordon is a colder soul, but John's attempts appear to be warming him up.

As the boys clean out their father's store they come across the key to his private office. Inside, they don't find anything of note aside from one item: an interactive VHS board game, Beyond the Gates, which by the looks of it dear old dad was playing with just before he vamoosed. Their intrigue gets the better of them and soon Gordon, John, and Margot begin to play the mysterious title, which is narrated on-screen by Evelyn (Barbara Crampton), an equally enigmatic figure. Her directions are pointed and clear: the players must obtain hidden keys in order to unlock doors within the game, but the extraction of these keys from their housing has gory ramifications in the real world. As the keys multiply and subsequent bodies begin to pile up, a trip beyond the gates and a possible reunion with their thought-to-be-dead dad looms on the horizon.

Maybe my expectations got a bit lofty for this one, but the trailer had me expecting something more along the lines of two brothers who hang out in an old VHS store and take sporadic trips "beyond the gates" where they run into all sorts of creepy monsters, including a sexy demoness played by Barbara Crampton. Instead, what I got was a feature where grand ideas are constantly teased but nothing of actual substance happens until we are well into the mix. In fact, it's over an hour into the 82-minute feature before we get any decent gateway action. The majority of the early scares come from suggestion and shadowy figures, and those moments are far and few between. What fills the gaps is a lot of passable acting that serves the film but fails to generate any real connection with the leads. Much of the writing here simply falls flat, with little impact achieved by the boilerplate family drama.

These issues are frustrating because it is clear the filmmakers had their hearts in the right place and were looking to make something that would pop sitting on a VHS rental shelf back in those good ol' days. Similar to Rob Zombie's "Lords of Salem" (2009), this is a film that is on the precipice of realizing a strong concept only to see it lost to the scourges of budget and talent and current abilities. A strong film likely exists within the framework of "Beyond the Gates" but it plays things too slow and too safe for too long. Even once the climax is reached the results are vastly underwhelming, especially after such build-up and intrigue. The only real credit I can give to the film is the sublime synth score by Wojciech Golczewski and the gore gags, which provide a few moments of visceral impact thanks to the glory of practical effects.

Video


Presented with a 2.40:1 1080p 24/fps AVC MPEG-4 encoded image, the film looks like a typical digital production with a clean picture, no film grain, and vibrant colors. The sharp picture allows for many fine details to be more visible, like all the myriad titles on the video store's shelves. Even in the shadows, the image holds up well. Later in the film bold splashes of candy-colored hues come into play, adding some extra pop to the picture.

Audio


An English DTS-HD Master Audio track is available in 2.0 stereo or 5.1 surround sound. Obviously the multi-channel track provides the most bang for your buck, in terms of sound placement and fullness, but aside from the main titles and a few terror stringers most of this track is dialogue and straightforward and doesn't quite take advantage of the available sound field. There are few impactful moments, leaving the subwoofer with little to do. Subtitles are available in English and Spanish.

Extras


There are three audio commentary tracks – first, Co-Writer/Director Jackson Stewart, Barbara Crampton, Jesse Merlin, Director of Photography Brian Sowell, and Co-Writer Stephen Scarlata.

The second audio commentary features Director/Co-Writer Jackson Stewart and actors Chase Williamson, Brea Grant, and Graham Skipper.

The third audio commentary features "Junk Food Dinner" podcast hosts Kevin Moss, Parker Bowman, and Sean Byron.

A "Behind-the-Scenes Featurette" (1080p) runs for 10 minutes and 59 seconds, this plays like a standard EPK featurette with interviews and some on-set footage. Nothing too substantial.

A pair of deleted scenes (1080p) runs for 2 minutes and 49 seconds.

"Premiere Q&A – Moderated by Stuart Gordon" (1080i) featurette runs for 17 minutes and 28 seconds.

"Sex Boss" (1080p) is a short film directed by Jackson Stewart that runs for 5 minutes and 32 seconds.

A theatrical trailer (1080p) runs for 2 minutes and 6 seconds.

"Retro "Beyond the Gates" Commercial" (1080p) TV spot is the best extra on here, looking like something out of the 80's, running for 51 seconds.

Packaging


The single disc comes housed in a standard Blu-ray keep case.

Overall


Not as much fun as it should have been, "Beyond the Gates" has the spirit of old-school but there's not much meat on the bones.
| | | | | |
| --- | --- | --- | --- | --- |
| The Film: C- | Video: A- | Audio: B+ | Extras: B- | Overall: C |