The Film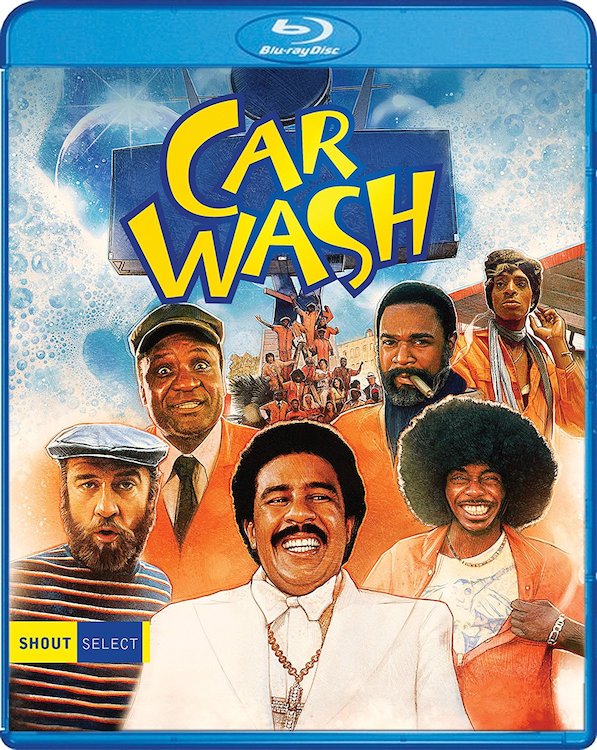 "Car Wash" (1976) is a tough film to review because it only sorta qualifies as a movie. Playing like the granddaddy to "Friday" (1995) that it is, "Car Wash" is a "day in the life" picture that showcases a variety of comedic and dramatic talents, each being given their own moment in the spotlight to show that behind these invisible workers are real people dealing with real problems. The film plays more like a series of character vignettes than a cohesive piece. Director Michael Schultz, working off a script by future director Joel Schumacher, has no problem spreading the on-camera wealth, highlighting each of the dozen-or-so characters and turning the lens on their hopes, dreams, nightmares, and harsh reality. While much of the action is relegated to comedy and goofing off, there are some strong messages in here that are clearly aimed at the black community, hoping to spread some positivity before sending viewers out of the theater. Thanks to a patently 70's aesthetic and a few big-time names, like Richard Pryor and George Carlin, "Car Wash" has gained a minor following since underperforming over 40 years ago.

Starting off at the crack of dawn on a typically beautiful Los Angeles morning, "Car Wash" takes viewers through the process of beginning the day at the titular establishment. The lights go on, the machines start up, and a dozen or so employees all begin their descent upon home for the next eight hours. The cast of many includes Abdullah (Bill Duke), formerly Duane, a militant black Muslin who seeks revolution; George Carlin as a cab driver who spends the entire film looking for a female fare that stiffed him; Richard Pryor as a questionable preacher trying to get rich by peddling quack science; Lonnie (Ivan Dixon), an ex-con who is trying to work hard and get his life straight; Lindy (Antonio Fargas), a cross-dresser with a sharp tongue; and, Mr. B (Sully Boyar), owner of the car wash and friend to his employees. These characters are just a fraction of the massive cast, and each of them plays an integral part in showing off the many facets of car wash work.

The stories of the men and women at the car wash are universal, relatable. Some of these guys have problems with women – catching one, keeping one, or trying to enjoy one for just a brief moment. Others are content to enjoy life at the bottom, scraping by on meager wages and yucking it up with work buddies. Love is found, lost, reclaimed. The most salient message here is respecting the community and not allowing "the establishment" to tear you down, as evidenced by Abdullah's storyline. The film suggests he was a "regular guy" before he changed his name and joined up with Islam, whereupon he became a tough and bitter individual. After Mr. B is forced to fire Abdullah later in the film he returns later, intent on stealing money and possibly taking a life. It is left up to Lonnie to explain to Abdullah the error of his ways and stop him from making a terrible life decision.

"Car Wash" was originally conceived as a musical, and although it never got made that way the strings of that concept are evident in the cadence of the picture. Universal's accompanying soundtrack album – which saw release prior to the feature – went on to become a big hit for the studio. The title track hit a pop culture nerve and has managed to stick around for decades, still finding rotation on Soul and Funk stations to this day.

Video


The 1.85:1 1080p 24/fps AVC MPEG-4 encoded image yields a strong picture with many highlights, despite not receiving a new scan from Shout! Factory. The print appears to have been kept in great shape, exhibiting few signs of dirt, debris, or scratches. Depth is appreciable, too, giving the car wash greater dimension. Colors are bold and striking, leaping off the screen with a clear pop. Film grain is fitting and appropriate for the period, without looking overly noisy or clumpy. Fine detail is apparent in many scenes, with line work and facial details looking impressive.

Audio


An English DTS-HD Master Audio 2.0 mono track capably carries the film's funky tunes. Dialogue is presented clearly and with no hisses, pops, or cracking. The many source music cuts sound full and rich in lossless, especially the main title theme that repeats frequently. Subtitles are included in English for the hearing impaired.

Extras


There is an audio commentary supplied by director Michael Schultz, recorded back in 2015 for a U.K. Blu-ray release.

"Car Wash from Start to Finish" (1080p) is an interview with producer Gary Stromberg that runs for 34 minutes and 23 seconds.

"Workin' at the Car Wash" (1080p) is an interview that runs for 12 minutes and 14 seconds. De Wayne Jessie, who played Lloyd in the film, sits down for a talk regarding his work on the film.

Four radio spots run for 3 minutes total.

A theatrical trailer (SD) runs for 2 minutes and 21 seconds.

Packaging


The single disc comes housed in a standard Blu-ray keep case. The cover art is reversible.

Overall


"Car Wash" may be a dated relic of an era gone by, but the themes and characters are timeless enough that the film's messages and humor won't be totally lost on newer generations.
| | | | | |
| --- | --- | --- | --- | --- |
| The Film: B+ | Video: B+ | Audio: B | Extras: B- | Overall: B- |