The Film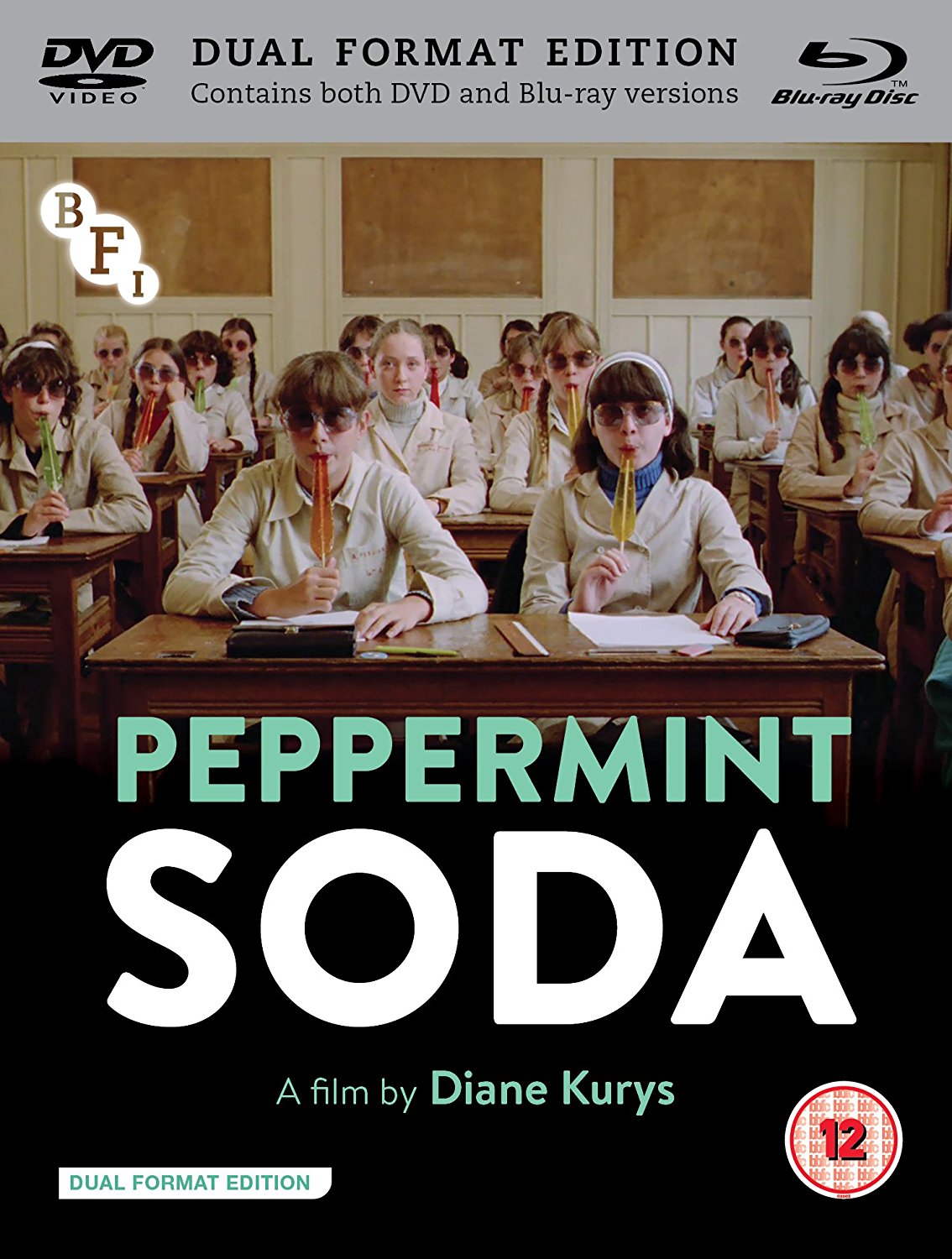 "Peppermint Soda" ("Diabolo Menthe") (1977)

Summer vacation of 1963 is over and so it's time for sisters Anne (played by Eléonore Klarwein) and Frédérique (played by Odile Michel) to go back to Paris to their mother's (played by Anouk Ferjac) place after the seasonal stay with their father (played by Michel Puterflam). It also means it's time to go back to their strict all girls' school for the new year. With Anne being 13 she is still a little kid at heart who is more interested in pranks and silly happenings, but she is also experiencing the first signs of puberty just as her classmates are. At 15 Frédérique is getting more interested in boys as well as signs of independence while also showing Anne who is boss.

There are all sorts of happenings within the school year for both of them and to their classmates. The girls try to say silly answers to teachers' questions to get a laugh. Awkward happenings in gym class. Classmates bragging about experiencing their first kiss. A girl forcibly having to remove her makeup by the teachers, leading to tears. Running away from home. All and more in a snapshot of adolescence.

"Peppermint Soda" is not a film that has a central plot to move things along, nor does it have a consistently paced narrative. One second the scene is in a science class. Suddenly it's in English class. Then they are outside. Next the girls are at home with their mother at dinner. It plays more like a series of memories - not in a particular chronological order or in any logical flow with many stories moving from one to the next without any particular reason except it happened somewhere around the same time. Diane Kurys was an actress working on television and film since the early 1970s in minor roles and it was during this time that she wrote a screenplay on and off about her childhood. Though she had no directing experience, she was able to secure state financing to make the film based on the worked script. Everything was new for her on the production side - casting, finding a crew, securing locations, rewriting the script due to producer requests.

Kurys looked at her own life for inspiration. She was also the younger of two siblings. She came from a divorced family and lived mostly with her mother. Her older sister was the bossy one. Much of the stories came directly from her own memories and she was not holding back. There were good times and there were bad. It's no wonder that the film as stated at the beginning was dedicated to her sister for all the shared memories. Kurys has said that after the screening of the film she received a heartfelt written note from her sister that said she owed a million apologies to her younger sister. And to have that emotional reaction, it was a lot to do with the casting of the two main stars of the film.

For both of the main child stars Eléonore Klarwein and Odile Michel, "Peppermint Soda" would be their first film to work on. Co-writer and assistant director Alain Le Henry would have his name attached to a film for the first time. Though not all were first timers. Cinematographer Philippe Rousselot had about a dozen films to his credit and so did editor Joële Van Effenterre. The adult role actors were more experienced as well. But for the most part the film was led by newcomers both in front of the camera and behind the scenes. What makes the film stand out is its naturalness to the scenes. How the girls act and talk to each other, the interactions between them and boys or with the strict teachers - all the fun, the awkwardness, the pain, and the uncertainty are fully there with very little effort. Whether one went to an all girls' school or not, there are still universal themes all around in school life that people around the world in any generation could relate to. Peer pressure, disillusionment, sexual awakening, the desire to be an adult.

The title of the film was actually chosen not because of something in the script, but something that was added later. Kurys asked folk pop singer Yves Simon to compose songs for the film which he did after reading the script. He wrote the song "Diabolo menthe" (basically translated as "Peppermint Soda" in English) and Kurys thought of the idea to make that the title of the film, which in turn she added the scene of Anne hanging out drinking the soda with her friends only to be busted by her older sister. The producers tried to dissuade her from that as the final title but it stuck to the end. As "diabolo" is a non-alcoholic cocktail drink, it's a drink for people not yet adults but not just kids - as the main characters are.

The film was an unexpected smash hit with critics and audiences, becoming the second highest grossing film of 1977 in France, as there was no match for "Star Wars" that year. It was especially a hit for females around the age of the director who was 29 at the time, reliving their childhoods while also having an opportunity to even introduce the film to their children who may have been experiencing some of the same issues of growing up. There were films about childhood in French cinema that had an impact - "Zéro de conduite" (1933), "The 400 Blows" (1959), "L'enfance nue" (1968) which all dealt with boyhood. "Peppermint Soda" finally gave French girls their just due. This also led to a more major prominence for French female filmmakers and also cemented Kurys as a director and writer, as she would not go back to acting in front of the camera again. Surprisingly at the Césars it was nominated for one award and not having a win, though on a positive note it won the Prix Louis Delluc prize of 1977. While it does start off a little slow and not having a central plot to move things forward do have its drawbacks to people looking for an actual story to follow, there is a lot of emotional depth and fun to be offered. It has now been 40 years since the film's release and more than 50 years since the events that took place yet none of the charm of "Peppermint Soda" has been lost.

Note this is a region B Blu-ray which can only be played on region B or region free Blu-ray players

Video


The BFI presents the film in 1080p in the AVC MPEG-4 codec in the original 1.66:1 aspect ratio. The film has been remastered in high definition by TF1 and the results are quite good. Damage is very minimal with very few instances of scratches or specs while film grain is left intact for a natural looking transfer. Colors are a little washed out and not as deep as they could be but the colors of the uniforms and the drab classrooms look fine in this transfer.

The film is uncut with a runtime of 101:00.

Audio


French LPCM 2.0 mono
The original French language track is presented in lossless mono. Dialogue is always easy to hear and fairly balanced throughout with some distortion on higher ends or with crowds. As for the music by Yves Simon and others, the songs sound particularly fine without any signs of damage or issues, though fidelity is limited.

There are optional English subtitles in a white font for the film. There were no issues of spelling or grammar errors in the translation and are well timed.

Extras


The BFI is releasing "Peppermint Soda" as a dual format Blu-ray+DVD release, with the film and extras on a single Blu-ray and the same repeated in standard definition PAL on the DVD. The specs of the extras listed as follows is for the Blu-ray disc:

Isolated Music and Effects Track
The audio track minus the vocals is offered here on its own in lossless mono sound.
in LPCM 2.0

Interview with Diane Kurys (33:08)
In this 2008 interview with the director, she reminisces about the career changing film. She talks about her early years as an actress, how she was suggested to make her film, finding the cast and crew, the memorable premiere in Lyon and the reception, and much more. This interview was shot in standard definition PAL and converted to HD, and because of the 25fps picture being transferred to 60fps there is noticeable strobing in the image.
in 1080i 60hz (upscaled) AVC MPEG-4, in 1.78:1, in French LPCM 2.0 with optional English subtitles

Scrapbook featurette (3:20)
Diane Kurys goes through a box of memories filled with handwritten memos, original storyboards, photos, magazines, and more.
in 1080i 60hz (upscaled) AVC MPEG-4, in 1.78:1, in French LPCM 2.0 with optional English subtitles

Theatrical Trailer (2:30)
The original trailer is presented with slightly faded colors and some scratches on the print.
in 1080p (upscaled) AVC MPEG-4, in 1.66:1, in French LPCM 2.0 with optional English subtitles

Play All Extras
The Interview, featurette, and trailer have a "Play All" option which plays all three back to back.

DVD Copy
The film and extras are repeated on a PAL DVD.

Booklet
Also included is a 20 page booklet. First is the essay "It's My Party" by author Sophie Mayer which discusses the film and its place. Next is a biography on Diane Kurys written by Michael Brooke. Last there are film credits, disc credits, and acknowledgements along with photos throughout.

Though there is no commentary, no additional new interviews or documentary, there is a lot of great material offered in the interview and featurette.

Overall


"Peppermint Soda" is still one of the most beloved French coming of age films, and it's great that the BFI is giving the film a solid treatment on its first Blu-ray release worldwide. It's not the most loaded release in terms of bonus materials, though what it offers is very good in its short content. Offering very good audio and video for the main feature the set comes as recommended.
| | | | | |
| --- | --- | --- | --- | --- |
| The Film: B+ | Video: B+ | Audio: B | Extras: B | Overall: B+ |