The Film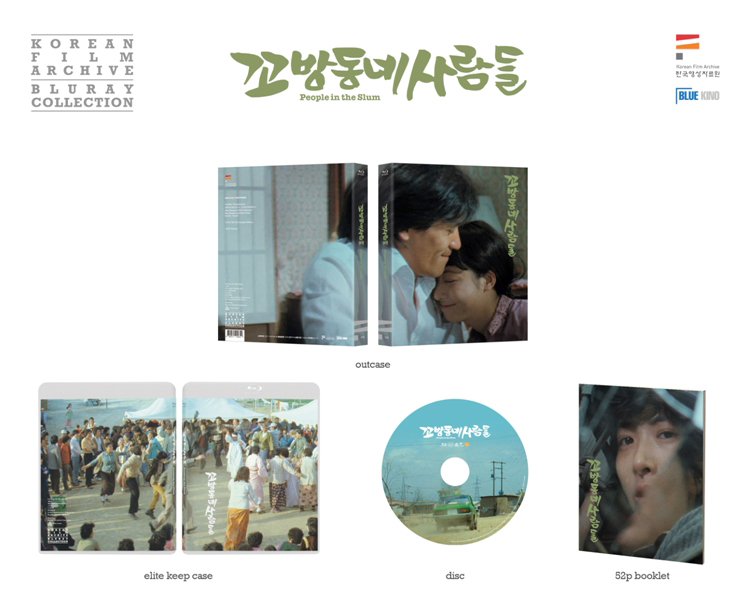 "People in the Slum" <꼬방동네 사람들> (1982)

Myeong-sook (played by Kim Bo-yeon) is not living the ideal life while taking care of her son Jun-il. Her second husband Tae-sub (played by Kim Hee-ra) is more interested in gambling than saving money for the family and recognizes Jun-il as a step-son rather than his own to take care of. The adolescent Jun-il is always getting into trouble for stealing which is having a harsh affect on Myeong-suk's reputation. Their lives are within a neighborhood slum, where everyone lives in poverty yet with some idea of community. There may be quarrels and bad behavior, but the community can get together when necessary, such as the 60th birthday of a neighbor.

A taxi driver named Ju-seok (played by Ahn Sung-ki) spots Myeong-sook while driving one day, and eventually follows her into the slum. He is none other than her former husband, who had been incarcerated for petty theft crimes for a few years. Ju-seok wants to be part of her life again as well as his son's, but she has moved on, parting ways not wanting to be connected to an ex-convict and a man that she lost faith in many years ago. But Ju-seok is willing to prove himself, causing conflict with her current husband and the community…

"People in the Slum" was the directorial debut by Bae Chang-ho, based on the 1981 novel of the same name by Lee Dong-cheol. It was filmed on location in real slums where the community helped with the production and casting adding to the authenticity. There wasn't much of a neo-realist movement in Korean cinema in the past, as postwar films were more geared as morale boosters and there were not many looking for a reflection of their damaged lives. The 1970s was plagued with censorship from the strict ruling government of Park Chang-hee, but following his assassination in 1979, the strict government issues for censorship and ruling over artwork took a backseat. Not to say there was no censorship at all - as even up to the Seoul Olympics in 1988 there were issues with censorship in Korean cinema. With "People in the Slum" as the title literally says, these are lives of the underprivileged. They work, they feel, they exist. And whether you are from the upper class or from the middle class, you will be able to relate and feel an emotional reaction. The mundane tasks such as laundry washing outdoors to collecting junk and cooking are all on display, showcasing the everyday routines of the people as well as their attitudes with crass vocabulary being spoken to each other.

The love story is a fairly simple one. A man and a woman fall in love, they separate, years later they reunite but she is in a new relationship. With the added elements of having a child raised without knowing his father, and the emotional crisis, the story falls on the border of melodrama with social drama. It doesn't necessarily fall into the melodrama category as there is not much in terms of elegance or fantasy that subtly play out in Korean melodramas, but a hard look at a hard knock life with no easy way out. Myeong-suk could easily run off with Ju-seok - he has a certain job, lives a life in the city and is willing to take care of her and their son. But she feels ultimately betrayed by his past actions and having been left alone to take care of herself and the newborn child. She could stay with Tae-sub but he is lazy and uncaring. Leaving both of them is also not an easy option for her as a single mother with a problematic child. The story is mostly told through her viewpoint but the audience is also given views from the male figures. We are shown Ju-seok hanging out with his son but not being able to tell him who he really is. Tae-sub has ocassional nightmares which show something quite shocking happened in his life years ago that he cannot get over. Structurally the story is not a single linear story, with multiple flashbacks to the pasts of the characters revealing little by little what had happened to them and how they ended up in the slums. It's absolutely well constructed and well played by the performers.

Actor Ahn Sung-ki played the part of Ju-seok, who started as a child actor in the 1950s and still continues to act through the 2010s. His past credits include "Mandala" (1981), "Chilsu and Mansu" (1988), "Gagman" (1989), "Nowhere to Hide" (1999), "Silmido" (2003), "Arahan" (2004), and "The Tower" (2012) to name a few. His performance as Ju-seok is not over the top but a sad coolness to him, like Rick from "Casablanca", but with a bit more smiling in the role. He would work with Bae in a number of films throughout his career, including an interesting turn in "Gagman" in which Bae acted for the first time on film in a major supporting role. Kim Bo-yeon played the character of Myeong-sook - or "Black Glove" as her nickname becomes who would later collaborate with Bae on his films "Hello God" (1987) and "The Young Man" (1994). She does a commendable job though her character does seem a bit on the flat side not showing enough emotion as she could. Kim Hee-ra who played Tae-sub has been a very prolific actor, debuting in "The Old Potter" (1969), and acting in film such as "The March of Fools" (1975), "Jagko" (1980), "Poetry" (2010) and many more. He does have an inept yet menacing role to play and it is fun yet angrily frustrating to watch him as a character, and that is a good thing because he is supposed to be a lazy ass.

"People in the Slum" is a cross between "Casablanca" and "Dodeskaden" - it is equally a love triangle story as well as a snapshot into the lives of the pushed aside lower class. Though the film was showcasing a group of people that would not normally pay to see movies in the theater, the film did extremely well financially and critically when it was released in 1982. Bae's directorial career would continue to shine with films such as "The Flower at the Equator" (1983), "Whale Hunting" (1984) and "Whale Hunting 2", becoming one of the most popular directors of the 1980s.

Note this is a region ALL Blu-ray which can play back on any Blu-ray player worldwide

Video


The Korean Film Archive/Blue Kino presents the film in 1080p in the AVC MPEG-4 codec, in the original theatrical 2.35:1 aspect ratio. This restored edition gives new life to the film, probably looking as good if not better than when it was originally screened in 1982. Colors are vibrant yet not overdone. Skintones look natural with colors such as reds and greens especially coming true when they are in frame, though it should be noted that most of the film does look pretty dull in the color palate. Damage has been digitally repaired, with dust, specs, and other issues being cleaned up. It is not perfect as there are some minor damage visible in places, though none are too distracting. Overall a very good transfer from KOFA.

The runtime of the film is 111:46.

Audio


Korean DTS-HD Master Audio 2.0 mono
The original Korean audio track is presented in lossless mono. While the picture had its excellence, the audio unfortunately disappoints. On the positive side there is no damage to the track, as it exhibits no hisses or pops that frequent aged elements. Though on the negative side, everything sounds very flat with voices sounding a little mute in dialogue and music not having much to do in the backgrounds. It is true that most Korean films at the time did not use location audio, so there are some minor lip synching issues which is not a fault of the transfer.

There are optional English, Japanese, Korean subtitle in a white font for the feature. The English subtitles are well translated and well timed with no major issues of spelling to be found. Older DVD releases by KOFA and their English translations were sometimes lacking in quality but they certainly have upped the quality in the more recent years.

Extras


Audio commentary by director Bae Chang-ho and film critic Kim Sungwook
In this new audio commentary, the director is joined by film critic Kim Sungwook to moderate the discussion. Topics talked about are the challenges of his debut film, how he encountered the original novel, his career as an assistant before directing, some of the technical aspects of the film, and more.
in Korean Dolby Digital 2.0 with optional English subtitles

Image Gallery
The image gallery is presented in a manual slideshow, featuring a collection of black and white behind the scenes photos, one color still, and the original poster.
in 1080p AVC MPEG

Trailer (3:20)
The original trailer is presented from a dated standard definition source. There is no dialogue but only the score as background, there is instead on screen Korean text throughout. There is not too much damage with the picture or audio but colors are definitely on the weaker side.
in 480i MPEG-2,, in windowboxed 2.35:1, Dolby Digital 2.0 with Korean text

Booklet
A 52 page book is included with essays, credits, and photos. All the content is bilingual Korean and English. First is "The Truth-seeker Searching for the Root of Film Aesthetics, Bae Chang-ho" writtten by Jang Byung-won - a programmer for the Jeonju International Film Festival. An overview of Bae's career, it discusses how he became the most popular director of the 1980s and his eventual decline in the late 90s and 2000s. Next is "People of the Slums: Beyond the Memories of Underdevelopment and Community" by film critic Lee Yong-cheol which goes directly into the themes presented within the setting of the film. Last is "People of the Slums: Melodrama of Compressed Modernity" by Chris Berry of King's College, London. This essay discusses about the modern changes seen in the film. Note that in the last two essays the film is referred to as "People of the Slums" while on disc and packaging it is "People in the Slum".

The commentary is excellent though it feels a little bare without any new video content such as interviews or a documentary on the disc.

Packaging


The disc is packaged in a clear keep case which is housed in an outer slipcase, as spine #008 in the Korean Film Archive Blu-ray series. The booklet is also housed in the slipcase.


Overall


"People in the Slum" was very different from the usual barrage of Korean films at the time which captured the hearts of many with its enjoyable story. Bae Chang-ho created quite an emotional yet fun film for his debut and one that is not easy to forget. The Korean Film Archive Blu-ray gives great image but not as good audio, but still comes as a recommended release.

For those interested, the film is available to watch for free with English subtitles on the Korean Film Archive YouTube page under the slightly different title of "People of Ko-bang Neighborhood".
| | | | | |
| --- | --- | --- | --- | --- |
| The Film: A- | Video: A- | Audio: B- | Extras: B | Overall: B+ |