The Film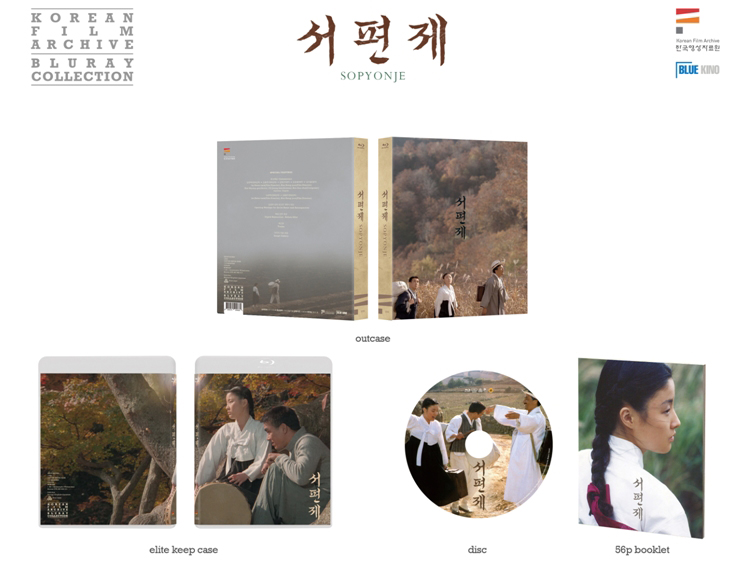 "Sopyonje" <서편제(西便制)> (1993)

In the post Korean War era, there was very little interest in the musical art of Pansori - a traditional Korean style of music and singing. With society becoming more interested in western music and modern music the art was dying, but not everyone was following the trend. Dong-ho (played by Jo Jae-hyeon / Kim Kyu-chul) and Songhwa (played by Oh Jung-hae) were orphaned children being taken care of by Yubong (played by Kim Myung-gon)- a vagabond Pansori singer. Throughout the years his stance on strictness with the performances were traumatizing. Tears were common in the children's eyes as well as emotional breakdowns. For Dong-ho he did not feel completely connected to the music and had a lot of trouble getting accustomed to the traditional being taught. Songhwa was determined to shape her voice to the ideal tone that Yubong wished though she sometimes lacked true confidence.

People hear their music and do not think much of it besides a bother among street vendors and neighbors. The genuine lack of interest from people make things worse as Yubong's frustration grows worse as time goes by. Not being able to take it anymore, Dong-ho eventually runs away from the family leaving behind his younger sister who painfully decides not to take the same path as her brother. Many years later, Dong-ho decides to look for his younger sister which he abandoned, and his journey becomes a door to his past and a devastating look at what had happened since his abandonment.

Pansori is a Korean musical genre that originated in the 17th century, performed by one musician and one singer. The music involves one barrel drum and the singing is a device for storytelling, with the singing commonly expressing the emotions of the characters in the song. But with the Japanese occupation, World War II, and the Korean War in the 20th century, the artform started to decline in popularity as it was first censored and later considered "old fashioned" by many. When "Sopyonje" was released in 1993, the artform was basically dead in the mainstream. Granted there were still performers but none of relevance by that time. It probably was not a surprise that the film found it difficult to be marketed as it opened in a single theater in Seoul on its opening weekend. But that would not be the end of the film's legacy.

Director Im Kwon-taek was quite the veteran when he sat in the director's chair for "Sopyonje", as he had been a director for more than 30 years at that point and this would be his 93rd feature film. Being a commercially and critically appreciated filmmaker since the 1960s, Im admitted that he hadn't known much about pansori until well into his adulthood when the distributor of his first film introduced him to the artform. Fascinated though uneducated about the artform, he was determined to make a film based on the music, but that would come more than 30 years later. Adapted from the 1976 novel of the same name written by Lee Cheong-jun, the film takes on a flashback narrative structure that would piece together the memories of the characters. The film opens with a man arriving at a rural tavern asking for a pansori singer. The adult Dong-ho is introduced prior to the child Dong-ho. The film continuously flashes back but interestingly they are done without flair or even subtlety. There is no sudden shift in colors, not technological markers to specifically state dates or times. The only clues would be the slightly aged adult characters with typically bad makeup and wigs to make them look older. In many of Im's films the importance of family and culture are typical. In "Wangsimni" (1976) it has the main character returning to his hometown after a long absense. "Geneology" (1978) is about a family that refuses to change their Korean name to a Japanese one during the occupation. "Mandala" (1981) a film exploring Buddhism through one priest and one former priest. "Sopyonje" looks at how old tradition is seen through modern eyes while at the same time explores the plot of an unfulfilled artist that only sees the art loses focus on the human connection. This is a theme that is able to be related to almost any suffering artist in any genre that loses focus. Family, friends, fans all essentially become alienated through the selfishness of the artist, and in this case the father figure that pushes his children to the extreme. The Jackson Family immediately comes to mind but there are countless other examples as well.

One cannot discuss the story without getting into one of the harshest moments in the film, and though it may be a spoiler it is something that is mentioned very early on. And that is the blinding of Songhwa. As it is shown to be done deliberately by Yubong through poisoning her, it is his through his stupid frustration as a starving artist that he did that as punishment to her and while it is completely unforgivable as an act of violence, narratively it certainly gives a hard emotional gutwrenching scene when Dong-ho finally reunites with Songhwa but she cannot see him. There are other controversial scenes such as the young Dong-ho seeing his guardian parents have sex or the inn patrons that are willing to take advantage of young Songhwa as part of a "performance" like a geisha, but they do not compare to the horrid action that the father takes in handicapping his daughter. Some critics were very harsh on the doing and Im has been very hard on female characters in certain films, and even though Yubong's character painfully apologizes to her there really is nothing done to his character to exact karma and that many be off putting to some.

Visually the film is gorgeous, with beautiful landscapes and costumes with many vista shots in long takes to capture the moments. The camera is sparingly moved or used to cut especially in the music scenes and even in dramatic scenes he does not use any trickery or technique to manipulate the audience, relying only on the performances of the actors. As for the music composed by Kim Soo-chul, it is simply a gorgeous soundtrack that is traditional yet accessible to modern tastes. Even with the famous names attached the simple fact that the film dealt with a dying artform as the theme was not an easy sell to modern audiences.

The film opened in a single theater in Seoul on April 10th, 1993. What started as a limited independent film in one theater kept playing and later expanding due to extremely positive word of mouth. It became a cultural phenomenon as it became the first Korean movie to sell more than 1 million tickets in its theatrical run. Pansori gained interest again and on November 7th 2003, UNESCO proclaimed the artform as a Masterpiece of the Oral and Intangible Heritage of Humanity, cementing itself for future generations.

Note this is a region ALL Blu-ray which can play back on any Blu-ray player worldwide

Video


The Korean Film Archive/Blue Kino presents the film in 1080p in the AVC MPEG-4 codec, in the original theatrical 1.85:1 aspect ratio. As the original negative was obtained by the Archive in 1994 in relatively good condition and was used for the restoration in 4K. The original theatrical prints had burned in Korean subtitles for the pansori scenes but thankfully they were not part of the original negative element. The biggest issue with the restoration was with the color grading as the film had faded over time and for use to make addition prints for domestic use and for foreign festival use. Skintones were corrected and the entire film was graded to match. In addition to the colors, there were issues with damage from dust, specs, and scratches on the print which were restored digitally through manual operations. The newly restored image looks fantastic. Wonderful colors, excellent detail, and almost no damage to the image. There were some minor issues with certain scenes having a lack of depth due to the original elements, the overall result is extremely pleasing.

The runtime of the film is 113:32.

Audio


Korean DTS-HD Master Audio 3.0
The original stereo audio has been spread to a 3.0 audio track, with the left, center, and right speakers being active. The original Dolby Stereo track had its issues in its original mix, with uneven balance between the dialogue and music. For the restoration the audio has been balanced out as much as possible and the outcome is very pleasing. Music and effects are used subtly in the side speakers while most of the dialogue is basically center based. It can sound a little flat at points but dialogue is always intelligible and there is little if not any damage in the audio track, with no hisses and pops to be heard.

There are optional English, Japanese, Korean (for Pansori scenes only), Korean subtitles for the main feature in a white font. The English subtitles are well timed and free of grammar or spelling errors. Older DVD releases by KOFA and their English translations were sometimes lacking in quality but they certainly have upped the quality in the more recent years.

Extras


Audio commentary by director Im Kwon-taek, film director Kim Hong-joon, actor Kim Myung-gon, actress Oh Jeong-hae, and composer Kim Soo-chul
In this commentary recorded on March 24th 2017, Kim Hong-joon moderates a reunion between the director, composer, and the actors. Topics discussed include their interest in pansori music prior to the film, the screenwriting pricess, the importance of casting an actress that truly looked "Korean", and the guerrilla tactic of the composer pressing 200 copies of the original soundtrack for promotion, and much more. Im is a slow talker (as he is over 80) and he can ramble on at times but he does have a lot of fascinating memories to share.
in Korean Dolby Digital 2.0 with optional English subtitles

Audio commentary from 2006 by director Im Kwon-taek and film director Kim Hong-joon
This audio commentary was recorded for the 2006 DVD release of the film as part of the Im Kwon-taek Collection released in South Korea. Unfortunately the Blu-ray has not included English subtitles for this commentary so this is one for the Korean speakers only.
in Korean Dolby Digital 2.0 with no subtitles

"Commemorative Montage for Im Kwon-taek Retrospective" featurette (18:57)
Using clips of various films directed by Im, this montage is divided into four parts. The first being scenes of song and dance, the second being scenes of romantic entanglement, the third being war, and the last being scenes of traveling. The quality of the image varies from film to film, with some being fairly good with others being incredibly damaged. In addition this is from a standard definition source.
in 480i MPEG-2, in 1.33:1 and windowboxed 1.85:1 and 2.35:1, in Korean Dolby Digital 2.0 with Korean text

"Digital Restoration: Before/After" featurette (1:10)
This short featurette showcases splitscreen views of the before and after process with some text explanations. Color regrading and damage restoration examples are shown.
in 1080p AVC MPEG-4, in 1.85:1, silent with English and Korean text

Image Gallery
The original theatrical poster, stills from the film, and promotional behind the scenes stills are provided.
in 1080p AVC MPEG-4

Trailer (2:00)
The original theatrical trailer is from a standard definition source so the picture is a bit weak in terms of colors and depth.
in 480i MPEG-2, in windowboxed 1.85:1, in Korean Dolby Digital 3.0 with Korean text

Booklet
A 52 page bilingual Korean and English book is provided featuring credits, essays, and photos. The first essay is "Im Kwon-taek, a Dense Forest Landscape Seen from 102 Valleys" by film critic and director Jung Sung-il, which is an overview of the director's career through the 102 films made. (though only covering a handful). Next is "Watching Sopyonje in the Era of Hallyu" by Kyung Hyun Kim, director of Center for Critical Korean Studies and professor of East Asian languages & literature at UC Irvine. A lengthy essay on how the film became a social phenomenon in South Korea but did not receive much acclaim anywhere else. Last is "Walking the Tightrope Between Original Film Color Restoration and Improvement - Digital Restoration of Sopyonje" which is an essay that talks about the restoration hurdles for the 4K restoration. There are some stills comparing before/after on the not of the best quality so the featurette is the best to see the end results.

There is a good amount of extras presented but one feels shortchanged as three of the featurettes from the South Korean DVD from 2006 are not ported over and for non-Korean speakers the 2006 commentary not being subtitled.

Packaging


The disc is packaged in a clear keep case which is housed in an outer slipcase, as spine #009 in the Korean Film Archive Blu-ray series. The booklet is also housed in the slipcase.


Overall


"Sopyonje" is one of Im Kwon-taek's biggest successes both commercially and critically, reviving a dying artform of traditional Pansori to future generations in the process. It's a heartbreaking tale of artistic integrity literally blinded by emotions. The Korean Film Archive's Blu-ray release breathes new life into the 4K restored image and great audio with informative extras. Very recommended.
| | | | | |
| --- | --- | --- | --- | --- |
| The Film: A- | Video: A- | Audio: A- | Extras: B+ | Overall: A- |