Absolutely Anything
R1 - America - Twentieth Century Fox Home Entertainment
Review written by and copyright: Robert Segedy (17th August 2017).
The Film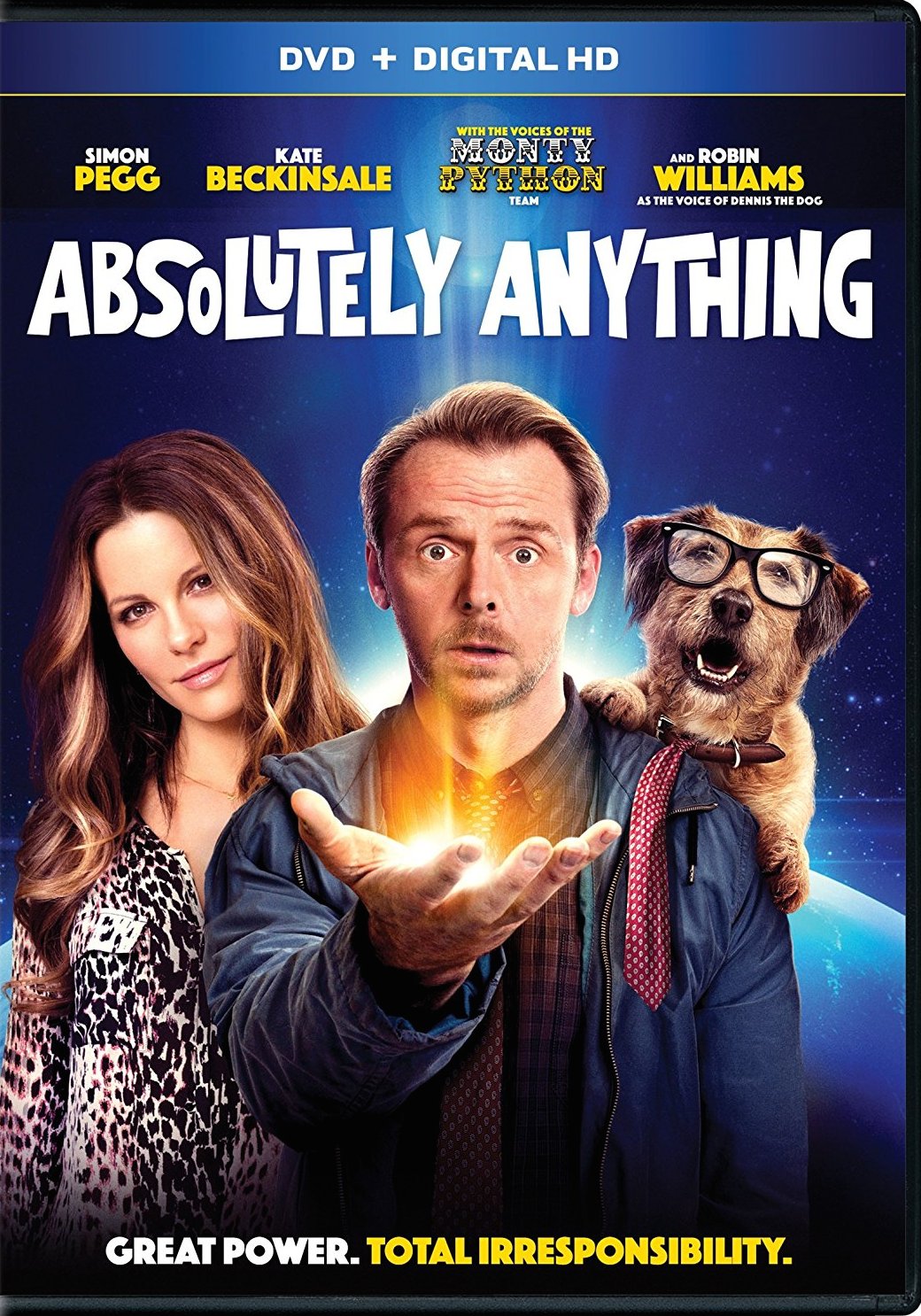 Donít you hate when you see a film that looks like it should deliver the goods because it has an all-star cast, and then it turns out to be a complete waste of time and money? Look no further my friend, because this is it. Talk about a waste of talent: Simon Pegg, the voice over talents of the Monty Python troupe reuniting for the first time in 20 years, and it is the last film featuring the brilliant Robin Williams before his untimely demise. Throw in the talents of comedians Eddie Izzard, Rob Riggle, and direction by Terry Jones who previously directed comedy classics "Monty Python and the Holy Grail" (1975) and "Life of Brian" (1979) and you should expect to have a veritable laugh fest... but you donít.

The plot which features an ordinary bloke, Neil (Simon Pegg), chosen by a gathering of intergalactic beings, voiced by the ex-Pythons, is to be the deciding factor as to whether or not Earth and its inhabitants are blown to bits. This may have sounded appealing on paper, but the reality is a mish-mash of comic bits smashed together and none of it is hilarious. This script which was written by Terry Jones and Gavin Scott has been around for over twenty years and it should have been left in the drawer it was discovered in because the entire affair is an embarrassment to all involved. The only positive thing that I have to say about this film was that it was a mere 85 minutes to suffer through and for that I am grateful.

"Absolutely Anything" is a tiresome skit that feels like it has been beaten into submission. I tried, really tried, to like this, but there just wasnít enough to keep my interest, let alone make me laugh. This is a sad affair for all the talent involved and should be avoided at all costs.

Video


Presented in the film's original theatrical ratio of 2.40:1 anamorphic widescreen, it's a fairly serviceable transfer but the film features a tad too much CGI that made for lazy filmmaking. Terry Jones, what happened to you, man?

Audio


A single audio track is included, an English Dolby Dolby 5.1 surround track and it gets the job done fine enough, nothing too amazing here. Optional subtitles are included in English for the hearing impaired and Spanish.

Extras


Nothing of substance here, just the film's original theatrical trailer (2:00) is included. Also included in the case is a code to download a digital copy version of the film.

Packaging


The DVD is packaged in a plastic keep case housed in a cardboard slip-cover.

Overall



| | | | | |
| --- | --- | --- | --- | --- |
| The Film: C | Video: B+ | Audio: B+ | Extras: D- | Overall: C- |

---
DVD Compare is a participant in the Amazon Services LLC Associates Program and the Amazon Europe S.a.r.l. Associates Programme, an affiliate advertising program designed to provide a means for sites to earn advertising fees by advertising and linking to amazon.co.uk, amazon.com, amazon.ca, amazon.fr, and amazon.de.