The Film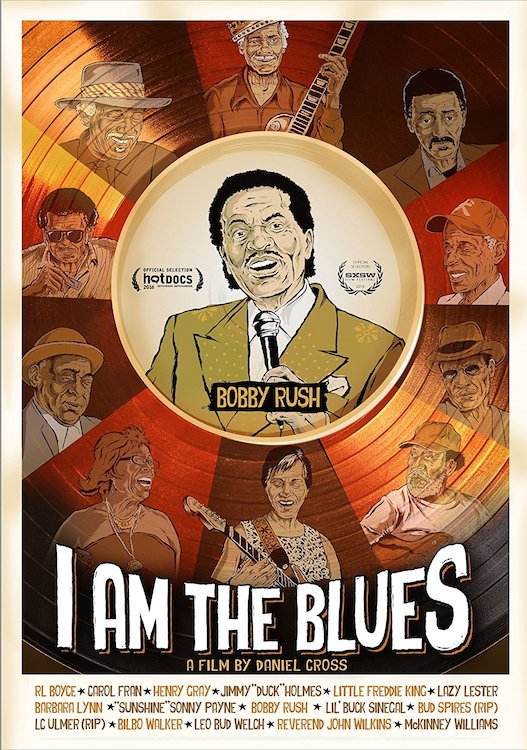 "Let me tell you somethin'. A lotta times, it ain't good, it ain't bad. It's what you have." - Bobby Rush.

The blues are a purely American musical form with its origins in a genre created by African Americans in the deep south around the end of the 19th century; the blues incorporated many different sources to create its unique sound including work songs, spirituals, field hollers, chants, and calls and response. Many of the traits of blues music can be directly traced to the music of Africa. Even though the term, "To have the Blues" usually is defined as being sad, "its origin can be traced to a specific chord progression that originated in the 19th Century in the American South from black slaves."

In "I am the Blues", Canadian filmmaker Daniel Cross captures what it means to have the blues with authentic musicians that don't even think about retiring or stopping no matter what their age is. Three years in the making, Cross and his crew visit the deep south, to preserve on film, what the blues means to the folks that helped create that sound through their conversations, stories and memories of hard times, lost loves, and hard work.

We begin the film in the small town of Bentonia, Mississippi at the Blue Front Café, a rundown juke joint that Jimmy "Duck" Holmes has owned for over 43 years; back in the day the place used to be hopping with all the field workers ending their days inside, listening and dancing to the blues, but now there are a few patrons escaping the burning sun for some shade and a cold beer. Holmes presides over it all, with his guitar in hand, and claims that he is the last of the Bentonia bluesmen, a style of playing that includes Blues legends Skip James and Jack Owens. Jones parents started the Blue Front Café in 1948, and Jones was taught the guitar style by Henry Stuckey, the originator of the Bentonia Blues.

However there is plenty of talent on display as Cross demonstrates travelling through the Mississippi Delta and the bayous of Louisiana with his crew to capture the musicians as they play and sing at many authentic locations such as a crawfish boil, a backyard set up for an impromptu jam session with R.L. Boyce in Como, Mississippi, and a reunion of sorts for many of the lesser known, but still amazingly talented artists such as Barbara Lynn, Lazy Lester, Henry Gray, and Bud Spires. Many of these people have fascinating stories to tell about working for practically nothing but a meal, touring with the more well-known musicians such as B.B. King and Howlin' Wolf, and encountering blatant racism, but through it all it is the music that speaks the loudest. Cinematographer John Price films nimble fingers changing chords on a guitar as the local train rumbles through the town, showing us a version of life that is moving at a different pace than most of us are accustomed to.

The film's central character is 83 year old "King of the Chitlin Circuit" Bobby Rush and he becomes the personality that is highlighted the most frequently. A recent winner of a Grammy for a traditional blues album, Rush is charming and loquacious, playing the blues on his harp and writing songs while driving down the lonesome highway from gig to gig. Rush speaks about his childhood candidly, telling stories of picking cotton and daydreaming of being on stage with B.B. King. We see him haggling with a promoter at a concert and you get the feeling that this type of incident is all too familiar. Rush is our guide to the blues as he interacts with some old friends, sings and plays harp, and he has been entered into the Blues Hall of Fame; not too shabby for a man of his age, and he shows no sign of ever letting up.

Age is a theme that comes up repeatedly however one gets the feeling that these talented men and women aren't afraid of dying. Death, after all is a major reference point for all Blues music. At one point in the film Jones laments that he is the last one of his kind and that there isn't anyone lining up to learn how to master this style because it is too difficult to master. That was when it hit me; these aging musicians are the last of their kind, and that once they are gone, not only does the music die, but also the stories and history that accompanies it. I felt that it was a shame that a Canadian filmmaker needed to preserve something that is so essentially an American art form and wondered why more wealthy patrons of the arts hadn't donated funds to this much needed tribute. At the conclusion of the film there is a message: "Support blues and blues musicians-buy blues music!"

"You find out what it isn't…not what it is." - Bobby Rush.

Video


Presented in the film's original theatrical ratio of 1:78:1 widescreen anamorphic, photographed with a great eye for both landscape and interior scenes, this cinéma vérité style of documentary serves well as an educational tool and an entertaining feature. The realistic style captures all the grit as well as the history that is contained in the many juke joints and back rooms in the film.

Audio


Two audio tracks are included in English Dolby Digital 5.1 surround and English Dolby Digital 2.0 stereo. The 5.1 track displays excellent sound regardless of whether or not music is being played or if it is dialogue being spoken. Crisp and clear, however subtitles are definitely recommended due to the strong accents of some of the participants. No optional subtitles are included.

Extras


Film Movement has included an assortment of minor outtakes and vignettes with some of the cast and include:

- Allen Toussaint speaks about the importance of Henry "Professor Longhair" Byrd in his life (5:08).
- Barbara Lynn on receiving a handmade guitar from the man that has made guitars for Eric Clapton among others (1:31).
- Bobby Rush plays on his harp a race between a train, a Model T car and an old hound dog (2:16).
- Bobby Rush at the Blues Front Café (1:07).
- Bobby Rush gives us a tour of his home recording studio (3:26).
- Making breakfast with Bobby Rush (3:49).
- Little Freddie King fixes an amplifier (2:12).
- Little Freddie King discusses the time he was shot by his own wife (7:02).
- Little Freddie King and Daniel Cross in conversation about John Lee Hooker (2:10).
- Robert "Bilbo" Walker tells us how to learn piano in 3 Minutes (3:12).

Overall


"I am the Blues" is an enthusiastic treat for music lovers everywhere, this documentary never feels intrusive or forced, allowing its participants to relax and be themselves, singing and playing the music that they truly love. Very highly recommended for fans of the Blues, it's a valentine for blues fans everywhere.
| | | | | |
| --- | --- | --- | --- | --- |
| The Film: A | Video: A | Audio: A | | |