The Film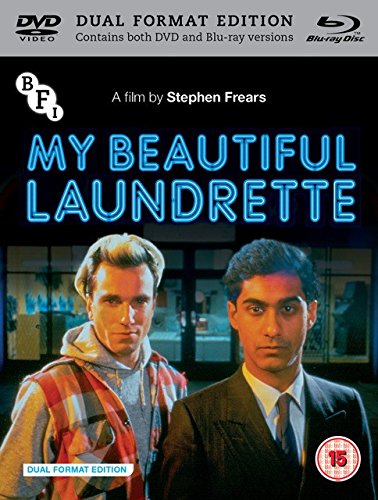 "My Beautiful Laundrette" (1985)

Omar (played by Gordon Warnecke) is living in London with his father Hussein (played by Roshan Seth) who is currently bedridden. To give his son an opportunity to work prior to sending him to university he calls his younger brother Nasser (played by Saeed Jaffrey) who is a local entrepreneur. Omar is given an opportunity by his uncle to head the local launderette which is in terrible shape. It's a dirty place that is losing money with delinquents hanging around and in a dilapidated building. In a chance meeting on the street, he runs into Johnny (played by Daniel Day-Lewis) an old friend from his youth who is living a life as a petty troublemaker on the streets. He has his small gang of hoodlums that he hangs out with, but sees that meeting with Omar again can lead to an actual job and a better life, especially with the offer of helping to reconstruct the struggling laundrette. But Johnny's gang is not happy that their white friend is suddenly hanging out with a "Paki" and on the flipside Omar's Pakistani family members are concerned he is hanging out with a white person in his business venture.

Originally commissioned by Channel 4 as a television movie, "My Beautiful Laundrette" was very different from the standard fare of British television productions at the time by having a mostly south Asian leading cast. Written by Hanif Kureishi who is half Pakistani half white, the story is almost a alternate look at reality during the Margaret Thatcher era England where conservatism and nationalism took to the rise in the UK while the Ronald Reagan administration shared the same values across the Atlantic. In the film the Pakistani characters are shown as the successful ones. Uncle Nasser has multiple businesses. He has a white mistress that he flaunts. Father Hussein is like an all powerful godfather character. The young Omar has a good future ahead of him. The whites on the other hand are like second class citizens. Johnny has nothing going for him with the life on the streets. They are oppressed and degraded while the Pakistanis have it well. Quite the 180 from the real UK at the time period, but with the flipped images, it does create a skewed view of London of the time period. Director Stephen Frears was already an established director with dozens of television productions and directing the 1984 theatrical film "The Hit". "My Beautiful Laundrette" was a risky move on its portrayal of race relations yet Frears made the film seems very matter of fact rather than completely visceral and disturbing. This was not "Do the Right Thing" (which would be released four years later and also have a garbage can or dustbin go through an establishment's window) but a fairly standard comedy drama that took its chances with an alternate universe viewpoint.

Another aspect that goes against convention is the gay romantic angle with Omar and Johnny. Their relationship is not played with flair or with parody, nor is it played for any particular angle. There is no consequence, no particular reason to forward the narrative or cause controversy among the characters in comparison to other films featuring homosexual leads. They kiss, fall for each other, and their relationship is kept secret not because they are gay, but because of the interracial aspect. It's a very different look at homosexuality that is not exploitive, not sexy, but a matter of life and that is extremely refreshing to see on screen. While it may not have a large impact on the narrative if they were in a relationship or not, do audiences ever question a random straight relationship in standard fare films that have nothing to do with the plot?

The small budget production does show its low budget roots. The club scene filled with mirrors done in mostly one shot one has the camera and crew being reflected throughout the entire scene, not hiding the fact it is a "film" production. There are no flashy edits, no extravagant sets, but the location sets are full of life. Rather than being broadcast on Channel 4, "My Beautiful Laundrette" was instead given a theatrical chance which was a surprise to the cast and crew who looked at the production for the British small screen to be screened throughout the country and to the world. The bigger release also meant the controversy over the film's depiction of Pakistanis, whites, and gays would be wider spread than just with a broadcast. There were negative reaction but the film was still able to find a wide audience both in the UK and abroad including the United States. The film was nominated for two BAFTAs, for best supporting actor and best screenplay, and nominated for an Academy Award for best screenplay. Though it did not win those major awards, major notices were given to the screenplay as well as the breakthrough performance by Daniel Day-Lewis who won best supporting actor awards at the New York Film Critics Circle Awards and received wide praise from a variety of film critics. And to add to that audiences and critics were amazed to see the same actor play in "A Room with a View" the same year in a very different role, completely transforming himself.

More than 30 years later, the film influenced a large number of films and filmmakers, opening a door for south Asian characters in British television and cinema and more open talks and portrayals of gay characters in entertainment. "My Beautiful Laundrette" has lost none of its punch over the decades. It's still at times funny, uncomfortable, violent, cringing, and yet extremely watchable and enjoyable.

Note this is a region B Blu-ray which can only be played back on region B or region free Blu-ray players

Video


The BFI presents the film in 1080p in the AVC MPEG-4 codec, in the original 1.66:1 aspect ratio. Shot on 16mm and remastered in high definition, this transfer does have its positives and negatives. On the positive side the film does keep with its 16mm roots by displaying a healthy amount of film grain and good color reproduction. It is not the most vibrant color palate but certainly looks fine. The film transfer is stable with no jittering frames or wobbliness. As for the negative, there is still a lot of damage visible such as specs and dust. The HD master was provided by Film Four, but seems there wasn't much done to clean the image further. The specs are not too distracting and should not hinder the viewing experience.

The film is uncut with a runtime of 97:27.

Audio


English LPCM 1.0
The original mono track is presented in lossless audio. The audio fares better sounding very clear in dialogue reproduction, music sounds fair, and there are no issues of hisses or pops in the track. It is not the most active soundtrack but is fitting to the original elements and is accurately reproduced.

There are optional English HoH subtitles for the main feature in a white font.

Extras


The BFI is releasing "My Beautiful Laundrette" as a dual format Blu-ray+DVD release, with the film and extras on a single Blu-ray and the same repeated in standard definition PAL on the DVD. The specs of the extras listed as follows is for the Blu-ray disc:

1986 Q&A at the ICA (97:27)
Following a screening of the film on April 16th, 1986 at the ICA, a Q&A with screenwriter Hanif Kureishi, director Stephen Frears, producers Sarah Radclyffe and Tim Bevan moderated by film critic Derek Malcolm was held. In this audio-only extra, they discuss about some of the controversy the film received including threats, the production issues, and how the film found a surprising audience. But it's not all fun and games. Some of the audience questions are downright attacking the presentation of the Pakistani characters, the lack of female protagonists, and even the gay subtext leading to heated arguments. The audio is not that great as the audience members did not have access to microphones so they can be hard to hear. This extra plays as an alternate audio track to the main film.
in English Dolby Digital 2.0 with no subtitles

"Gordon Warnecke on My Beautiful Laundrette" featurette (24:30)
In this on stage Q&A with Warnecke interviewed by Rhidian Davis on December 15th 2015, the lead actor talks about the production of the film, the audition process, working with Day-Lewis, and the surprising reactions to the film worldwide. He does apologize for being the only one there at the Q&A rather than with the director or other cast members, but Davis is rather pleased to be able to talk to the lead at length in this relaxed session.
in 1080p AVC MPEG-4, in 1.78:1, in English LPCM 2.0 with no subtitles

"Typically British: A Personal History of British Cinema by Stephen Frears" 1994 documentary (77:03)
In this 1994 documentary, Frears sets on a small quest to bring forth the history of British cinema through his own eyes, as well as a few well known guests and their thoughts. Frears visits film directors Alexander Mackendrick, Michael Apted, and Alan Parker, plus film critic Gavin Lambert in relaxed sittings discussing the British films that had an impact on society as well as themselves, with a vast amount of film clips shown including "The Lady Vanishes", "Black Narcissus", "The Ladykillers", "If…", "This Sporting Life", "Lawrence of Arabia", "Four Weddings and a Funeral", and many more. In addition the director was in production with his film "Mary Reilly" and some behind the scenes footage is also included.
in 1080p AVC MPEG-4, in 1.33:1, in English LPCM 2.0 with no subtitles

"I'm British But..." 1989 documentary short by Gurinder Chadha (30:02)
In this documentary short directed by Gurinder Chadha, it interviews and showcases a number of young adults of south Asian descent, discussing their identity. Shot on film, the transfer is fair with little damage but depth is not so sharp. Audio fares better with good reproduction of interview audio and music.
in 1080p AVC MPEG-4, in 1.33:1, in English LPCM 2.0 with no subtitles

"Memsahib Rita" 1994 short film by Prathiba Parma (18:47)
In this short film by Prathiba Parma, a young woman is distanced from her father who is haunted by the memory of his late wife. Stylishly directed with elements of documentary, film noir, and the kitchen sink drama, the transfer of the film is fairly good with colors and depth. Sound is also fair with no major damage or hiss on the audio track.
in 1080p AVC MPEG-4, in 1.33:1, in English LPCM 2.0 with no subtitles

Theatrical Trailer (2:21)
The original US trailer from Orion Classics is presented in a weak transfer from most likely a standard definition source.
in 1080p AVC MPEG-4, in 1.33:1, in English LPCM 1.0 with no subtitles

DVD Copy
The film and extras are repeated on a PAL DVD.

Booklet
A 32 page booklet is included in the case with essays, biographies, photos, and full credits. The first essay is "A Grim Fairy Tale" by journalist and author Sarfraz Manzoor who connects the film to its time in Thatcher-era England and how the film stands in modern times. Next is "Imagining Ourselves: Asians on Screen" by film critic and writer Simran Hans who discusses the image of south Asians in visual media. "Another Country: The 1980s and Gay Cinema" is by former BFI curator Alex Davidson who discusses how gay cinema has changed over the years and the difficulty of its portrayal for many years in British cinema. There are full film credits, notes on the bonus features, biographies of Stephen Frears and Hanif Kureishi, transfer notes, and acknowledgements.

The film has previously been issued on Blu-ray by The Criterion Collection in the US. The following extras were included:

Conversation between director Stephen Frears and producer Colin MacCabe (33:05)
New interview with writer Hanif Kureishi (16:27)
New interview with producers Tim Bevan and Sarah Radclyffe (22:20)
New interview with Oliver Stapleton (20:59)
Trailer (2:21)

Of these extras only the trailer is included on the UK disc. Fans and owners of the US disc should look to acquiring the UK disc as it offers many new extras, even if some are not directly related to the film itself.

Overall


"My Beautiful Laundrette" was a groundbreaker in its day, controversial in its run, and still is held very high with its smart screenplay, excellent performances, and excellent direction. The BFI Blu-ray's transfer is good but not great, though it offers very good lengthy supplements. Recommended.
| | | | | |
| --- | --- | --- | --- | --- |
| The Film: A- | Video: B | Audio: A- | Extras: B+ | Overall: B+ |