The Film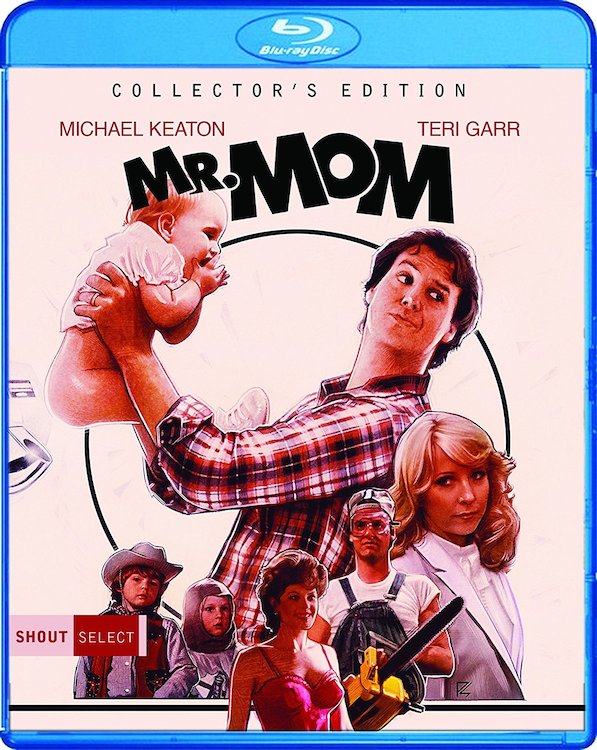 Unless you are someone who lived through the early 80's, chances are you can only think of Michael Keaton as Batman, a fearsome and intelligent superhero. But his casting decision as the caped crusader was controversial at the time because, to many, Keaton was a comedic actor best known for playing the lead in "Mr. Mom" (1983). Written by the King of the 80's, John Hughes, the film is less a strongly driven narrative and more a snapshot of what home life can be like when dad is left in charge. Although the film relies heavily on male stereotyping and cliché hazards of mom life, Hughes had the ability to elevate his material above par by imbuing it with a great deal of heart, which "Mr. Mom" has in spades.

Jack Butler (Michael Keaton) is an engineer at a Ford automotive factory, or, rather, was. Jack and two of his coworkers have just been sacked, the victims of judicious cost cutting. Jack's wife, Caroline (Teri Garr), seizes this opportunity and decides now might be a good time for her to get out of the house and back into the workforce. After all, she got some experience in the advertising world over a decade ago; getting another high paying job shouldn't be too hard. And it isn't because in no time Caroline secures a sweet gig. Jack, meanwhile, is left to struggle dealing with the daily rigors of housewife life. Lucky for him, the neighborhood housewives are all willing to assist him in stabilizing his routine. One in particular, Joan (Ann Jillian), offers up more than just a helping hand, though Jack is blind to her advances.

Caroline has to deal with unwanted advances of her own as Ron (Martin Mull), her hotshot boss, is putting on the moves. Jack grows listless and loses his drive. He grows a beard. He stops cleaning. Caroline is swamped on work all the time and Jack feels like he's losing her. But after a wild soap opera dream he gets his act back in gear, cleaning himself and the house up and taming the unruly chores of daily life. But his challenges are not yet over, as there is still the matter of the Caroline/Ron dynamic and the frequent advances of Joan.

Unlike many of Hughes' films, "Mr. Mom" lacks a clear plot to drive the story from beginning to end. Instead, what the film more closely resembles is a series of strung together scenes featuring a parental job swap that is intended to produce laughs and drama on both sides. There is no end goal for the film; no grand moment for the audience to expect. This is a film that relies entirely on the performances of its actors to carry viewers from start to finish. The biggest hurdle on Jack's life is getting his bearings in regard to being a stay-at-home dad. Caroline's only struggle is to hit a deadline at work. The film often goes off into tangent land, such as with Jack's lengthy soap opera dream, because it has the leeway to do so.

Luckily, the two lead actors are each fully capable of commanding audience attention. This was Keaton's first leading role in Hollywood and his ability to convey both comedy and manic uncertainty made him an ideal actor to play a father who is fully capable yet out of his element. Jack isn't a prideful man and he knows his limitations, but that doesn't stop him from rigging up any solution possible to life's little problems. The humor comes from Jack not knowing an easier solution exists. The film does mine plenty of humor from these fish-out-of-water moments, but it wisely doesn't drive their currency into the ground. Garr, meanwhile, deals with many important female-in-the-workplace issues, including sexual harassment and coworker jealousy. These are issues women still face today, adding a touch of unfortunate relevance to a film that is over 30 years old. Garr handles it all with aplomb and a steady head, until the moment when she's had enough and viewers get the satisfaction of seeing someone take a long overdue punch.

A glimmer of John Hughes' sensibilities are on display here but this feature merely primed the pump for what was to follow. Still, it is because of Hughes' ability to imbue his pictures with heart and a sense of family that "Mr. Mom" works as well as it does. Keaton and Garr are a formidable feature team-up, playing the quintessential 80's Hollywood parents you wish you had growing up. The strong supporting cast featuring Martin Mull also has acting vets like Christopher Lloyd and Jeffrey Tambor in early roles. The lack of a salient story can be forgiven because of all the positive elements outlined in this review.

Video


The 1.85:1 1080p 24/fps AVC MPEG-4 encoded image has likely been sourced from a dated MGM master, with the resulting picture lacking the polish of newer remasters. Definition is never impressive, often looking slightly soft. Colors appear drab and suppressed, lacking any pop or vibrancy. These issues are inherent to many films of the era, though the problems may be exacerbated due to the lack of a recent remaster being done. The print used here is in mostly clean shape, but there are some instances of dirt & damage still visible.

Audio


Two tracks have been included: English DTS-HD Master Audio 2.0 mono and a 5.1 surround sound mix. The multi-channel track is a remix of the original mono audio, and either option produces a similar result. The jazzy score by Lee Holdridge feels so patently 80's and it works perfectly. The audio experience is a bit flat and occasionally muddled, with some lines sounding like obvious & terrible ADR. Subtitles are available in English for the hearing impaired.

Extras


"Whatever it Takes: Looking Back at Mr. Mom" (1080p) is a featurette that runs for 36 minutes. Members of the cast & crew – though none of the ones viewers are hoping to see – plop down to discuss working on the film. The biggest "get" here is producer Lauren Shuler Donner, who has fond remembrances.

An original theatrical trailer (1080p) runs for 1 minute and 31 seconds.

Packaging


The single disc comes housed in a standard Blu-ray keep case. The cover art is reversible. A slip-cover with the new art is included on first pressings.

Overall


Keaton starts off his Hollywood career as a leading man with this fun and breezy 80's comedy that only asks viewers to come with the expectation of being entertained and nothing more. The film does lack true depth but a roster of strong performers and a naturally funny premise have allowed it to endure.
| | | | | |
| --- | --- | --- | --- | --- |
| The Film: B- | Video: B- | Audio: C+ | Extras: C | Overall: B- |