The Film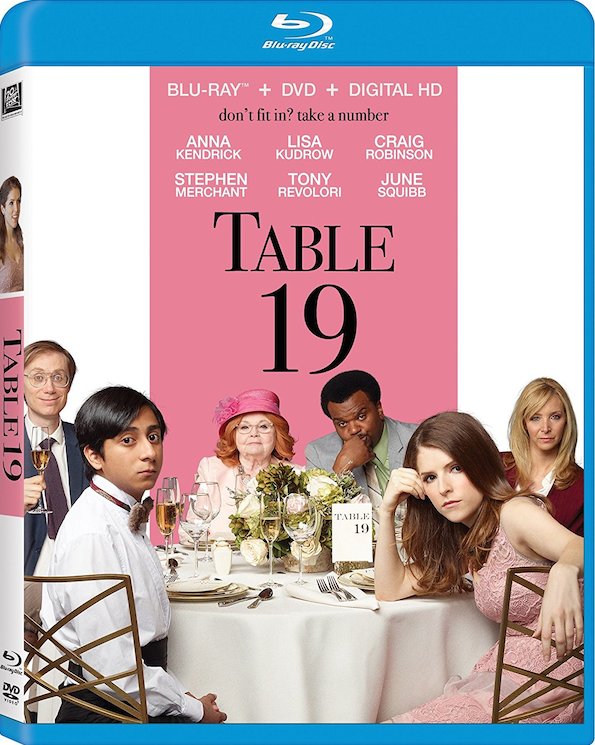 We all have experienced the dreadful experience of attending a wedding where for whatever reason we do not feel engaged with the collective community of the other guests, and "Table 19" attempts to mine this experience for comedic material, and fails completely. Basically the losers are seated at Table 19, the farthest table from the bride, and the closest to the bathrooms; this is the table for the folks that were invited, but were not expected to attend, and we the audience are now seated at this table as well. That is how I felt while viewing this film, and I am now telling you that you should not RSVP to this affair, no matter how attractive the invitation may appear to be.

The film starts with the main character Eloise McGarry (Anna Kendrick) struggling with the decision of whether or not to attend the upcoming nuptials of her former best friend, but since she was dumped by the bride's brother, Teddy (Wyatt Russell) via text no less, she decides that she will attend nonetheless. Upon entering the reception she surmises that she is seated at the dreaded Table 19, home for the misfits and losers. Seated at the table are the following guests: Jerry and Bina Kepp (Craig Robinson and Lisa Kudrow); a bitter married couple that are in the diner business; Jo Flanagan (June Squibb); a nosey, chatty woman that was once the childhood nanny of the bride to be and her brother; Renzo Eckberg (Tony Revolori) an awkward teen that is looking to get laid; Cousin Walter Thimble (Stephen Merchant) a tall ex-convict that looks like he escaped from the Jeffrey Dahmer story; welcome to the table of awkward dissidents.

The problem that I had with this film, other than it not being humorous, was that there was no one that I could relate to; Eloise is way too high strung for my tastes; she seems to love being the center of attention, and excels at creating a dramatic experience out of nothing. Jerry and Bina constantly argue and snip at each other, calling attention to their partner's flaws, and it is evident that their relationship is in peril. Jo seems to be "a know it all" with some dull story that she insists on telling you even though you have absolutely no interest in it. Walter just seems to be a geek, full of lies and poorly concealed secrets. And I have no idea why Renzo was even invited to the reception at all.

The direction by Jeffrey Blitz is standard fare, one scene cobbled together with another with poor editing choices in between shots. As far as the story is concerned we literally feel like we are being forced to attend the reception of a couple that we barely know, and the complete lack of backstory regarding the friendship between Eloise and the bride is completely neglected and undeveloped. The focus of Eloise having the worst day of her life because she is hardly over her romance with Teddy seems incredibly sophomoric and unrealistic with Kendrick really overacting and acting like a ditzy heroine in a pulp novel.

It isn't until a slapstick barrage of nonsense involving the wedding cake occurs that the occupants of Table 19 decide that their presence will not be missed; they depart to their respective rooms to change clothes and then reassemble to get high on Jo's stash of medical marijuana (it is revealed that she has some form of terminal cancer) and in turn we learn that Eloise is pregnant with Teddy's love child. Suddenly the comedy is put on hold as we are asked to feel some serious emotions for these characters as they bond together. After a turn spent in the woods, the characters are supposedly deepened, and they return to the catered affair which has carried on without them, wiser and now in deeper lifelong relationships. The film cannot decide what genre it wants to be: a romantic comedy or an edgy independent film, and so it flounders somewhere in between, failing to find a proper audience.

Like most authentic wedding receptions, there is a shoddy band, Oberhofer, which wrestles its way through a playbook of hits from the 80's; however the soundtrack only seems to get in the way of the dialogue track. At times Kendrick's delivery is much too fast, as if she were channeling Rosalind Russell in "His Girl Friday" (1940); it is a shame that the dialogue isn't written with more skill that would showcase Kendrick's talents and delivery. Indeed it is a shame that the talents of the ensemble cast do not have more to work with here than penis jokes and the like; Lisa Kudrow is ordinary a much appreciated presence in a film like this, but here she comes across as nothing more than a nagging bore. The same can be said for the talents of Squibb and Merchant as they are given a one note shtick; all in all this is not a feel good laugh fest in the least. My verdict is that this is one wedding to not attend.

Video


Presented in widescreen 2.40:1 mastered in HD 1080p 24/fps using AVC MPEG-4 compression, the overall presentation is first class, but the camera work is strictly like that found in a sit com on television. The director sleepwalks through his duties, and the 87 minutes feels torturously slow. Colors are acceptable and the flesh tones are correct.

Audio


Five audio tracks are included in English DTS-HD Master Audio 5.1 surround, French DTS 5.1 surround, German DTS 5.1 surround, Spanish Dolby Digital 5.1 surround and an English Audio Descriptive Dolby Digital 5.1 surround. The audio is English DTS-HD-MA 5.1 and mixed correctly, at times the soundtrack music overwhelms the dialogue but this is a mild complaint. Subtitles are included in English for the Deaf and Hard of Hearing, Spanish, Quebecois French, French, Dutch, and German.

Extras


Fox has included a collection of deleted scenes, featurettes, a gallery, a series of theatrical trailer, plus a DVD copy and a digital copy version of the film.

DISC ONE: BLU-RAY

There are some deleted scenes (8:12), a mix of blown lines and retakes:

- "Carol Milner Kills It." Becky Ann Baker singing Etta James "At Last."
- "Cousin Donny Toasts It." Andy Blitz gives a rambling barely coherent toast.
- "Infamous Kate Works It." Maria Thayer singing Dolly Parton's "9 to 5."
- "Table 19 Swings It." The rejects all group dance to Modern English's "Melt With You."

"Table of Rejects" featurette (1:42), the cast and crew talking about the film making it sound like it is hysterical and a must see. They are incorrect.

"Head of the Table" featurette (2:21), basically outtakes from the film as the cast and crew discuss the film, unenlightening.

"Table for Six" featurette (2:04), literally a glorified promo for the film.

A photo gallery (2:28) of 30 images, mix of publicity stills and some behind the scenes shots.

Theatrical trailer is also included (2:24).

Coming Attractions are a series of bonus trailers for:

- "Snatched"
- "Why Him?"
- "Mike and Dave Need Wedding Dates"
- "This Beautiful Fantastic"
- "Absolutely Fabulous: The Movie"
- "Keeping Up with The Joneses"

DISC TWO: DVD

This is a DVD copy version of the film.

Inlcuded in the case is a download code for a digital copy version of the film.

Packaging


Packaged in a blu-ray keep case, first pressings are housed in a cardboard slip-case.

Overall


"Table 19" is a mixed bag of a dramedy that fails to rise to the occasion, with moments of potential that fail to launch, this is not my preferred cup of tea.
| | | | | |
| --- | --- | --- | --- | --- |
| The Film: C | Video: A | Audio: A | Extras: B- | Overall: C+ |