The Film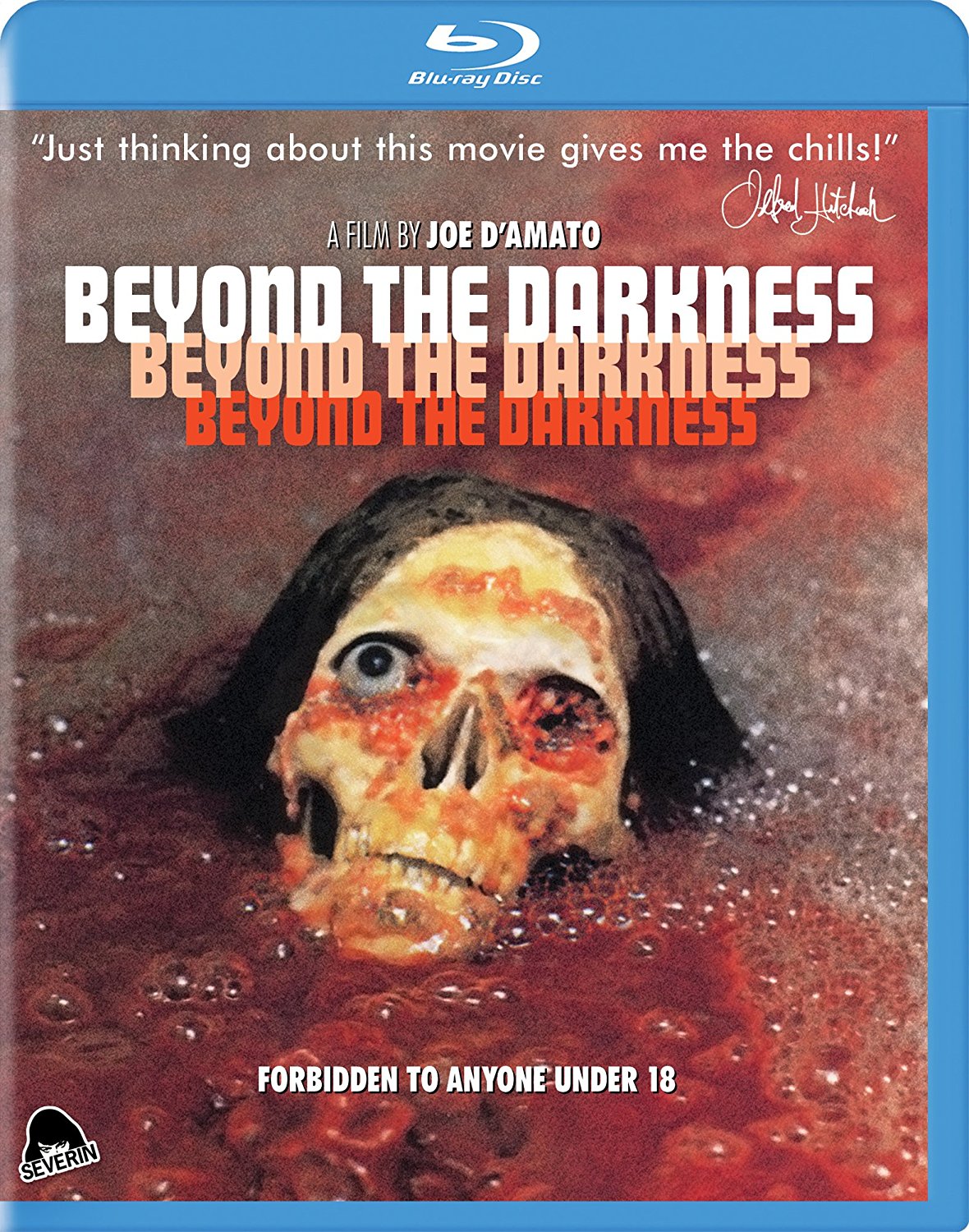 It can sometimes be easy to dismiss sleazy Eurotrash cinema because, frankly, there are plenty of titles under that heading nobody would ever want to watch twice. It takes a director of some measurable skill to balance lurid trash with actual artistic merit. A handful of shocking moments isn't enough to sustain a film, let alone give it any sort of replay value. With "Beyond the Darkness" (1979 aka "Buio Omega"), a remake of the giallo "The Third Eye" (1966), director Aristide Massaccesi – better known as Joe D'Amato – presents enough vile horror and abject madness to test the mettle of any horror fan, but filling the gaps between gonzo gross-outs is a wildly bizarre story that is completely captivating because it is so damn crazy. Voodoo. Grave robbing. Necrophilia. Dismemberment. Torture. D'Amato pulls out all the stops – and a few fingernails – to deliver something revoltingly worth remembering, backed by another stellar score from those masters of synth, Goblin.

When Anna (Cinzia Monreale), the fiancée of wealthy taxidermist Frank Wyler (Kieran Canter), suddenly dies of a mysterious illness in the hospital, her beau does the sensible thing and digs up his recently departed partner and fills her with preservative. Frank doesn't know it, but his fiancée's death was no mystery; his jealous housekeeper, Iris (Franca Stoppi) used a voodoo doll in a black magic ritual to stamp out her rival. With Anna gone, Iris is free to erotically breast feed Frank and comfort him with handjobs. Frank, not to be outdone in the lecherous weirdo department, meets random women whom he brings home and tries to seduce… while they lie on a bed next to Anna's porcelain corpse. Naturally, this freaks the women out. Luckily for Frank, Iris is more than happy to assist in cleaning up his trail of corpses, chopping up nubile young females and disposing of their remains like you would old leftovers or garden trimmings. But Frank gets an unexpected and unwanted visitor when Anna's twin sister Elena shows up, inquiring as to her sibling's whereabouts. Iris attempts to put a swift end to any budding romance between Frank and Elena – an identical copy of Anna – but her actions prove to be the tipping point for all of this madness.

D'Amato's audacity is commendable and it pays off time and again, with each scene of carnage and/or perversity being matched over and over until the final, literal, burst of insanity before the credits roll. Typically in horror films the audience gets a bit of recovery time after some big bout of violence, but this film is so densely populated with madcap moments viewers barely have time to comprehend something like necrophilia before Frank and Iris are using a meat cleaver to chop up a corpse and drop the pieces into a bathtub of acid. The hits just keep on coming, folks. Frank picks up a chill hitchhiker who clearly just wants to party and have some free love. Who would screw that up? Frank, who can't resist getting his rocks off by secretly revealing Anna's corpse during a make-out session and waiting for his new lover to notice a bright white cadaver. Then, after freaking out Italian Jennifer Grey, Frank beats her and rips out her fingernails before she is killed and all that dismemberment occurs. Nobody gets off easy.

Providing the tunes for this obscene odyssey are Goblin, delivering yet another stellar funkadelic fret burner full of sweet guitar licks and ominous synth sounds. Goblin has a number of classic soundtracks to their name and it is no overstatement to claim this as one of the best. The score ranges from jazzy and percussive to spooky and ethereal, showcasing the range of which the band is capable. Their best scores play less like a film soundtrack and more like one of their proper albums, all of which are equally excellent.

As the pull quotes that decorate the front and back cover art tell viewers with a clear sense of devilish glee, "Beyond the Darkness" has been called "one of the most sickening movies ever made" and you know what? I am going to say sure, it really is. That quote isn't exactly hyperbole because this film does feature some of the most distasteful acts in cinema. D'Amato has a way of shooting all of this taboo material with a sense of… I don't want to say respect because exploitation is clearly on the agenda here but it doesn't feel cheap or amateur. D'Amato began his career as a cinematographer and it shows in his shot composition and lighting decisions. "Beyond the Darkness" is a one-stop shop for sleaze and sadism, assaulting viewers with so many beautiful grotesqueries it is impossible to look away for fear of missing some salacious immoral morsel.

Video


Severin touts the 1.66:1 1080p 24/fps AVC MPEG-4 encoded image as being "uncut, uncensored & restored in HD" and although I am unable to compare this release to either the previous Shriek Show edition or the international 88 Films version I would imagine the results here are the best possible presentation. This is not to say the image is entirely pleasing, but get those expectations in check because the picture was shot on Super 16. As such, expect to see frequent soft shots, moderate-to-heavy film grain, and a general lack of minute details. On the other hand, the print is pretty damn clean… until the final act, when bouts of damage rear up. Colors are generally accurate and skin tones look natural and show warmth. Blood, which appears often, is bright and pops against the earthen palette.

Audio


The English dub is presented in DTS-HD Master Audio 2.0 mono, while the Italian track gets a lossy Dolby Digital 2.0 mono track. I found the levels on the Italian track to be extremely high, mashing all sound elements together and coming across as way too hot. Comparatively, the dub sounds smoother and more pleasing to the ear. Goblin's score enjoys greater fidelity and reproduction in lossless audio, too. Plus, dub tracks always seem more fitting for pictures of this ilk. Subtitles are available in English.

Extras


DISC ONE: BLU-RAY

"Joe D'Amato: The Horror Experience" (1080p) is an interview that runs for 68 minutes and 21 seconds. The legendary Italian horrormeister sat down for this legacy interview to discuss at length his career and filmography.

"The Omega Woman: Interview with Actress Franca Stoppi" (1080p) runs for 15 minutes and 41 seconds. This archival interview shows the actress in a much different light than the film, with her joking about the content and discussing what it was like making a picture so repugnant.

"Goblin Reborn Perform Buio Omega Live 2016" (1080p) featurette features the film's soundtrack composers (well, some of them) performing the title track live on tour, running for 4 minutes and 17 seconds.

"Locations Revisited" (1080p) is a featurette that runs for 20 minutes and 5 seconds. See the film's settings as they look today; pretty, but without context or a narrator this piece is woefully unfocused.

"Sick Love: Interview with Actress Cinzia Monreale" (1080p) runs for 8 minutes and 47 seconds. The actress who plays twins Anna and Elena sits down in this new interview to discuss the picture.

The film's theatrical trailer (1080p) runs for 2 minutes and 58 seconds.

DISC TWO: CD

Additionally, awesomely, Severin Films has also included within this package a remastered copy of Goblin's original soundtrack on CD. The disc includes 24 tracks (43:03):

- 1. Buio Omega (Titoli) (02:55)
- 2. Buio Omega (M 1) (00:57)
- 3. Buio Omega (M 2) (00:52)
- 4. Buio Omega (M 4) (01:42)
- 5. Buio Omega (Memoria) (01:00)
- 6. Buio Omega (M 6) (02:30)
- 7. Buio Omega (M 7) (01:48)
- 8. Buio Omega (M 8) (02:57)
- 9. Buio Omega (M 10) (00:36)
- 10. Buio Omega (M 12) (04:13)
- 11. Buio Omega (M 13) (00:10)
- 12. Buio Omega (M 16) (00:30)
- 13. Buio Omega (M 16 bis) (00:07)
- 14. Buio Omega (M 18) (04:28)
- 15. Buio Omega (M 21) (00:36)
- 16. Buio Omega (M 23) (00:05)
- 17. Buio Omega (M 25) (04:02)
- 18. Buio Omega (M 26) (03:48)
- 19. Buio Omega (M 28) (00:09)
- 20. Buio Omega (M 29) (00:05)
- 21. Buio Omega (M 30) (03:08)
- 22. Buio Omega (M 31) (02:15)
- 23. Buio Omega (M 32) (02:06)
- 24. Buio Omega (M 33 Finale) (02:04)

Packaging


The two-disc set comes housed in a standard Blu-ray keep case, with each disc on a hub opposite the other

Overall


Raunchy and revolting, D'Amato's "Beyond the Darkness" might be one of the sickest pictures in the horror genre – which is definitely saying something – but it isn't exactly gross for the sake of being so. This is entertaining sleaze cinema done right, and Severin Films' latest release appears to top all previous editions thanks to remastered a/v quality, a nice selection of bonus features and a copy of Goblin's timeless score.
| | | | | |
| --- | --- | --- | --- | --- |
| The Film: B- | Video: B | Audio: B- | Extras: A- | Overall: B |