The Film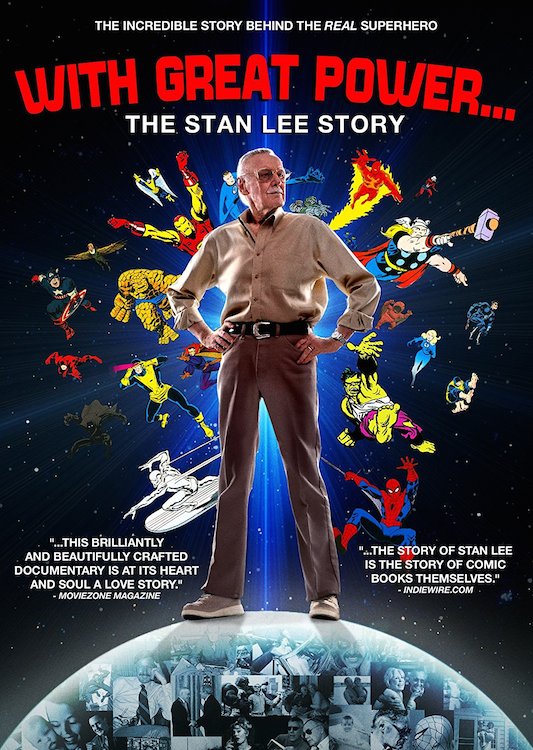 I can recall when I was bitten by the comics bug while growing up and the name Stan Lee became synonymous with Marvel comics; he was the guy that helped create an endless parade of heroes and villains: "The Fantastic Four", "The X-Men", "Spider-man", "Daredevil"; the list goes on and on. To me comics were a bridge to more serious reading, and I devoured them for a number of years. As I grew older, I read some books on the history of comics and became interested in the relationship between Lee and head artist Jack Kirby; there were some people that despised Lee and regarded him as a blow hard that literally screwed Kirby out of his share of the fame and money from bringing the aforementioned characters to life. "I thought Stan Lee was a bother," Kirby told The Comics Journal. "You know, he was the kind of kid that liked to fool around -- open and close doors on you. Yeah, in fact, once I told Joe [Simon] to throw him out of the room. Yes, because he was a pest. Stan Lee was a pest. He liked to irk people and it was one thing I couldn't take." This feud has been discussed in plenty of articles and books, but in the documentary, Lee has nothing but nice things to say about Kirby. The two made up at the San Diego Comic Con in 1986 and buried the hatchet, but fan boys hold grudges for a long time, so the tension still endures today. Nevertheless it is a fact that without the artistic talents of Kirby and the writing talents of Lee, we wouldn't have the Marvel Universe as it exists today.

"With Great Power" tells the story of how Stanley Martin Lieber became Stan Lee: the spokesman for modern comics. Starting from humble beginnings, Lee applied for a job at Timely Comics in 1939, and eventually became a writer for "Captain America" in 1941 using the pen name Stan Lee. Things stayed fairly steady until Joe Simon and Jack Kirby left Timely Comics in 1941, and then publisher Martin Goodman made Lee an interim editor at the ripe age of 19; it was his first steps towards the greatness that would follow.

The film directed by the trio of Terry Doulas, Nikki Frakes and Will Hess moves at a swift clip as it gives an overview of Lee's life and times; however its chronological order is a tad skewed as it erratically jumps from various events in history. I found myself puzzled when it chronicled the issue of Dr. Fredrick Wertham and his book "The Seduction of the Innocent" in 1954 and then skipped ahead to the 60's and started discussing hippies and free love. Lee, though of course, is the center of attention here, and we get a lot of clips of various celebrities singing his praises, but I found myself craving something more in-depth than a glossy once over of the man's career. This is a nice career overview, but for those wanting more information than celebrity glad handing, I suggest that you look elsewhere.

It seems that the apparent purpose of this documentary was to make Lee more human as it features frequent footage of Lee with his wife of over 60 years, and they discuss raising their only child and how they lost a second baby girl. We see the Lee's a home and they appear to be a fun couple as they exchange barbs and witticisms. The pacing of the film is fast and furious as it tries to cover a lot of territory in its limited time. The creation of Spider-man is covered, but I found myself wanting to hear more about other characters such as Daredevil and Dr. Strange. Lee briefly discusses some of what happened when the bubble burst, the media of comics collapsed and Lee was forced to file for Chapter 11 bankruptcy in 2000. The questionable live animation series like the made-for-TV film "Nick Fury: Agent of Shield" (1998) is briefly covered, but the less said about that embarrassment the better. Lee seems to have recouped from the losses and has launched a new company entitled POW! There is footage of Lee accepting a star on the Hollywood Walk of Fame in 2011.

Definitely one of the most annoying issues was the quality of the video; this is a standard definition release and not on Blu-Ray. Many of the clips look like they were taped off of television and are dated looking as well; this detracts from the overall presentation. Another thing that bothered me was the use of a "canned" soundtrack that was inserted behind the interview segments; where they found this music is beyond me, but silence would have been better utilized. The comic book graphics that were used were interesting and harkened back to the animated series, "The Marvel Super Heroes" in 1966. Seeing this animation made me yearn for those cartoons, but they are sadly unavailable in Region 1. The best thing about the DVD is the database that is broken down alphabetically of characters that Lee helped co-create; each character is pictured, along with a brief listing of their alter ego, when they first appeared, what comic they were featured in, and who the artist that drew them was. The navigation is a tad tricky but essentially what is presented is a gallery of over 500 characters while Lee was the editor-in-chief from 1945-1972.

Video


Presented in 1.78:1 anamorphic widescreen, some of the clips looked pretty dated and were obvious transfers from VHS tapes, the cinematography is a mixed bag with more modern clips looking good and others being so-so. Obviously the director's spent a lot of time and energy researching Lee's life and for the most part are to be commended for their thoroughness. The entire second disc consists of nothing but interviews of everyone who may have had more than a passing acquaintance with Stan Lee.

Audio


English Dolby Digital 2.0 stereo, the sound mix fluctuates according to the source, with a number of interviews featuring a cheesy selection of canned music that I found to be slightly annoying. Alright otherwise considering that the film was originally made in 2012 and technology has advanced considerably since then. There are no optional subtitles.

Extras


There are quite a few extras on this two-disc set, and they vary in quality and scope. Below is a closer look at these supplements.

DISC ONE:

"A Star is Born" featurette (7:30), Lee is presented with his own star on the Hollywood Walk of Fame in 2011.

"Stan Lee's Love Story" featurette (8:11), recollections of when he met his wife, scenes at home.

"The Biggest Fan" featurette (10:46), clips from various conventions and a search for who is the biggest Stan Lee fan.

"Music is the Story" featurette (9:40), making the soundtracks that accompany the Hollywood films.

"Pow! Zip! Boom! The Sound of Cinema" featurette (7:53), discussing the importance of various sound effects.

"Heroes Helping Heroes" featurette (5:12), discussing the Hero Initiative, a charity that Lee has helped found.

"Stan Lee at UCLA with Kevin Smith and Joe Quesada 12/02/06" featurette (10:17), discussion amongst the three in front of a live audience.

"Coffee with Stan Lee" featurette (8:50), interview segment with Lee at Slamdance 2012.

"Further Thoughts from Stan" featurette (7:55), even more Q & A segments.

"An Unsung Partnership" featurette (5:36), Stan discusses what it is like to produce a weekly comic strip for syndication with his brother Larry Lieber.

"San Diego Comic Con 2007" Q&A featurette (11:19), even more Q & A, after the showing of the documentary.

"Characters Stan Co-Created" character gallery, A-Z listing of over 500 characters, during his helm as Editor in Chief, 1945-1972. Toggle between letters to select a character's name.

Theatrical trailer is included (2:44).

Stan Lee biography, a still listing all important dates of various moments in Lee's life.

DISC TWO:

Additional extended interviews: features 40 brief interviews with a variety of personalities including people from the comic business, various celebrities, actors and actresses that have appeared in Marvel film productions. 90 minutes.

Overall


This is a pretty comprehensive overview of one man's career and how much impact he has had on thousands of people with excessive glad handing and pandering of Stan Lee; the first disc is more than enough for even the serious fan, the second disc is almost unnecessary.
| | | | | |
| --- | --- | --- | --- | --- |
| The Film: B+ | Video: B | Audio: A | Extras: B+ | Overall: B |