Reckoning (The) [Blu-ray]
Blu-ray ALL - United Kingdom - Powerhouse Films
Review written by and copyright: Rick Curzon (30th August 2017).
The Film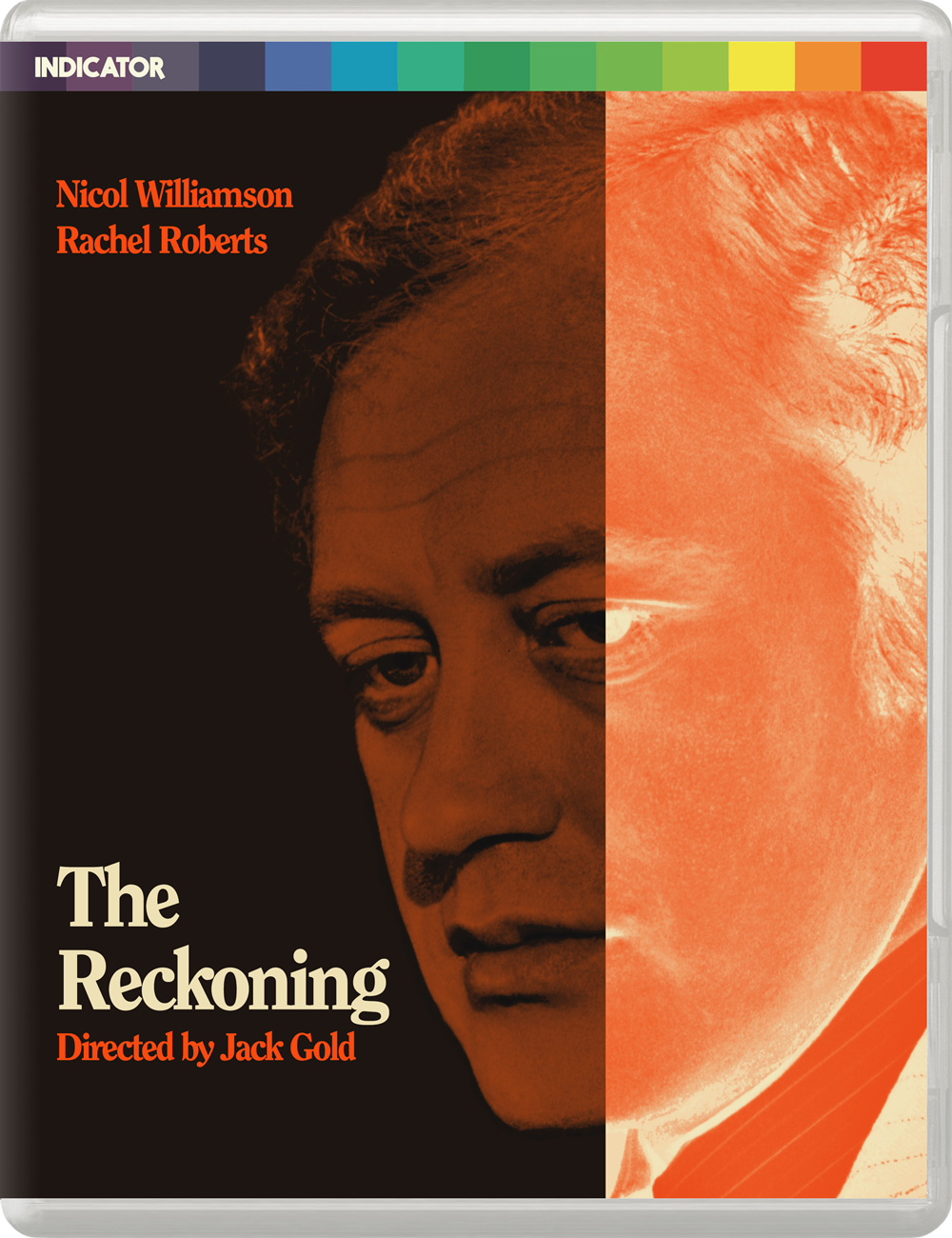 A ruthless business executive (an intense tour de force performance by leading man Nicol Williamson) returns home to his Liverpool roots to investigate his fatherís death. An unflinching exploration of the British class system, Jack Gold's penetrating, brutal drama stands alongside contemporary classics Up the Junction and Room at the Top, and prefigures Get Carter by several years. Underrated and underexposed, The Reckoning may well be one of the most essential British films ever made.

Video


Superb, gritty drama about ambition and the class divide. Marler (Nicol Williamson, superb) plays a ruthless, no nonsense, high powered businessman who gets a call that his dad is dying having suffered an aneurism. He rushes home to Liverpool but finds that his dad died and that he got a good hiding during a brawl which brought on the heart attack. He goes after the culprit in between sparring with his wife (Ann Bell) and business associates.

Filled with topnotch supporting performances but Rachel Roberts gets special mention as one of Marler's passing fancies; a lonely, sexually frustrated slightly older woman. Jack Gold's film is also a great record of old Liverpool before the developers cleaned it up; one of the best films that I've seen for the first time this year.

The most fascinating aspect is that despite the leading character not ostensibly being the most sympathetic individual, the script is careful to portray him as a living breathing man with layers to him. Despite his ruthlessness in business he's not a sociopath; Marler is very well aware of his emotions and who he is - an understandable soul, if not always likeable.

This knockout release is from Powerhouse Films as part of their Indicator Series (#040) and is a worldwide BD debut. A trend that seems to becoming the norm for this splendid new label. They have a trend where they find relatively obscure and forgotten British films and get them out for all to see and hopefully reappraise.

The image is very true to it's source and the chosen neorealistic aesthetic. A fine layer of grain and plenty of fine detail; especially noticeable in fabrics and craggy faces (check out the club scenes). Black levels are excellent and I couldn't see any digital artifacts whatsoever; encoding I more than solid with no signs of crush. Colours are naturalistic and muted by design with cinematographer Geoffrey Unsworth's lensing skilfully capturing the dour, working class surroundings well. This has a a very high bitrate which allows the transfer to breathe.

The Reckoning gets a flawless Blu-ray release from Indicator so long as you understand it's aesthetic and the era in which it was made.

1.75:1 / 1080/24p / MPEG-4 AVC / 110:09

Audio


English LPCM 1.0
Subtitles for the hard of hearing

A solid lossless, mono track typical of the period. Dialogue is very clear and easy to follow, and music is clearly levelled with the track never becoming overbearing. The soundtrack hasn't got the over bearing levels of music modern films can have and there are no phasing issues or other distortions.

Extras


"Culture Clash: Matthew Sweet on The Reckoning" (19:34)
An excellent featurette in which the popular historical and cultural journalist comments on the film, it's origins and how it sits within the "Angry Young Man" sub genre of British, neo-realist cinema of the 1960s.

"Memories of Marler: Actor Tom Kempinski on The Reckoning" (3:08)
A short reminiscence by the actor who plays Marler's mate Brunzy. Interesting especially as he discusses the late Nicol Williamson; a troubled and capricious soul it would seem.

"On Your Marks: Assisstant Director Joe Marks on The Reckoning" (3:56)
More discussion about Williamson but there's also some thoughts on producer Hal Chester and director Jack Gold.

Theatrical Trailer (3:21)
Sensationalistic trailer concentrating on the sex and conflict of the piece.

Image Gallery
15 images of lobby cards, behind the scenes stills and posters.

32-page liner notes booklet with a new essay by Michael Pattison, Jack Gold on The Reckoning, Kenneth Tynan on actor Nicol Williamson, and an overview of contemporary critical responses
Typically meticulous set of of articles about the film. I particularly liked the piece by Kenneth Tynan which gives a fairly vivid portrait of Nicol Williamson as an extremely intense and troubled loon ... albeit talented. In any case all of the articles are top notch and well worth the time to peruse boosting one's appreciation of the film considerably.

Overall


Powerhouse Films have released a film on Blu-ray not available anywhere else in the world and it's a magnificent choice cut of cult '60s goodness. It's a film I had not seen before based on "The Harp that Once" (1967) by Patrick Hall. I give both the film and the disc my highest recommendation for collectors and film buffs. It'd be very hard to top the effort put into this.

PS The cover art is also incredible as well!
| | | | | |
| --- | --- | --- | --- | --- |
| The Film: A+ | Video: A+ | Audio: A+ | Extras: A+ | Overall: A+ |

---
DVD Compare is a participant in the Amazon Services LLC Associates Program and the Amazon Europe S.a.r.l. Associates Programme, an affiliate advertising program designed to provide a means for sites to earn advertising fees by advertising and linking to amazon.co.uk, amazon.com, amazon.ca, amazon.fr, and amazon.de.