Deadly Affair (The) AKA John le Carré's The Deadly Affair (Blu-ray) [Blu-ray]
Blu-ray B - United Kingdom - Powerhouse Films
Review written by and copyright: Rick Curzon (2nd September 2017).
The Film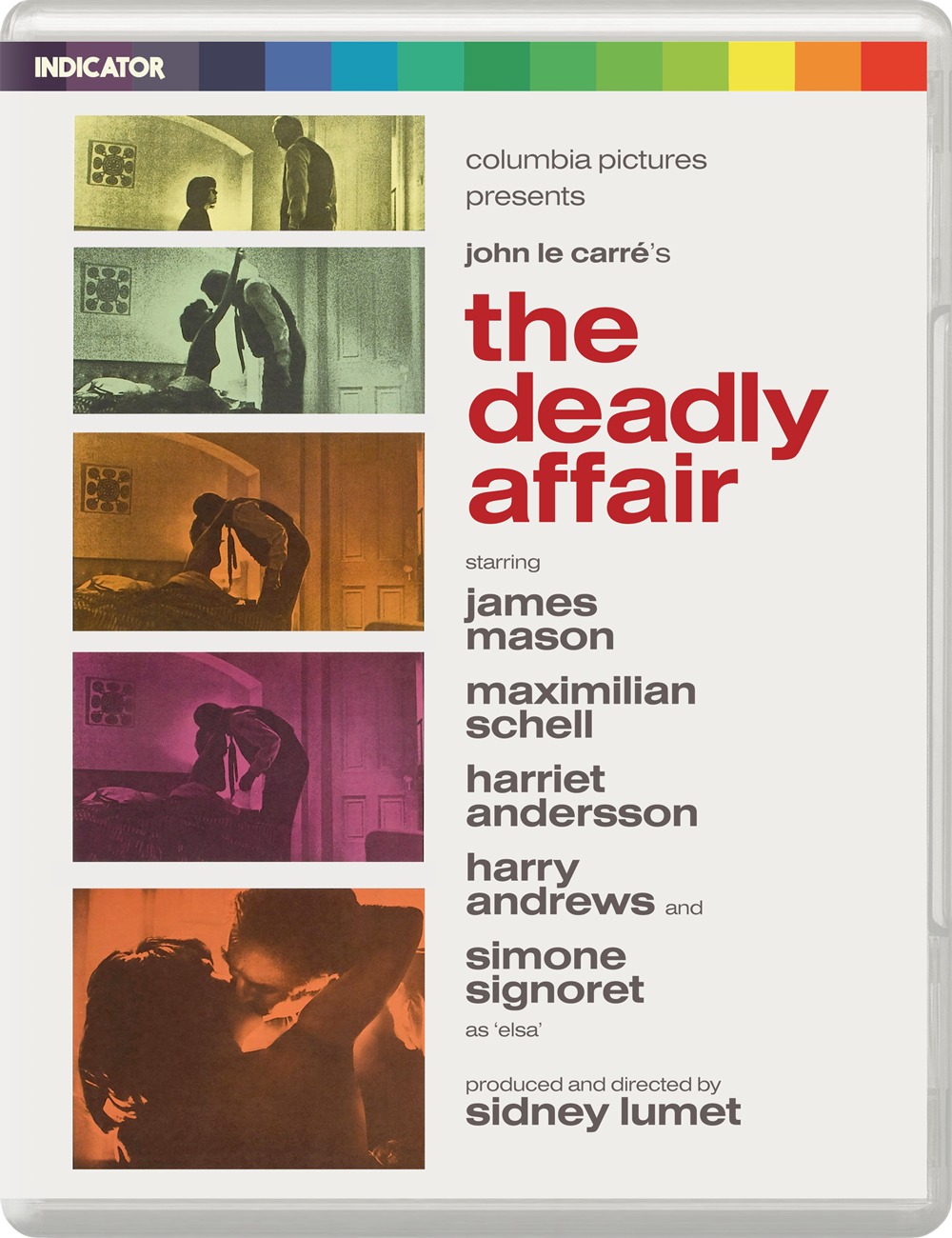 Based on John le Carré's first novel, Call for the Dead (which introduced spymaster George Smiley), The Deadly Affair sees an ageing British secret agent (James Mason) set out to uncover the truth behind a government employee's apparent suicide. Eschewing the glamour of the era's Bond thrillers, Lumet's chilling and intelligent take on the spy drama presents a palpable and darkly sinister picture of Cold War intrigue. The exemplary cast also includes Maximilian Schell, Harriet Andersson, Harry Andrews, Roy Kinnear and Lynn Redgrave.

Video


James Mason is wonderful as the lead a spy master giving a very empathic performance as a typically down to Earth Le Carre Spy master. Director Sidney Lumet being an actor's director gets world-class performances from everyone with Kenneth Haigh and Harry Andrews being especially noteworthy in respectively Mason's sidekick and a tough as nails copper.

This is yet another splendid release from Powerhouse Films as part of their Indicator Series (#038) and is - again, as far as I'm aware - a worldwide BD debut. This is less obscure than The Reckoning (1969) as it's had DVD releases all over the world. Director Sidney Lumet ac Tully wanted to shoot in B&W (his preferred format) but was contractually obliged to make it in colour. Luckily he had Freddie Young as his DP (Director of Photography) who shows all the modern DPs how to do it properly, achieving a desaturated look whilst maintaining the detail using the risky flashing technique that Robert Altman and Vilmos Zsigmond would later perfect. These days this aesthetic is de rigueur and not half as visually interesting with many films just looking dull and soft.

The image is very true to it's desaturated source. As it should be for a film of this vintage there is plenty lovely of grain and fine detail is exceptional; especially noticeable in fabrics and faces of which there are lots of close ups of. Black levels are not as deep as usual but that's to be expected in a film that has been flashed, but detail within the dark areas is excellent as a consequence. I couldn't see any digital artifacts whatsoever; encoding is more than solid with no crush and colours are very muted by design. This has a a very high bitrate which allows the transfer to breathe with a thick, film like appearance.

The Deadly Affair gets a breathtaking Blu-ray release from Indicator; I frequently found myself pausing the film and looking at it up close just to appreciate the level of detail.

A DVD copy has also been included, although I can't comment on that because it wasn't submitted for review. However, I shouldn't worry; The Indicator bods know what they're doing!

1.85:1 / 1080/24p / MPEG-4 AVC / 106:55

Audio


English LPCM 1.0
Subtitles for the hard of hearing

A repeat of my comments on The Reckoning: "A solid lossless, mono track typical of the period. Dialogue is very clear and easy to follow, music is clearly levelled in the track never becoming overbearing."

That said, Quincy Jone's superb jazz score makes it's presence strongly felt and although it's been said it dates the film, that's fine by me as this was a (then) contemporary thriller. Similar comments have been levelled at Manhunter (1986) but as with that classic I wouldn't have it any other way with The Deadly Affair.

Extras


Audio commentary with film historians Michael Brooke and Johnny Mains

I'm familiar with Brooke and he know's his onions; you couldn't ask for a more knowledgable commentator. This discusses the flashing technique in a fair amount of detail and the careers of the key players. Plenty of great detail and it's a warmly conversational track between two experts who obviously enjoy the film.

The Guardian Lecture with Sidney Lumet: Conducted at The National Film Theatre, London in December 1983 conducted by Derek Malcolm (89:04)
The National Film Theatre Lecture with James Mason: Conducted by Leslie Hardcastle at The National Film Theatre, London in 1967 (47:50)

These two LPCM mono audio tracks play over the film and when they end revert to the film soundtrack; see the times given above). Filled with fascinating detail and insight into the careers of both men. Both display a healthy sense of humour about the business. Lumet doesn't discuss The Deadly Affair too much but it's still well worth the time. Be aware that these are vintage recordings and not optimal quality, but are easy to listen to.

A Different Kind of Spy: Paul Dehn's Deadly Affair (16:52)
Excellent little featurette on the career of the celebrated screenwriter who hand a hand in many different types of film including Murder on the Orient Express (1974), The Spy Who Came in from the Cold (1965), Goldfinger (1964) and the Planet of the Apes sequels (1969-73). Presented by by journalist David Kipen who proves to be a knowledgable interview subject.

Take One and Move On: Brian West on The Deadly Affair (4:58)
A decent interview with reminiscences by the film's camera operator with info on working with Lumet, Mason and Young.

Lumet's London: The Locations of The Deadly Affair (4:03)
Fabulous little piece that shows the London locations then and now, some of which no longer exist in the same form they were back in 1965-66. Made by Michael Brooke; a Stirling, interesting effort.

Original theatrical trailer (2:33)
A trailer typical of the era with a bombastic voiceover.

On-Set & Promotional Photography / Posters (24 images)
Plenty of interest here; I always live looking at the posters from this era.

32-page liner notes booklet by Thirza Wakefield ; an overview of contemporary critical responses, and historic articles on the film: a 1995 article by Gary Crowdus on Freddie Young's career; and a 1967 interview with James Mason by Martha Deane.
Wakefield's article is a deconstruction of the George Smiley / Charles Dobbs character and his relationship with his philandering wife. She also touches on Lumet's interest in the grey, drab London with it's pokey, dim apartments and the juxtaposition of the personal and the political. She also touches on the nature of real espionage versus the glamour of Bond. The Young career overview mainly deals with his career up and including Deadly Affair. The interview with Mason finds the actor on fine witty form.

Overall


Powerhouse Films have done yet another fabulous job with another less well known and screened film. A fine adaptation of John Le Carre's 1961 novel Call for the Dead with James Mason giving a much more emotional performance in the George Smilley role later made his own by Alec Guinness and well played a few years ago by Gary Oldman. The part had to be renamed because Paramount had the exclusive rights to the character since making The Spy Who Came in from the Cold the year before (played by Rupert Davies). I strongly recommend Deadly Affair although the 1979-82 BBC TV adaptations of Le Carre remain my favourite adaptations of Smiley stories that I've seen. The disc however gets my highest recommendation for collectors and film buffs; as flawless a presentation as we can expect for a film of this vintage. Indicator once again show everyone how to do it right, even down to the use of original artwork for the sleeve. Bravo!
| | | | | |
| --- | --- | --- | --- | --- |
| The Film: B+ | Video: A+ | Audio: A+ | Extras: A+ | Overall: A+ |

---
DVD Compare is a participant in the Amazon Services LLC Associates Program and the Amazon Europe S.a.r.l. Associates Programme, an affiliate advertising program designed to provide a means for sites to earn advertising fees by advertising and linking to amazon.co.uk, amazon.com, amazon.ca, amazon.fr, and amazon.de.