The Film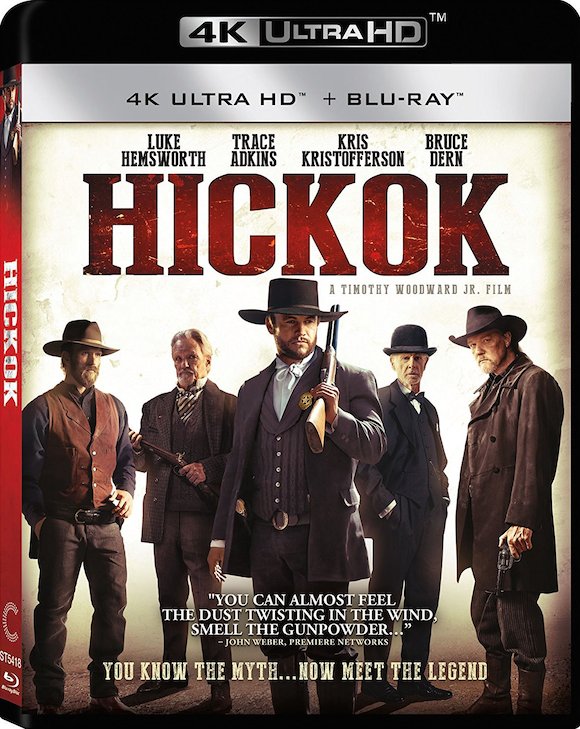 Ah, the Western; let's hit the dusty trail, all you cowpokes and saddle up for this here yarn loosely based on the so called facts of the life of one James "Wild Bill" Hickok. Back in the 50's the Western was a popular genre for many of television's popular shows: "Gunsmoke"(1955-1975), "Have Gun - Will Travel" (1957-1963), "The Rifleman" (1958-1963) and many others. Some were like this film, loosely based on one of the legends of the Old West, and due to their familiar sets and plots, they were relatively inexpensive for the studios to produce. It wasn't until 2004 when HBO produced the hit series "Deadwood"(2994-2006) that some realism entered the scenario and we were shown the West for what it really was: a cruel and difficult time made up of gunslinging drunkards, crusty cowhands, pioneers settlers, and aimless wanderers looking for a place to call home; violence was commonplace and the law was hit and miss at best. In the 50's television showed a sanitized version of life out on the plains, where the lawmen were righteous and obeyed a moral code and life was somewhat civilized, and "Hickok" is more along those terms than a Sam Peckinpah Western or the chaos of life in "Deadwood" and that is the primary problem. Director Timothy Woodward Jr. plays it relatively safe staying well within the parameters of the typical Western and there are no surprises or incredibly dramatic moments here, and that is a shame.

We are introduced to Hickok (Luke Hemsworth) during the civil war as he leaves an unnamed soldier to die alone on the battlefield. Seven years later, we Hickok see again, this time fleeing from the law, and then later as he arrives in the town of Abilene, Texas where he becomes a sheriff. Next we are introduced to the villain, one Phil Poe (Trace Adkins), a saloon keeper that has his sights on ruling the entire town. Accompanying him is his betrothed, a Miss Mattie (Cameron Richardson) who looks a tad stunned when she lays eyes on the new man in town, and we will soon find out why as the pieces begin to fall into place. The problem with the film is that "Wild Bill" doesn't seem too wild; more of a talker than a gunslinger, Woodward keeps a tight leash on his hero, and there is none of the over-the-top style that other actors that have portrayed Hickok previously have displayed: men such as Jeff Bridges, Charles Bronson, Sam Elliot and Keith Carradine. In real life, Hickok led a pretty exciting life and held a number of occupations including drover, wagon master, spy, scout, lawman and gambler. However this film is choosing only to focus on the time period where he lived in Abilene, Texas, and the Hickok portrayed is a pretty straight and narrow sort of fellow. Sure, he likes to drink and mess with the ladies, but the body count in the film is relatively low. This is the sort of film that would have been called a "B" Film; good production values, a few big name stars on the tail end of their careers (Bruce Dern and Kris Kristofferson) and a run of the mill story to entertain the audiences. There's nothing too idiosyncratic, just a simple story that doesn't take any chances.

The cinematography is decent and pleasing to the eye, with some interesting shots early on, but the entire film as a cohesive product seemingly lacks any real pizazz; characters interact with each other but there is no real chemistry here. Kris Kristofferson delivers his lines slowly and methodically, the script heavily laden with clichés and platitudes. Bruce Dern is the wild eyed town doctor with a drinking problem, but we have seen this many times previously. I found myself wanting to have Luke Hemsworth to just say the hell with law and order and to just start killing people, but that doesn't happen.

The overall effort resembles one of those classic television programs that I mentioned earlier; there was a few shoot out scenes, but given the abundance of material that they had to work with and given the subject manner, Director Woodward plays it like a poker hand, close to the chest. This may be the perfect vehicle for some folks that don't dig the wildness of a Peckinpah film but still want to watch a traditional Western that doesn't glorify violence, then pull up a stool and dig in. Action seekers are better off watching another episode of "Deadwood" or rent a Walter Hill film instead.

Video


Presented in 2.40:1 widescreen, there are two versions of the film on its own disc, the first being a Blu-ray 4K UHD version (2160p) using HEVC / H.265 codec. There's nothing to complain about here, the color palate is generous and warm, with blacks being solid and the 4K UHD is pretty stunning with the details of the actor's faces really filling the screen. The other option is a second disc which features the 2.40:1 widescreen version in HD 1080p mastered with AVC MPEG-4 compression. The HD version is pretty solid too, but if you have the option to view it in 4K then that is preferable.

Audio


Both discs feature an English DTS-HD Master Audio 5.1 surround (48kHz/24-bit) mix. The mix of indoor and outdoor scenes offers an array of sounds; dialogue is exact and clear, the opening battle scene is well represented with gunfire and cannon barrage. Optional subtitles are included in English for the hearing impaired.

Extras


Cinedigm have included 2-discs, a 4K version of the film on the first disc and an HD 1080p blu-ray on the second, both discs feature the same extras, of which, there's nothing special here.

"The Road to Abilene: The Making of Hickok" featurette (14:36) a brief feature that displays the director and cast talking about the film. Includes some shots of the cast on location.

Three deleted scenes (2:50) there was a reason that they were left out and they don't add anything to the finished product.

Theatrical trailer is also included (2:53).

Overall


This is a family oriented style film with a scene of brief female nudity and some mild violence, this is an okay way to spend a Saturday night.
| | | | | |
| --- | --- | --- | --- | --- |
| The Film: B | Video: A | Audio: A | Extras: B | Overall: B+ |