The Film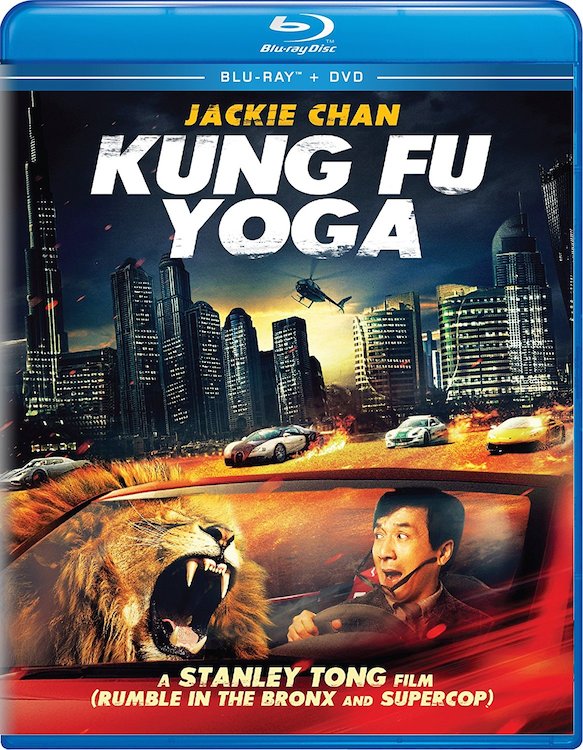 This is my second encounter with a newer Jackie Chan film, but I cannot say that I was totally impressed with this outing. An older Jackie Chan seems determined to silence us naysayers that regard that it is high time for him to pack it in already, however by producing more and more of these "team ensemble" casts, like he did in his earlier film, "Railroad Tigers" (2016), the energetic actor just doesn't want to step out of the spotlight just yet. Perhaps I am too cynical and too old to be impressed with Chan's style of acting as of late. I am sure that younger audiences would be wowed by Chan's slam bang style of acting, but it does not impress me anymore. His style of Kung Fu is still fast as ever, but I am always reminded of Moe Howard when he starts slapping and eye poking the other two stooges. Perhaps I am simply not impressed with the film in general and I must hold director Stanley Tong responsible for some lazy filmmaking choices: a little too much reliance on the badly done CGI special effects (those wolves that endanger the group while out in the ice field are simply laughable), not enough plot or character development, and shoddy storytelling. The entire production is a mish-mash of story lines and way too many characters that are never completely realized; for example, the villain Randall (Sonu Sood) should have a large sign around his neck that reads "bad guy" in case you didn't get his true intentions. The film is a Chinese-Indian co-production of Taihe Entertainment (China) and Shinework Pictures (China), which helps to explain the casting choices and convoluted storyline.

The plot is that Jackie Chan is an archaeologist, named Jackie Chan, that is on the hunt for some missing treasure, with more than a healthy nod to Indiana Jones; all Chan is missing is a whip and a bush hat. Joining him on this wild expedition is a beautiful Indian professor Ashmita (Disha Patani) and her assistant Kyra (Amyra Dastur) to locate the long lost Madagha treasure; to give us some historical context we are shown an animated sequence that explains the backstory, complete with elephants led by Arunasva in the year 647 AD in India against the ruler Magadha. Unfortunately, this sequence starts the film and gives us way too much information to digest without any clarification. General Bhima is dispatched back to fetch military assistance, but along the way the soldiers become lost and are encased in an ice cave underground with the treasure. It is this treasure that Ashmita enlists Chan to help locate and with the help of a family heirloom, a fragment of an ancient map, the expedition is underway. Together with the aid of his two TA's, Zhu (Yixing Zhang) and Nuomin (Miya Muqi), they set out to enlist Jones (Aarif Rahman) a for profit only tomb raider, whom Professor Chan believes that all he needs is a mission to discover his true nature and he will see the error of his ways. Tong misses the opportunity to mix yoga with Chinese Kung Fu and instead we get several exotic locales, some humorous moments, and a madcap car chase scene in Dubai that features Chan driving a vehicle with a captive lion in the car (the CGI is hardly believable) and may appeal to younger fans that have lower expectations than I did.

More CGI dangers await us as there are extended scenes featuring fierce animated hyenas as three of the cast are threatened by these make believe beasts. I mentally checked out after this scene and could hardly believe that Tong would decide to take the lazy route instead of utilizing his star attraction and any type of martial arts scene would have been welcomed here instead of the tedious special effects fiasco that we are forced to endure. Meanwhile the cast trudges onward to a finale in an underground cavern that houses a golden temple, but along the way we are forced to listen to Professor Chan make with some lame explanation that the treasure is immaterial since "everything is empty. The material is not different from the immaterial. The immaterial and the material are one and the same." My god, who wrote this painfully lame dialogue anyway?

Tong is unsuccessfully trying to capture the daring do that had made Saturday matinees cinema what it was, complete with cliff hangers and impossible chase scenes, but this film failed to utilize the same magic that those early adventure films did by pandering cheaply to its intended audience thus ruining its appeal to a more discerning film going audience. This may be fine fare for younger film goers or those seeking a mindless romp, but for me it missed the mark completely.

Video


Presented in 2.40:1 widescreen HD 1080p mastered in AVC MPEG-4 compression, there is a lot of color in place and none of it flares the camera, details are excellent and the exotic locations all look superb throughout. The overabundant CGI is rather lame and takes away from the overall production.

Audio


There are five audio tracks, Mandarin/English DTS:X 7.1.4 surround, Mandarin/English DTS Headphone:X 2.0 stereo, Mandarin/English Dolby Digital 2.0 stereo, English DTS-HD Master Audio 5.1 surround, and English Dolby Digital 2.0 stereo. For the purposes of the review the film was viewed with its Mandarin/English DTS:X 7.1.4 surround track, the dialogue is crisp and clear and the Mandarin mix is pretty impressive, plenty of low end bass featured with gunplay and explosions, the only weak scene was the ice cave as there wasn't an effective use of echo effect utilized. The musical mix is strong and the dance scene at the end is loud and proud. There are optional subtitles in English and Mandarin (Traditional).

Extras


Well Go has included a small selection of extras, they are:

DISC ONE: BLU-RAY

"The Dynamic Duo" featurette (2:43) is an examination of director Stanley Tong and Jackie Chan.

"The Making Of" featurette (21:46) is a longer feature that covers the making of the film and some extended interviews.

"Jackie Chan" featurette (2:37) is a loving look at the star attraction.

Bloopers (3:23), unlimited hilarity as the cast blows their lines and acts idiotic.

"Bollywood Dance" featurette (3:16), Jackie and the entire cast bust a move Bollywood style.

"Best of Both Worlds" featurette (3:41), this examines the cross cultural influences in the film.

Theatrical trailer (1:39) is also included.

The disc also features for:

- "This is Not What I Expected"
- "Railroad Tigers"
- "Greater"

DISC TWO: DVD

This is a standard definition DVD copy of the film.

Packaging


First pressings are packaged in a cardboard slip-case wrap.

Overall


"Kung Fu Yoga" is a fairly average Jackie Chan feature but featuring a mish-mash of a plot and a feeling of disconnectedness as one scene simply runs into another.
| | | | | |
| --- | --- | --- | --- | --- |
| The Film: B | Video: A | Audio: A | Extras: B | Overall: B+ |