The Film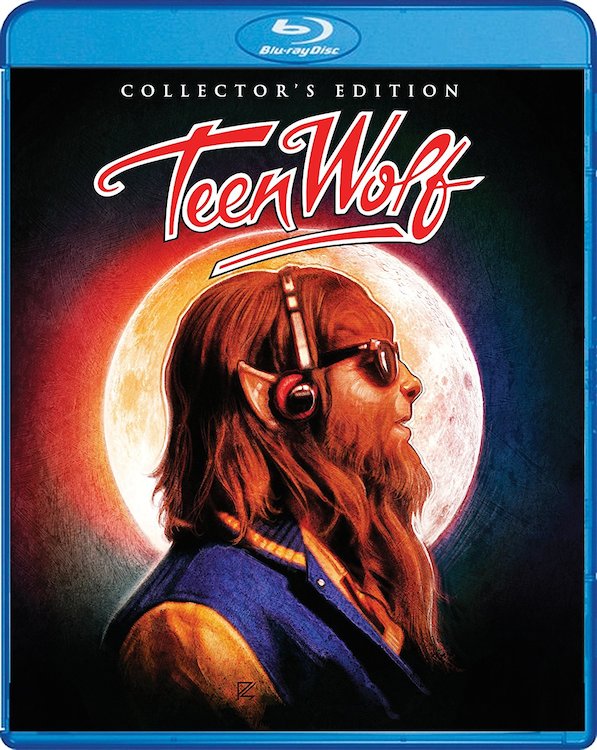 After "Back to the Future" (1985) became a cultural milestone in July of 1985, there was no hotter actor in town than Michael J. Fox. His cinema currency was through the roof, he was beloved by millions… and those are the only two reasons I can consider when discussing the success of "Teen Wolf" (1985). This is a movie that lives or dies on Fox's performance because there is hardly any story here to keep the film interesting. Even the revelation werewolves are a real thing is glossed over. Nobody should be expecting Shakespeare, but the script feels vastly underwritten. Don't get me wrong, "Teen Wolf" is fun, and not only because Fox is doing what he does best, but the connective tissue holding together "high school boy learns he is a werewolf" is made of wet tissue paper.

The Beavers basketball team is about the get creamed. Again. And player Scott Howard (Michael J. Fox) is tired of being a loser. He plays hard but still comes up short; he is frustrated being "average". Scott has a crush on dreamy Pamela Wells (Lorie Griffin) which blinds him to the advances of Boof (Susan Ursitti), his longtime friend. But Pamela is dating Mick, a rival basketball player, crippling Scott's chances. One night he and his best friend Stiles (Jerry Levine) hit up a party, where Scott winds up in the closet with Boof during a makeout game. The two go at it for a bit but Scott is overwhelmed with unknown urges and he winds up scratching Boof's back.

Back at home, Scott begins to undergo a metamorphosis, growing hair and sprouting fangs and, oh, hey, look at that he's a werewolf. When his dad Harold (James Hampton) tries to get Scott out of the bathroom, he refuses out of sheer panic. And that's when dad gets him to open the door to another bombshell: he's a werewolf, too. Per dad, it's a family thing that sometimes skips a generation, so he wasn't sure if Scott would take up the tradition. At first Scott keeps his secret only to himself and Stiles, but during a basketball game he loses control and out comes the wolf. And everyone just… accepts him. Like, as if he were a rockstar, with no real concern shown for the fact a werewolf is, in fact, a real thing. Soon, being The Wolf goes to Scott's head and he begins to act like a douchebag with a big ego, though eventually he admits his persona is outliving his true nature and he wants to prove to everyone else, and himself, that he's more than just a howling good time.

So, what's the story here? There is no real story here. The film wastes no time in getting Scott to turn Scottwolf because that's really all this movie is: Scottwolf doing wolf stuff – winning games, high-fiving kids in the hall, chasing skirts, signing autographs, van surfing. Outside of that there's a generic plot about high school love and… not much else. Very little about Scott's "condition" is explained, too. It isn't that cinema should be spoon fed to audiences but the fact that in this universe werewolves not only exist but are welcomed with open arms is only funny because it is ridiculous. The movie doesn't even adhere to any of the werewolf rules, like the full moon or silver aversion or any of that lore. Scott turns into the wolf whenever he pleases. There is nothing special about his transformations, save for the fact he is able to do it. And he isn't exactly the most threatening werewolf, either. I'd be more likely to start petting him than run away.

Fox makes this film, although some credit is also due to Levine as his best friend who always has on the coolest shirt in the room, Stiles. The irony here is Fox hated making this movie, and his lack of participation on the bonus features should shatter any notion that time has been a kind mistress and Fox's feelings have changed. He plays Scott with all of the same high school teenage charm he gave Marty McFly, but Scott Howard is no Marty McFly and even with the power of becoming a werewolf in his back pocket the only reason this film succeeds at all is due to Fox's natural charisma. This is the kind of movie that can play better to a receptive theater audience than at home in your living room. "Teen Wolf" is the epitome of disposable 80's cinema – not at all a bad thing – but a bit more substance might've taken some of the strain off Fox having to shoulder the whole enchilada.

Video


The film's 1.85:1 1080p 24/fps AVC MPEG-4 encoded image gets a new 2K scan, the results of which are fairly impressive. The print has been cleaned up nicely, removing almost every instance of damage, dirt, or vertical lines. Detail is average, with few shots looking impressively defined. There are many shots that look soft or slightly hazy, likely due to the photography at the time. Colors are well saturated, and black levels are mostly solid.

Audio


An English DTS-HD Master Audio 2.0 mono track carries the film's incredibly corny score and then-current soundtrack with balanced levels and a fullness to the mix. Source music sounds best in lossless, while effects viewers would expect to carry an impact – like a crowd at a basketball game – are dull. Dialogue sounds clean and clear. Subtitles are available in English.

Extras


"Never Say Die: The Story of Teen Wolf" (1080p) is a documentary that runs for a whopping 143 minutes and 10 seconds. Covering every possible aspect of the production – writing, production, music, editing, make-up, legacy, etc. – this is the definitive word on the making of the movie. Except, of course, it lacks any participation from Fox and chances are his stories would be among the most interesting. But there is still a lot of solid information to be found here. Almost too much…

A theatrical trailer (1080p) runs for 1 minute and 52 seconds.

A still gallery (1080i) runs for 6 minutes and 14 seconds.

Packaging


The single disc comes housed in a standard Blu-ray keep case. The cover art is reversible. A slip-cover featuring new artwork is available on first pressings.

Overall


An easy watch for those looking to trip back to the halcyon days of the 80s', "Teen Wolf" may not be a great film but it is plenty of fun and sometimes that's all you need.
| | | | | |
| --- | --- | --- | --- | --- |
| The Film: B- | Video: B | Audio: B | Extras: B- | Overall: B- |