The Film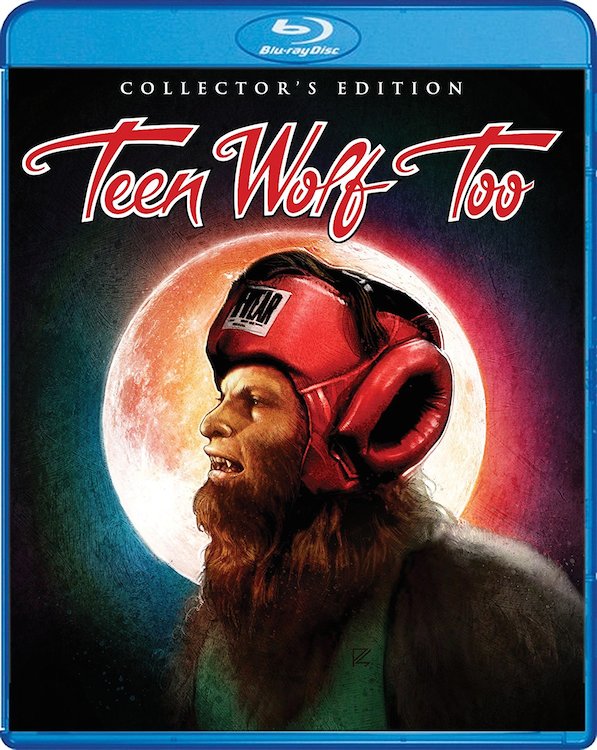 As I lamented in my review of "Teen Wolf" (1985), that film barely contains any story and the entirety of its entertainment value lands squarely on the shoulders of Michael J. Fox. Luckily, Fox was more than capable of turning crap into gold and the resulting film, though far from solid, is a fun and breezy trip down 80's lane. But Fox also famously hated doing the film and steadfastly refused to return for the sequel, "Teen Wolf Too" (1987). Enter Jason Bateman, a capable actor in his own right but no kind of substitute for Fox's magnetic charms. This time around the setting gets pitched to college, the sport changed to boxing, but this is otherwise a carbon copy of the first film minus the few elements that saved it from being an unmitigated disaster – which is exactly what this film is.

Uncle Harold (a returning James Hampton) drives his nephew Todd (Jason Bateman) to Hamilton University after Todd receives a full sports scholarship. The boxing coach Bobby Finstock (Paul Sand) hopes that Todd's family genes will prove to be a win for the flailing pugilist league. Along for the action is, once again, Stiles… sort of; this time he's played by Stuart Fratkin, who actually subs in nicely for Jerry Levine. Todd's focus is mainly on his classes, since he really wants to become a veterinarian, but he still has duties with the boxing team, too. After nearly losing a match Todd suddenly "wolfs out" and becomes the lycanthrope Hamilton University needs. Repeat everything that happened in the first film. Roll credits.

"Teen Wolf Too" is an irredeemable slice of cinematic sh*t. How Scream Factory ever thought this inept turd was worthy of a Collector's Edition is beyond me. It should have been included as a bonus feature on the first film. If any credit is due at all, it goes to Stuart Fratkin for taking over as the new Stiles and killing it just the same. His "best friend who parties too much" character is one of those Hollywood clichés I always enjoy watching and Fratkin plays it with authority. These characters are usually the most celebrated in their films, too; look no further than Bluto in "Animal House" (1978). By comparison, Bateman is lifeless as a corpse and half as entertaining.

Oh, wait, John Astin gets some acclaim, too, because he manages to steal the show with ease whenever he's on screen. His Dean Dunn isn't a major player but he has a few charmingly goofy scenes that remind viewers what a unique talent he possessed. This film is lucky to have someone of his caliber in the cast. You would be better served watching "Teen Wolf" twice than going for a double feature that will only end in disappointment.

Video


While the first film got a new 2K scan, no such remastering was done for this sequel's 1.85:1 1080p 24/fps AVC MPEG-4 encoded picture. The print used is clean, with only minor flecks and damage seen. Grain appears filmic and not overly thick. Colors are natural. Fine detail is evident though, like the first film, it rarely impresses.

Audio


The English DTS-HD Master Audio 2.0 mono track capably delivers the typical 80's score and soundtrack, with clear and clean dialogue and no audible issues to be heard. Subtitles are available in English.

Extras


"Working with the Wolf" (1080p) is an interview with director Christopher Leitch, running for 16 minutes and 8 seconds.

"A Man of Great Stiles" (1080p) is an interview with actor Stuart Fratkin, running for 16 minutes and 26 seconds.

"Nerdy Girl Saves the Day" (1080p) is an interview with co-star Estee Chandler, running for 6 minutes and 30 seconds.

"Otherwordly" (1080p) is an interview with co-star Kim Darby, running for 6 minutes and 32 seconds.

"A Wolf in 80's Clothing" (1080p) is an interview with costume designer Heidi Kaczenski, running for 9 minutes and 48 seconds.

A still gallery (1080i) runs for 56 seconds.

Packaging


The single disc comes housed in a standard Blu-ray keep case. The cover art is reversible. A slip-cover featuring new artwork is included on first pressings.

Overall


This film is a rough watch and if it wasn't for Stuart Fratkin I can't think of a single reason why anyone should subject themselves to watching such a terrible sequel.
| | | | | |
| --- | --- | --- | --- | --- |
| The Film: D+ | Video: B | Audio: B | Extras: B- | Overall: C |