The Film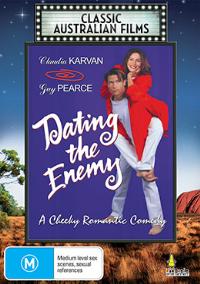 "Dating the Enemy" (1996)

We all know opposites attract...but is the grass always greener? Meet Brett and Tash. Brett (Guy Pearce) is good-looking, confident and perhaps a tad on the egotistical side. Tash (Claudia Karvan) is intellectual and reserved, but maybe a little too smart for her own good. When these two meet it's love at first sight, but when a lack of compromise threatens to break-up their relationship, the natural forces of the universe intervene. Brett and Tash wake up - in each other's' body! The stage is set for a hilarious Aussie romantic comedy that takes the battle of the sexes to a brand new frontline. If you enjoyed Muriel's Wedding, if you loved Priscilla Queen of the Desert, you'll die laughing at Dating the Enemy, a film about love, sex and life in other people's shoes.

The concept of the body-swap film genre is far and wide - from switching between the sexes, between parent and child, old and young, human to animal, and many more. , "The Fly", "18 Again", "Your Name."… to list them out will be a handful. The Australian film "Dating the Enemy" takes the standard opposites attract romantic comedy and injects it with the swap, and while the results are basically predictable and average, seeing the two main stars become and act as each other is the high point. The fairly conservative and strictly business Tash suddenly having the mind of a playboy, and The confident music TV MC Brett suddenly turning very uptight and mannered are fun to watch. The two leads played by Claudia Karvan and Guy Pearce play well off each other and it's interesting to see how the characters slowly see the world and the relationship through each other's eyes. There are certainly hilarious moments in the film with the awkwardness, but since it plays off so many clichés, the originality is very lacking. Visually it is well made with interesting camera usage but much of it seems unnecessary with the simplistic story. Possibly trying to compensate for that aspect?

Grossing a minor $2.6 million at the box office in Australia, the film was not widely distributed around the world. It was also released theatrically in New Zealand, went direct to video in Japan, direct to TV in Italy, and seemingly no releases for other English speaking regions. This was director Megan Simpson Huberman's first and only theatrical film, though she has worked in the Australian film and television industry for the past thirty years in executive positions. Claudia Karvan has continued her success in Australian cinema appearing in the remake of "Long Weekend", "Daybreakers", as well as a large number of television roles. Guy Pearce went to Hollywood the following year to make an incredible impression in "L.A. Confidential", and later major works such as "Memento", "Prometheus" and more, while also returning to Australia at times for films such as "The Proposition" and Animal Kingdom".

Note this is a region 0 PAL DVD which can be played back on any Blu-ray or DVD player with PAL capability

Video


Umbrella Entertainment presents the film in 1.33:1 without anamorphic enhancement in the PAL format. The master used for this DVD seems to be a dated source, most likely a television master from the late 1990s. Colors look contrasty and boosted, skin tones are slightly off, and bright colors look a little too bright. In addition there is some ghosting to the image in motion, detail is lost, and does not look very good on modern setups. As the film was screened in widescreen cinematically, it is very unfortunate that a television master was used for this DVD edition. Screenshots are provided below.

The film is uncut and has a runtime of 100:05.


Audio


English Dolby Digital 2.0 stereo
The original stereo track is presented here in Dolby Digital, but like the picture, the sound also has some issues. The stereo separation is not done very evenly making dialogue sound off centered, and there are some fidelity issues with the track. On better terms there are no pops or hisses or any other damage to be heard.

There are no subtitles provided for the film.

Extras


Profiles
- Claudia Karvan
- Guy Pearce
A 4 page text biography for Karvan and a 6 page biography for Pearce.
in English

Promotion

- "Right On" music video by OMC (3:24)
If you thought New Zealand's OMC had only one hit with "How Bizarre", that is quite true for most of the world. "Right On" did achieve platinum status in their native country and they've quite a few hits there. This music video incorporates scenes from the film within the quite plain music video.
in non-anamorphic 1.33:1, Music/English Dolby Digital 2.0 with no subtitles

- Romantic Television Commercial (0:29)
A very quick TV spot showcasing the romantic angle of the film.
in non-anamorphic 1.33:1, in English Dolby Digital 2.0 with no subtitles

- Comedy Television Commercial (0:28)
The body swapping aspect is showcased here.
in non-anamorphic 1.33:1, in English Dolby Digital 2.0 with no subtitles

Bonus Trailers
- Malcolm (2:10)
The original theatrical trailer is presented here.
in non-anamorphic 1.85:1, in English Dolby Digital 2.0 with no subtitles

- What's Up Tiger Lily? (1:35)
A cropped video master trailer which the condition looks pretty horrible.
in non-anamorphic 1.33:1, in English Dolby Digital 2.0 with no subtitles

- The Norman Gunston Show)
This is only a still and no trailer is provided.

- A Night in Casablanca (still)
Again, a still without a trailer.

The comedy TV spot with the OMC song is here, courtesy of Umbrella Entertainment.


Overall


"Dating the Enemy" is a silly mid-90s comedy that can be interestingly funny at times and average clichés the next. The body swap movie genre has better films around, but "Dating the Emeny" is still an enjoyable watch, especially for the two leads. Umbrella Entertainment's presentation is disappointing as the master used is weak and there are minimal extras to be found.
| | | | | |
| --- | --- | --- | --- | --- |
| The Film: B- | Video: C | Audio: C | Extras: D+ | Overall: C |