The Film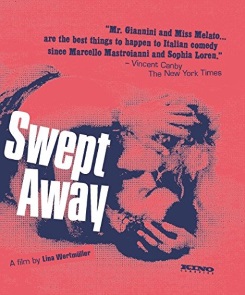 On a pleasure cruise along the Adriatic, a casual political argument between right-wing industrialist's wife Raffaela (Flash Gordon's Mariangela Melato) and a Catholic Communist guest (Deep Red's Eros Pagni) incenses communist boathand Gennario (Blood Feud's Giancarlo Giannini) who already feels demeaned for having to serve a yacht full of wealthy parasites. Catching his dirty look, Raffaela takes an instant dislike to Gennario, interpreting every from his preparation of the coffee, the overdone pasta, to the smell of his clothing as deliberate acts of defiance, and proceeds to mercilessly mock him. Gennario stifles his own responses, venting them instead to the level-headed Pippo (Seduced and Abandoned's Aldo Puglisi) who is far more amused at the vices he perceives of their employers (mistaking marijuana cigarettes – or "Marianna" as Gennario ignorantly calls it – for hashish). When even her husband (Camouflage's Riccardo Salvino) and the other guests tire of Raffaele "playing Marie Antonette," she decides that she wants to go swimming and insists Gennario take her out on the dinghy amidst rough currents. When the motor breaks down and the dinghy drifts off course, Gennario tries to repair it while Raffaela continues to harangue him. When the winds prevent them from behind heard as they call for help the one time the yacht is in view, they have no choice but to drift towards a nearby island that turns out to be completely deserted. Raffaela does not quite realize how dependent she is upon Gennario until hunger sets in and the berries she has collected compare quite poorly to the fish he has caught, whereupon Gennario asserts that he is the master now. The conflict degenerates from insults on the part of both to physical brutality from Gennario to force Raffaela to acknowledge his dominance. As a twisted thread of desire makes itself known between them, Gennario draws back, wanting her to become his love slave but insisting she actually love him. The ensuing love affair is fraught with unpredictability as Gennario tests her loyalty but is also taken aback by the fervency of her affection. When the possibility of rescue appears on the horizon, can their love survive in the outside world?

Filmmaker Lina Wertmüller had already made a splash on the American arthouse theater scene with New Line Cinema's releases of The Seduction of Mimi and All Screwed Up (along with Peppercorn-Wormser's smaller-scale release of Love & Anarchy), and the multiple-Oscar-nominated Seven Beauties was in the wings when Columbia Pictures' release of Swept Away made a splash with the critics and audiences for its fleshy fusion of sex and politics, stirring up discussion as to whether Wertmuller was more leftist than feminist in light of the film's apparent misogyny. Roger Ebert even seemed to miss the point in suggesting "resists the director's most determined attempts to make it a fable about the bourgeoisie and the proletariat, and persists in being about a man and a woman" since Wertmuller herself has described the film as being about "two people who meet outside of their social roles." Man and woman are not reducible here to left and right, as Raffaela advocates segregation of the more fertile Italian populations and mass sterilization but also supports the divorce and abortion while Gennario is a communist but also a chauvinist who believes that women are objects of pleasure for the working man who – when Rafaella has the upper hand – can only stew in resentment muttering variations of "capitalist bitch." The film's sympathies seem skewed towards Gennario with Raffaela, but there is little enjoyment for the audience when the shoe is on the other foot. Just was Raffaela had reduced Gennario to bourgeoisie generalizations about communists and revolutionaries in her mocking during the first half of the film, so to Gennario want to make her "pay for all of life's injustices" from "the recession […] caused by dodging tax and sending money to Switzerland […] the poor devils who can't get a hospital bed though it would kill them if they did […] the increase in the price of meat, parmesan, public transportation and gas" among other things. Gennario wanting her to love him before becoming his love slave may be another exercise of power over her, but he seems to resent her when she does, when she calls her love for him "a crazy dream" (no so much a rape fantasy as a fetishizing of a socially unacceptable relationship). Whereas she hides from a passing boat to maintain the circumstances that make their love possible, Gennario at first seems to acknowledge the impossibility of their relationship in the real world; and the outcome does confirms his belief that all women are whores (including his wife [Cinema Paradiso's Isa Danieli who only sums up the bravery to admit that she voted in favor of divorce when she is betrayed by him) after his heart is broken. However contemptible both are on the surface, one must look deeper to reconcile the contradictions of their characters with the charisma of Melato and Giannini that allows one to be Swept Away by an Unusual Destiny in the Blue Sea of August.

Video


Released theatrically by Columbia Pictures arm Cinema 5 in subtitled and English-dubbed versions (the latter supervised by Paulette Rubinstein who also directed the English dubbing for Columbia imports Querelle, Emmanuelle, and The Tall Blond Man with One Black Shoe among others) and on VHS and laserdisc in 1983 in its dubbed version by RCA/Columbia followed by a superior letterboxed laserdisc from The Criterion Collection in 1996 featuring a letterboxed, subtitled transfer. The transfer was then ported over to Fox Lorber's 1997 non-anamorphic DVD followed by a new, anamorphic transfer in 2006 by successor label Koch Lorber with needless 5.1 and stereo remixes of the Italian soundtrack. Coming a decade later as part of a series of Wertmuller HD restorations being shown stateside as the "Lina Wertmuller Repertory Film Series", Kino Lorber's 1080p24 MPEG-4 AVC 1.85:1 widescreen Blu-ray is truly a thing of beauty. Wertmuller's preference for "grotesque" close-ups combined with the technical chops of Ennio Guarnieri (The Garden of the Finzi-Continis) allow for a reassessment of the way the crystal clear blue waters and Melato's blond hair and slightly tanned skin (no longer does she looked like a spray-tanned, shrill Monica Vitti) contrasted with Giannini's sunburnt rugged skin, frizzy hair, and the features of the island landscape lend themselves to the story itself. Skintones overall are less orange, the blue sky is more coral than navy, while the mainland scenes of the final scenes seem deliberately less colorful in the newer and older transfers.

Audio


While an English dub was available and the Koch Lorber DVD included 5.1 and 2.0 stereo remixes, the sole audio option on the Blu-ray is the only one that really matters: a DTS=HD Master Audio 2.0 mono encode of the original Italian track that delivers with Giannini's barking, Melato's shrieking, and the finer points of Piero Piccioni's (Camille 2000) loungey score. Optional English subtitles are included and seem refined from the Koch Lorber translation.

Extras


Extras start off with a brand new commentary track recorded by Valerio Ruiz, director of the 2015 documentary Behind the White Glasses, who reveals that the story was inspired by the yearly yacht trips taken by Wertmuller, husband Enrico Job (Blood for Dracula) who designed the film's sets and costumes, filmmaker Francesco Rosi (Hands Over the City), his wife Giancarla, and journalist Antonello Trombadori, and the political arguments that erupted between the latter two. Ruiz provides social context and background on the political stances of the characters while also providing plenty of background about the film, including Wertmuller's potentially alienating decision to have Trombadori dub seasoned stage and film actor Pagni's voice, Wertmuller's "grotesque" film aesthetic, and the importance she and husband Job placed on the make-up and wardrobe of the characters to immediately tell the viewer about the character (noting how the looks of Melato and Giannini changed drastically from picture to picture in their collaborations with Wertmuller). The disc also includes an excerpt from Ruiz's documentary (10:01) devoted to discussion of the film, reiterating the anecdote about the summer yacht trips, Melato (in archival video) and Giannini recalling Wertmuller using them at a time when they were relative unknowns, while New York Magazine critic John Simon, Ferdinando and Carolina screenwriter Raffaele La Capria, and filmmaker Martin Scorcese discuss the impact of this "cultural conversation piece" along the lines of Last Tango in Paris and A Clockwork Orange. Filmmaker Amy Heckerling (Clueless) also appears in an on-camera interview (8:45) in which she disparages critiques that reduce the story to a misogynist male fantasy while also noting that it is the characters not the film that reduce each other to symbols of everything they hate about the other class while also praising the film's romanticism. The Italian theatrical trailer (2:48) is included along with a virtually identical English theatrical trailer (2:53) which is not the American trailer but an export one bearing the title Overcome by an Unusual Destiny in the Blue Sea of August. Also included are Italian and U.S. release trailers for Summer Night, Love & Anarchy, Kino Lorber's Lina Wertmuller Repertory Film Series, as well as the Ruiz's documentary Behind the White Glasses. Included in the case is a booklet with essays by director Allison Anders and Grace Russo Bullaro, author of Man in Disorder: The Cinema of Lina Wertmuller in the 1970s.

Overall


However contemptible both are on the surface, one must look deeper to reconcile the contradictions of their characters with the charisma of Melato and Giannini that allows one to be Swept Away by an Unusual Destiny in the Blue Sea of August.